Policy & Global Development
ISGlobal Hosts Visit of High Commissioner for the 2030 Agenda
The meeting was also attended by representatives of various institutions engaged in the implementation of the Sustainable Development Goals in Catalonia.
13.11.2018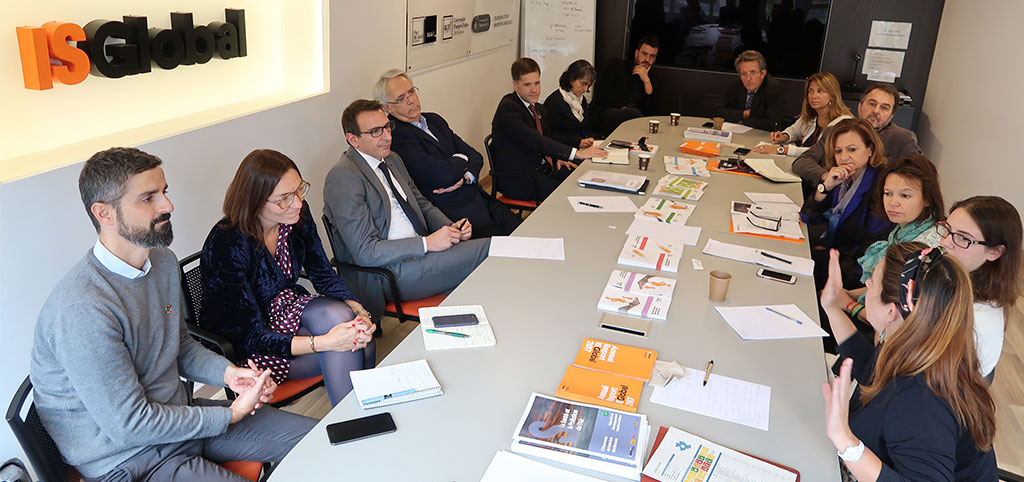 On Thursday 8 September, ISGlobal welcomed Cristina Gallach, High Commissioner for the 2030 Agenda in Spain. The Office of the High Commissioner, which reports directly to the President of the Government of Spain, is responsible for coordinating the implementation of Spain's Action Plan for the Implementation of the Sustainable Development Goals, which the Spanish Government submitted last July to the United Nation's High-Level Political Forum on Sustainable Development in New York. ISGlobal was present at the event, as part of the official panel presenting the Action Plan to the United Nations, and represented the Spanish knowledge institutions.
During the first part of the recent meeting in Barcelona with the High Commissioner, ISGlobal's leadership team presented an overview of the Institute's work related to the SDGs and discussed ways we could contribute to the preparation of plans aimed at furthering the aims of SDG 3, the goal related to health and well-being, and to the achievement of targets related to climate change and environmental pollution. After this session, the meeting was joined by representatives of Catalan civil society institutions and business community, such as "la Caixa" and the Círculo de Economía as well as by representatives of the knowledge sector—including the University of Barcelona—and local government bodies—Barcelona City Council and the Generalitat de Catalunya—all of whom are engaged in the effort to advance the implementation of the SDG in Catalonia. This meeting allowed all the participants to gain a deeper understanding of the current situation of the 2030 Agenda, the challenges that must be overcome, and how each actor can contribute to the work needed to ensure the success of this great endeavour.
ISGlobal is deeply committed to the application and implementation of the 2030 Agenda, both in Spain and globally. The Institute is part of the team leading the health working group set up by the Sustainable Development Solutions Network, an international platform led by Professor Jeffrey Sachs. Furthermore, ISGlobal is coordinating the European group of the Think_SDGs network, a partnership of health think tanks and academic institutions set up to further and support the implementation of the 2030 Agenda. ISGlobal is also directly involved with all the Spanish actors most actively involved in this effort, not only with those working in the fields of to cooperation and foreign policy, but also the actors in other areas where the Institute is also very active, including local government policy and urban planning policy, two areas directly related to our environmental health research programmes.