In October 2019, ISGlobal was named a Severo Ochoa Centre of Excellence by the Spanish State Research Agency, a body affiliated with the Ministry of Science and Innovation.
This accreditation recognises the excellence, scientific contributions, social and economic impact, and talent-attracting capacity of Spanish research centres in Spain. The purpose of the award is to fund and distinguish centres and public units that have developed highly competitive, cutting-edge research programmes positioned among the best in the world in their respective scientific fields. The award provides €4 million in funding over a four-year period to develop the institutional strategic plan.
ISGlobal is the only centre in epidemiology and global public health accredited as a Severo Ochoa Centre of Excellence. The accreditation represents therefore a tremendous boost for this research field in Spain and abroad.
3 x 3 Approach
The Severo Ochoa programme has been integrated in the institutional Strategic Plan 2019-2023 to reinforce ISGlobal international leadership through promotion of integrative interdisciplinary science and its translation into significant impact.
The Severo Ochoa programme is based on a 3 x 3 approach that will reinforce the three institutional strategic research areas with three new cross-disciplinary groups with strong focus on frontier methods and technologies.
The three new groups will address current strategic research challenges in:
These new groups will prioritize the implementation of the methods and technologies in the three internationally recognized research areas of ISGlobal which are developed by the nine research programmes:
Malaria and other infectious diseases
Maternal and child health
Urban health, climate and non-communicable diseases.
The promotion of interdisciplinary science will facilitate the development of cutting-edge science and innovation.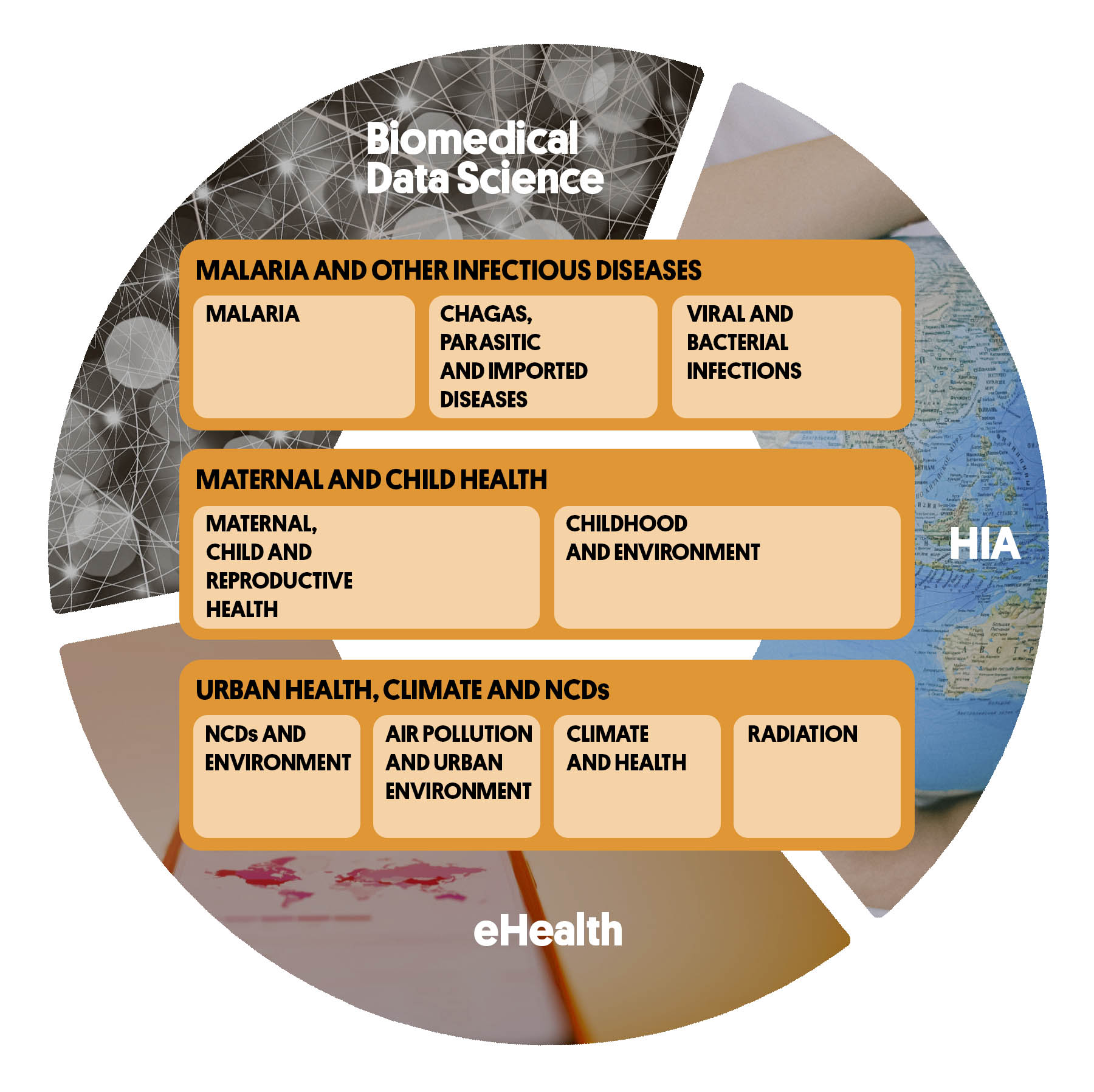 Figure: 3 x 3 structure of Severo Ochoa Programme. Each of the nine research programmes of ISGlobal converge in one (or more) of the three major research areas. The development of close interactions between the new cross-disciplinary groups on methods and technology and the research groups in each of the major areas will reinforce ISGlobal's scientific excellence, synergies and integration.
Key Initiatives
Some examples of key initiatives promoted by the Severo Ochoa Programme are:
Development of two new ambitious research Hubs: (i) the Exposome Hub: exposome research (research on advanced omics/biological pathways combined with advanced methods in exposure assessment such as sensors, satellite imaging, etc) has been considered a priority of the EC in the H2020 programme and it is powerfully represented by research groups at ISGlobal, (ii) the Implementation Science Hub: the field of implementation science (or implementation research) is a fairly new field of study which has gained momentum internationally and refers to the scientific study of methods and strategies that facilitate the uptake of evidence-based practice and research into regular use by practitioners and policymakers.
Establishment of a collaboration on Environmental Health Research, with the Manhiça Health Research Centre (CISM, Mozambique) to promote research in Environmental Health in Southern Africa and consolidate ISGlobal long-standing strategic partnership with CISM.
Development of international initiatives on planetary health in the Mediterranean and Central/South America.
Strengthening of the PhD and postdoctoral programmes (talent attraction). In this regard, the Severo Ochoa accreditation has enabled the institute to launch two international PhD Calls, the Severo Ochoa International PhD Call in Global Health 2020 and 2021, through which 16 scholarships for national and international students have been offered. Also, in 2021, an international postdoctoral call has been launched, the Severo Ochoa International Postdoctoral Call in Global Health 2021, to assign three fellowships for interdisciplinary postdoctoral research in Global Health.
Expansion and consolidation of its current education portfolio on Global Health in line with the 3 x 3 approach and through an extension of the e-learning component. In line with this, the Severo Ochoa accreditation allowed the institute to organize in 2021 an online International Summer School on Advanced Methods in Global Health, which proposes a unique interdisciplinary teaching programme, with the objective to give an in-depth overview of cross-cutting methods for global health (as HIA, eHealth, Data Science and exposome methods) and address key global health challenges.
Promoting the organization of international workshops to stimulate scientific debate on cross-cutting themes.
There are no upcoming workshops at this moment.
Past workshops:
In summary, by addressing the themes and challenges of the Strategic plan through the Severo Ochoa programme, ISGlobal will significantly advance in its mission to generate knowledge, promote international leadership and collaboration, train the next generation of scientists and create value for society.