Research
ISGlobal and CISM Present Joint Research Model for Europe and Africa at EDCTP Forum in Zambia
Researchers from both centres take part in the Eighth EDCTP Forum
14.11.2016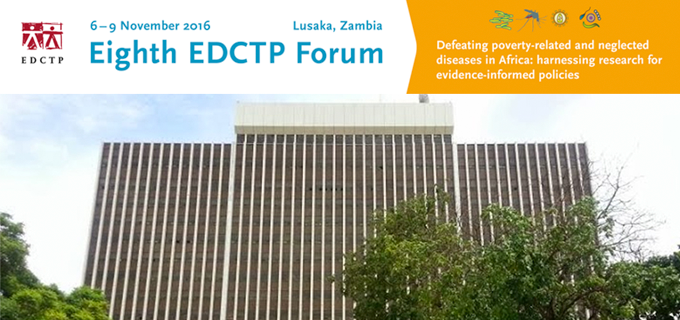 The value of collaborative research is central to the mission of the European & Developing Countries Clinical Trials Partnership (EDCTP). However, during his keynote address at the opening session of the Eighth EDCTP Forum—held between 6 and 8 November in Lusaka, Zambia—Professor Marcel Tanner stressed that this core belief needs to be taken much further and called for "the organisations involved in the fight against poverty-related diseases to work together not just on short-term individual projects but at a strategic level". Professor Tanner, who is the Chair of ISGlobal's Scientific Technical Advisory Committee (STAC) and one of EDCTP's High Representatives, went on to say that "so much more can be achieved when we work together than when we work individually".
ISGlobal and the Manhiça Health Research Centre (CISM) have enjoyed a stable partnership and worked together for over 20 years on the basis of a joint research model that brings together their research initiatives in Africa and Europe. Both organisations were represented at the EDCTP Forum, one of the most important meetings in the field of clinical research on infectious and poverty-related diseases in Africa.
Clara Menéndez, director of ISGlobal's Maternal, Child and Reproductive Health Initiative and member of EDCTP's Scientific Advisory Committee, co-chaired the plenary session on "Innovative Clinical Trial Design". In another session, Khatia Munguame, Director of Social Sciences at CISM, talked about "Improving maternal and child health through community engagement in clinical trials" and Nuria Casamitjana, ISGlobal's Training Director, was one of the panel members who discussed the challenges of "Building research capacity in Africa".
CISM also participated in a parallel session on the subject of diarrhoeal diseases with a presentation by Marcelino Garrine on the Vibrio cholerae endemic in Mozambique. In the poster section, one of the displays presented a project that aims to strengthen laboratory capacities for clinical trials on infectious diseases in Liberia (SELeCT), the work of a consortium led by ISGlobal that also includes the Juan Ciudad Foundation and St. Joseph's Catholic Hospital in Monrovia.
Among the people whose work was recognised by awards at this event was Fred Binka, a member of ISGlobal's International Global Health Partnership Board, who received the first Dr. Pascoal Mocumbi Prize for his achievements in advancing research in health and capacity development in Africa. The award recognising the work of an outstanding female scientist living in Africa was presented to Marlene Timmerman, president of the Aga Khan University in Nairobi and joint director of the Safe Mothers and Newborns Workshop organised by ISGlobal, Aga Khan University and the Harvard Maternal Health Task Force.
Supported by: