Formació
Els estudiants de doctorat d'ISGlobal i CREAL es reuneixen al segon simposi predoctoral conjunt
La jornada científica té com a objectiu formar els estudiants de doctorat en un aspecte clau de la seva carrera: l'exposició i defensa de la seva recerca
05.11.2015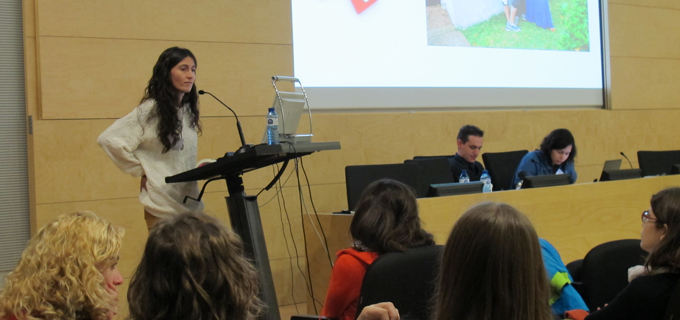 La segona sessió conjunta entre els programes de doctorat d'ISGlobal i del CREAL va tenir lloc el passat 4 de novembre a la Universitat de Barcelona. La jornada científica, que té com a objectiu formar els estudiants de doctorat en l'exposició i defensa dels seus treballs, a més d'augmentar la visibilitat de la feina predoctoral entre el personal d'ambdós centres, i augmentar les sinergies entre els investigadors a través de col·laboracions científiques potencials, s'emmarca dins el procés d'integració estratègic de CREAL a ISGlobal.
Al llarg de la jornada, es van realitzar dues sessions de presentacions orals i dues sessions de pòsters en què els investigadors d'ISGlobal i CREAL van mostrar el seu treball en temàtiques tan diverses com la recerca de nous tractaments i teràpies per combatre la resistència als antibiòtics, la identificació de biomarcadors per predir la progressió del VIH/sida, la recerca de noves eines per mesurar la transmissió de la malària, l'estudi del exposoma en la salut de l'individu, l'impacte de les exposicions ambientals en les causes de morts naturals a la ciutat de Barcelona, i els desordres neurològics, com l'autisme, entre altres temes.
A la tarda va tenir lloc un lliurament de premis a les dues millors presentacions orals, que van ser, en primer lloc, per la Lucía Pastor, investigadora predoctoral d'ISGlobal, per la seva presentació "Exploratory analysis of the dynamics of GI Inflammation and immune activation Biomarkers during acute HIV infection" i, en segon lloc, per Natalie Mueller, investigadora predoctoral de CREAL, per "Environmental exposures and natural-causi mortality: a health impact assessment study for Barcelona". Quant als pòsters, Ione Àvila-Palència, de CREAL, va rebre el premi al millor disseny per "The relationship between bicycle commuting and self-perceived stress"; Emma Sáez, d'ISGlobal, va rebre el reconeixement al millor contingut per "Antimicrobial resistance and genetic virulence profile of vaginal Escherichia coli isolated from pregnant women in Spain, Morocco and Moçambic"; i Cláudia Sofia Paradela, també d'ISGlobal, va ser reconeguda amb el millor pòster global per "Identification of new antigen candidates of Bartonella bacilliformis".
La jornada va finalitzar amb una sessió formativa impartida per Alícia Marín dirigida exclusivament als investigadors predoctorals de tots dos centres per fomentar el coneixement entre participants i el treball en equip.