Formació
L'edició 2022-23 dels Màsters ISGlobal-UB conclou amb la cerimònia de graduació
Abans de graduar-se, cada estudiant va presentar el seu Treball de Fi de Màster davant un tribunal de la facultat
17.07.2023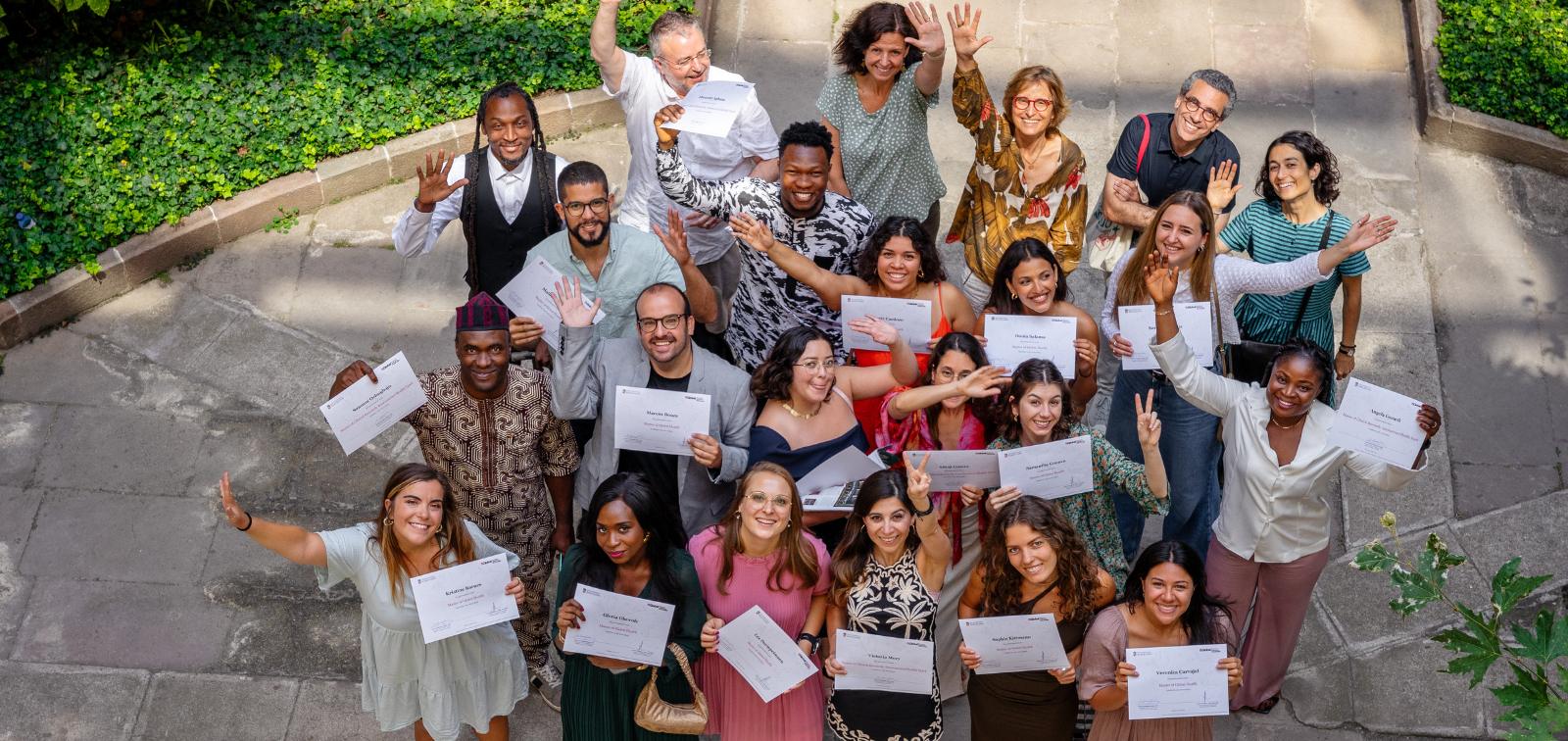 El passat 6 de juliol de 2023, l'alumnat dels programes de Màster en Salut Global i del Màster en Recerca Clínica: Salut Internacional ISGlobal-UB van omplir l'Aula Magna de la Facultat de Medicina i Ciències de la Salut de la Universitat de Barcelona per a la cerimònia de graduació final.
L'acte va començar amb les paraules de felicitació d'Antoni Plasència, director general d'ISGlobal i codirector del Màster en Salut Global, i de Núria Casamitjana, directora de Formació d'ISGlobal, codirectora del Màster en Salut Global i coordinadora del Màster en Recerca Clínica: Salut Internacional. Tots dos van elogiar la dedicació i l'esforç mostrat per la promoció 2022-23 i els van animar a afrontar els reptes que tenen per davant.
Joan Tallada, professor del Màster en Salut Global, va ser triat pels estudiants per a pronunciar el discurs de clausura, en el qual va repassar la seva trajectòria personal en l'àmbit de la salut global. En representació dels seus companys i companyes graduades, Marcos Bouza i Silvia Gómez van compartir també reflexions finals i paraules d'agraïment.
Abans de la graduació, entre el 3 i el 5 de juliol, els i les estudiants van presentar els seus Projectes Fi de Màster davant els tribunals de la facultat, mostrant un ampli ventall de temes que inclouen alguns dels problemes de salut global més rellevants de l'actualitat.
Treballs finals del Màster en Salut Global
The Barcelona Superblocks: A Public Policy Design Evaluation
Green Spaces and Natural All-Cause Mortality: A Health Impact Assessment Study of the Green Axis Plan
A scoping review on occupational carcinogen exposure and cancer risk among migrant workers in the Middle East
Air pollution and systemic immune biomarkers in early life: A systematic review
Predicting minute ventilation for the calculation of the inhaled dose of air pollution in patients with chronic obstructive pulmonary disease
Health System's Response to Violence Against Women: a documentary review in Spain, Argentina, and India
Acceptability of SARS-CoV-2 Vaccines in West African Migrants living in Catalonia
A qualitative rapid assessment on views, perceptions, and acceptance of COVID-19 vaccines in Bangladesh, Ethiopia and Mozambique
Adapting to Uncertainty; COVID-19's Impact and Response on West-African Migrants in Catalonia
A Scoping Review of the Acceptability of Minimally Invasive Autopsies: Qualitative and Mixed Method Studies
CMV-specific cell-mediated immunity (CMI) to predict the risk of cytomegalovirus (CMV) infection in kidney transplantation: a cost-utility analysis
Barriers to and gaps within the implementation of Nepal's Disaster Management Plan in the Himalayan region
Migrant health data collection: challenges for the health systems and perceptions of migrants
The Willingness of Migrant Populations in Barcelona to Seek Dental Care: A Study Protocol and Pilot
The implications of COVID-19 on Mental Health for Non-Native Populations in Spain: A Cohort Study
Human Papilloma Virus in National Immunization Programs: facilitators and constraints to integration in key Sub- Saharan African countries
What factors explain the increase in maternal complications in pregnant Non-Hispanic Black Women versus Non-Hispanic White Women in the St. Louis, Missouri area?: Examining the extent of disparity from 2010-2022
Factors influencing the use of obstetric care during childbirth in rural Sudan
Burden and Clinical characterization of RSV associated acute respiratory infections in African pregnant women
Health-Related Quality-of-Life associated with Chagas disease in Argentina and Spain, and Cost of a cohort of Chagas disease patients in Spain
Looking Back to Look Forward: A Retrospective Analysis of COVID-19 Strategies in Select Countries for Improved Pandemic Preparedness and Response
Treballs finals del Màster en Recerca Clínica
Implementation of eHealth strategies offering self-sampling kits to screen for HIV and other STIs among gay, bisexual, other men who have sex with men, trans women, and PrEP users in Catalonia
Molecular Approaches to Study Cryptic Infection in Human Malaria caused by Plasmodium Vivax
Investigating Stakeholders´ Preferences on the Characteristics of Potential Vaccines for Chagas Disease
COVID-19 and health systems in Low-Middle-Income Countries: a general overview with a focus on Gabon
Per a ISGlobal suposa un orgull els assoliments obtinguts pels i les estudiants, així com la seva dedicació a l'equitat en salut. En paraules de Núria Casamitjana, "el seu temps com a candidats al Màster ha acabat, ara esperem amb il·lusió veure l'impacte positiu que els nostres antics alumnes tindran en la salut de les persones de tot el món".