Research, Urban Planning, Environment and Health
Awards for Two Young ISGlobal Researchers
Laura Birks and Natalie Mueller receive the Student Prize Paper Award and the Environmental Science Award, respectively, in recognition of the excellence of their research activity
28.12.2017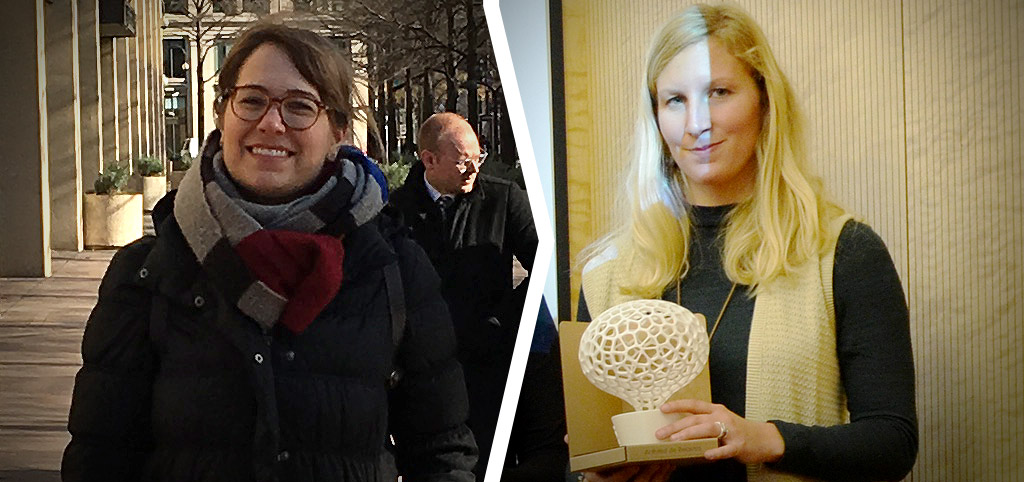 Laura Birks, Student Prize Paper Award
A study on the possible link between mobile phone use during pregnancy and behavioural problems in children has earned ISGlobal researcher Laura Birks the Student Prize Paper Award presented by the Eunice Kennedy Shriver National Institute of Child Health and Human Development (NICHD).
The prize—given in honour of the 50th anniversary of the NICHD's Division of Intramural Population Health Research—was presented on 14 December in Rockville (Maryland) in the United States, where Birks was invited to present research from her PhD regarding prenatal and childhood exposure to radio frequency electromagnetic fields and behavioral problems in children. In this way, the US scientific institution founded in 1962 by President John F. Kennedy recognises and fosters excellence in scientific research among scientists in training.
The study, entitled Maternal cell phone use during pregnancy and child behavioral problems in five birth cohorts, is the largest carried out to date on this topic. One of the authors' notable conclusions was that the children of mothers who did not use their mobile phones during pregnancy had fewer behavioural problems.
Natalie Mueller, Environmental Sciences Awards
On the other hand, the sixth Environmental Sciences Awards, presented by the Association of Environmental Scientists of Catalonia (COAMB) and the Catalan Association of Environmental Sciences (ACCA), have recognised ISGlobal Researcher Natalie Mueller for her work assessing health impacts related to urban and transport planning. Among five categories, Mueller was selected as the winner in the Research category for developing and applying the Urban and Transport Planning Health Impact Assessment (UTOPHIA) tool in Barcelona.
Under the coordination of Mark Nieuwenhuijsen, Director of the Urban Planning, Environment and Health Initiative at ISGlobal, Mueller led the first study estimating the health impacts associated with exposure to air pollution, noise, heat, lack of physical activity and access to green spaces in an urban environment. The study concluded that improvements in urban and transport planning could prevent nearly 3,000 premature deaths—20% of the total—in Barcelona each year.