During five days –from November 13 to 17–, the Barcelona Institute for Global Health (ISGlobal) has attended once more the largest international scientific meeting of experts dedicated to reducing the worldwide burden of tropical infectious diseases and improving global health. On its 65th edition, the American Society of Tropical Medicine and Hygiene (ASTMH) Annual Meeting has gathered around 4,400 attendees in Atlanta (USA).
Researchers from ISGlobal and the Manhiça Health Research Centre (CISM) –a strategic partner of the Institute– have participated with 13 reports and 23 poster presentations on several topics, with malaria being the predominant theme.. In this sense, we must highlight the symposium "malERA Refresh: Updating the Malaria Eradication Research Agenda", chaired by Regina Rabinovich, director of the ISGlobal Malaria Elimination Initiative.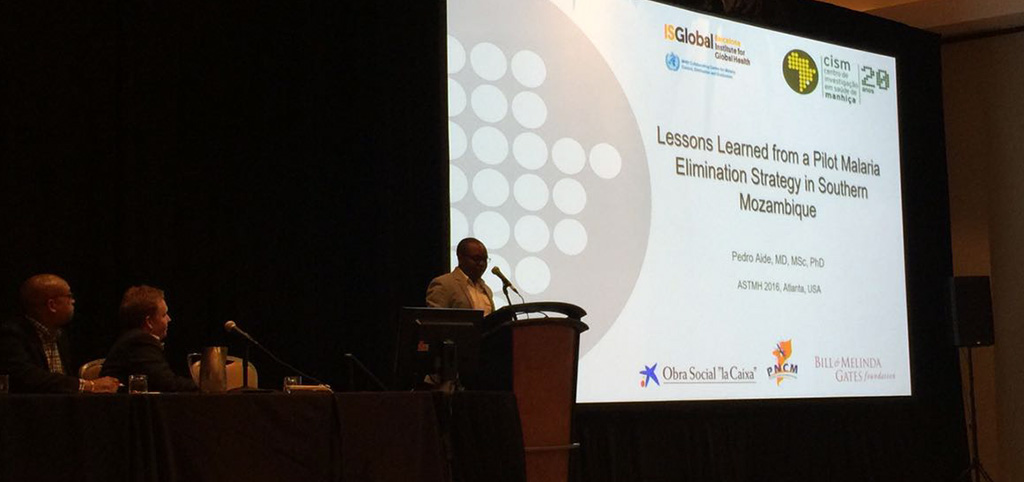 More than 180 experts around the world have participated on this review exercise, led by the Malaria Eradication Scientific Alliance (MESA), to discuss recentfindings and share key outcomes from the consultative process to update the malaria eradication research agenda (malERA).
To reach malaria elimination, the affected countries will enter, sooner or later, in a preelimination phase, a moment when pregnant women are more vulnerable to infection by Plasmodium falciparum. Clara Menéndez, director of the Maternal, Child and Reproductive Health Initiative of ISGlobal, has highlighted this particular group's need in receiving special health care and has shown the work carried out in Mozambique, Sierra Leone and Brazil as an example.
In this regard, Pedro Aide (CISM) shared "Malaria Elimination Strategies Using Targeted and Mass Drug Administration"; Carlos Javier Chaccour (ISGlobal) talked about the use of ivermectin to reduce parasite transmission; Itziar Ubillos (ISGlobal) focused on the immunology of the disease, and Quique Bassat (ISGlobal) talked about the "Transcriptional and proteomic categorization of the etiology of pneumonia syndrome in paediatric patients in malaria endemic areas".
In another session, Quique Bassat, Clara Menéndez, Jaume Ordi and Khatia Munguambe presented two synergistic projects in line with the Sustainable Development Goals that aim to reduce child mortality and preventable deaths. The first one is CaDMIA, a project that aims to design and assess Minimally Invasive Autopsy (MIA) tools for investigation of infectious causes of death, and the other one is CHAMPS, a surveillance network on health and child mortality. There has been "great interest both in the Minimally Invasive Autopsy (MIA) techniques and in our research on the discovery of biomarkers that help us differentiate bacterial pneumonias from viral and malaria pneumonias," observed Quique Bassat after the meeting.
Surveillance is also crucial to understanding and combatting the increasing threat of bacterial resistance. Esperança Sevense (CISM) has referred to this issue during her talk "World-wide Alliance on Resistance to Antibiotics and Map of Resistances". At the end of the ASTMH 2016 sessions, María Jesus Pinazo, technical coordinator of the Chagas Platform in Bolivia, presented some models in Latin America and the United States aimed at reducing the current gap in access to treatment for Chagas patients.
Three ISGlobal Researchers Are Awarded
Three researchers from the Barcelona Institute for Global Health have been awarded during the international meeting. On the one hand, Patricia Gómez-Pérez and Itziar Ubillos have received the ASTMH/BMGF Annual Meeting Travel Award that facilitates participation for those qualified students and researchers in tropical medecine who might not otherwise be able to attend. Gomez-Perez presented recent results of cellular immunology studies from three Controlled Human Malaria Infection (CHMI) trials in Europe and Africa. Regarding Ubillos work, the recent findings on B cell subset of malaria exposed pregnant women suggests that malaria keeps B cell activation threshold high enough to control infection at low levels, but impaired enough to tolerate chronic infection at high levels exposure.
On the other hand, Joan Seguí has been elected for the ASTMH Young Investigator Awards that recognise the work of young scientists and encourage them to pursue careers in various aspects of tropical disease research, in this case to present the study "Proteomic analysis of plasma-derived extracellular vesicles in natural infections of Plasmodium vivax, Trypanosoma cruzi and Fasciola hepatica.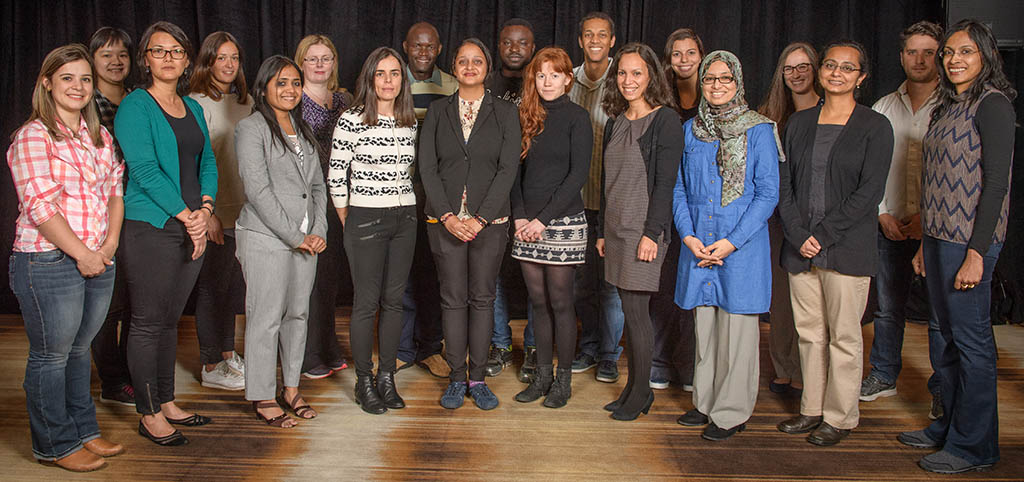 Alan J. Magill Fellowship and Forums
The ASTMH announced the Alan J. Magill Fellowship and Forums, created in partnership with the Bill & Melinda Gates Foundation through a $2.5 million grant. Over the next 20 years, the fellowship will annually select a Magill Fellow and hold two annual forums focusing on the latest research and science policy/funding for malaria eradication efforts. This unique effort will honor the life, example, and legacy of Alan J. Magill, who died in September 2015.
He was a major leader in the global tropical medicine community, president of ASTMH in 2014 and, in ISGlobal, he was involved in the Malaria Eradication Scientific Alliance (MESA) and in training, as a teacher of the Science of Eradication: Malaria course.