Maternal, Child and Reproductive Health
Biomedical Research Working to Improve the Health of Mothers and Children in Morocco
An ISGlobal team travels to Rabat to present preliminary data from studies on diarrhoeal diseases and respiratory infections in Moroccan children under five
21.02.2013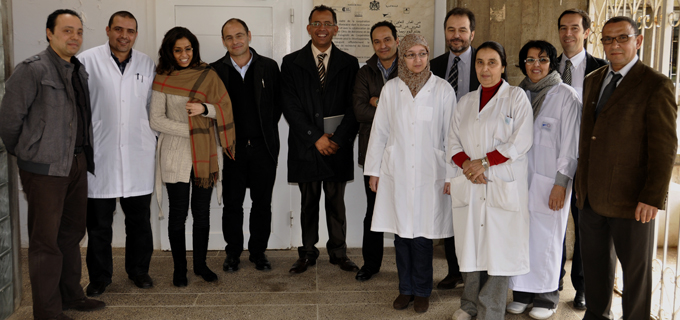 Bridging the gap between scientific knowledge and the implementation of effective interventions is one of the keys to improving health indicators. For more than 10 years, building such bridges has been central to the work carried out by ISGlobal in collaboration with the Moroccan Ministry of Health.
On 13 February last, an ISGlobal team consisting of Dr. Antoni Plasencia, technical director of CRESIB (ISGlobal's research centre), Dr. Quique Bassat (lead investigator), and Enric Grau (technical cooperation coordinator) visited the Technical Cooperation Office in Rabat to present preliminary data from studies in Morocco on the two principal causes of infant mortality: diarrhoeal disease and acute respiratory infections. These studies, carried out in collaboration with researchers from the Ibn Sina University Hospital in Rabat, which has a laboratory of excellence set up through a joint initiative of ISGlobal and CRESIB with the Ministry of Health, are providing much needed data on the morbidity and mortality associated with diarrhoeal and respiratory diseases. This data will be used to inform decisions concerning the introduction of new vaccines and the evaluation of existing immunisation programmes. It will also serve to improve clinical guidelines for the diagnosis and treatment of these diseases in Morocco.
The ISGlobal team were also able to schedule several meetings with key counterparts and stakeholders in the national health system with a view to identifying new opportunities for collaboration aimed at improving the governance of the country's national health system, epidemiological surveillance and research, particularly in the field of maternal and infant health care. A large part of the research, training, and cooperation in healthcare carried out by ISGlobal and its research centre CRESIB in Morocco has received funding from the Spanish Agency for International Development Cooperation (AECID).