Policy & Global Development
Migration and Health in the Mediterranean
ISGlobal and the Moroccan Ministry of Health present the migration research line of the Mediterranean Health Observatory
11.10.2017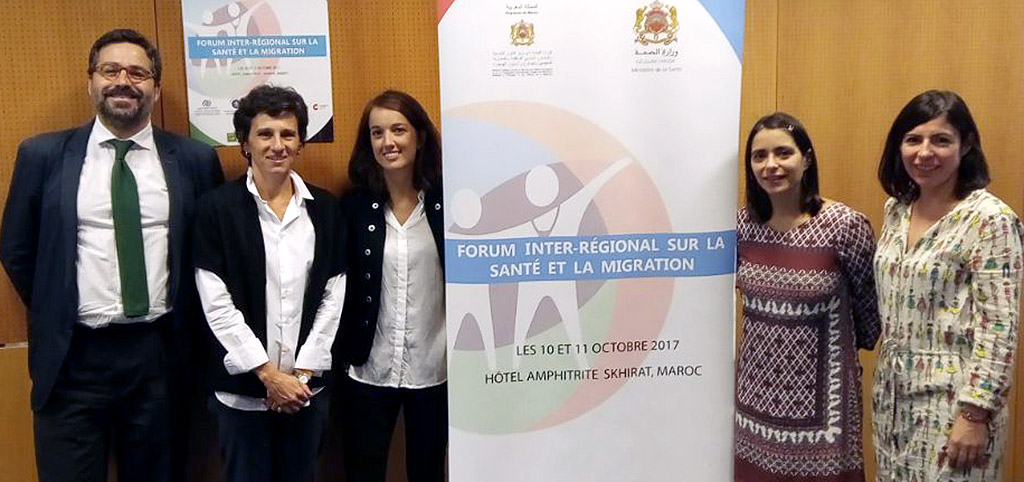 Migration is one of the main characteristics of the 21st century, and ensuring migrants' health and wellbeing has become a top priority for international development cooperation and for the new Sustainable Development Goals (SDG) agenda. In an effort to increase cooperation opportunities among countries of origin, transit and destination in the Mediterranean Basin, the International Organization for Migration (IOM), the Moroccan Ministry of Health and the Barcelona Institute for Global Health (ISGlobal) have organized the Interregional Forum on Migration and Health, which took place on October 10 and 11 in Skhirat, Moroco, and that has served as a platform to introduce the migration workstream of the Mediterranean Health Observatory, an initiative supported by ISGlobal and the Moroccan Ministry of Health and funded by the Spanish cooperation.
National and international experts in public health and migration exchanged experiences and regional perspectives on how health systems and interventions respond to migrants' needs, and they agreed that the current situation needs to be improved, particularly regarding access to primary health care. In this regard, Ana Requena, researcher at ISGlobal, an institution supported by the "la Caixa" Foundation, stated that "migrants' health cannot be addressed from one single area but requires a multidisciplinary approach that involves research, health policies, development aid and training. Only in this way can we tackle the new challenges and needs posed by migratory flows".
Gonzalo Fanjul, Policy Director at ISGlobal, inaugurated the second day sessions by stating that "health is a right associated with a person and not with a passport." With regards to the Mediterranean Health Observatory he added that "it was created to guarantee, among other things, that this right is respected along the migrants' origin, transit and destination countries".
During his lecture, Fanjul also explained that the Observatory will allow the creation of a large network of experts and institutions specialized in the generation of health-related data and analysis, with the aim of translating biomedical and epidemiological research into health and social policies and interventions aligned with the SDGs. This will also promote knowledge exchange on good practices in other countries and improve the capacity to carry out research and data analysis on migratory issues in Morocco and other countries on the western Mediterranean route.