Research, Malaria Elimination
The Malaria Eradication Scientific Alliance Launches New Website
The new website includes accessible knowledge management tools
02.11.2014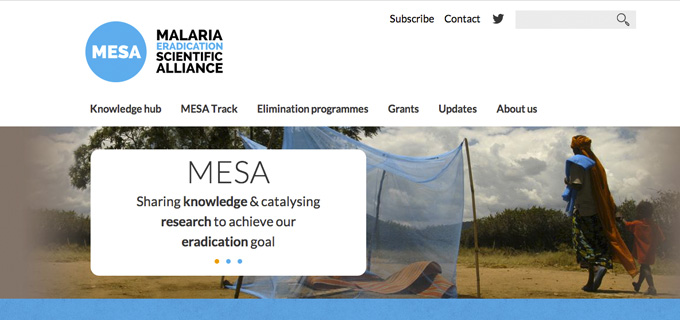 The Malaria Eradication Scientific Alliance (MESA) has developed a new website with accessible knowledge management tools, in collaboration with Manta Ray Media.
The "MESA Track" tool is a user-friendly, open database, which captures projects relevant to the malaria elimination and eradication agenda. Users can search for projects in various fields and discover what the scientific community is doing.
Information in "MESA Track" is gathered from publicly available sources, and MESA works closely with the partners to validate the details. One advantage with MESA Track is that all this diffuse information is housed in one, user-friendly database.
Projects are being added to MESA Track all the time. Users can submit the research they are leading using the 'Add a Project' button and become part of MESA Track.
Another tool on the MESA website is the 'Knowledge Hub', a growing archive of resources that you can't always find through PubMed. From conference abstract books to the WHO Vaccine Rainbow Tables, from malaria maps to scientific lectures, the aim is to pool together and share resources, which are useful for the malaria community.
Search MESA's knowledge management tools, and submit your research projects and resources via www.malariaeradication.org