Policy & Global Development
A Whole-of-Society Approach to Pandemic Preparedness
EGHRIN's first seminar promoted a transdisciplinary approach to fighting future pandemics
17.03.2023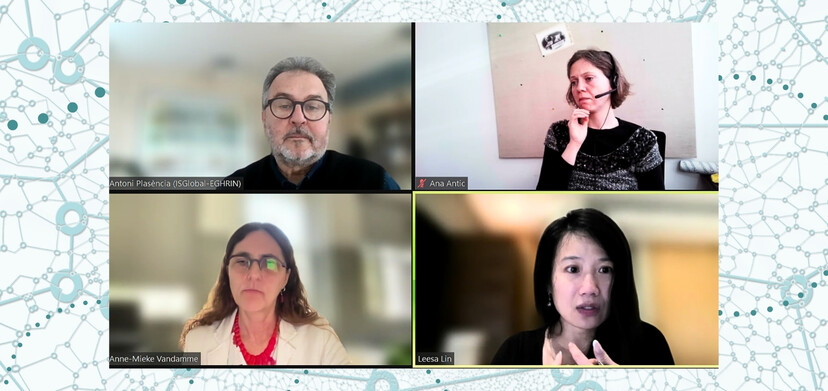 Stepping away from traditional debates on preparedness, the European Global Health Research Network (EGHRIN) organised its first seminar on 15 March 2023 and placed transdisciplinary perspectives on pandemic preparedness at the centre of the conversation. The online event was moderated by Antoni Plasència, General Director of ISGlobal and Chair of the EGHRIN Executive Board.
Lessons learned from the COVID-19 pandemic
Pandemics are inevitable, but are we equipped to respond to them? Anne-Mieke Vandamme, from KU Leuven and a member of the EGHRIN Executive Board, presented a list of 27 lessons learned from the Belgian context that can inform pandemic preparedness. The lessons can be largely grouped into the following categories: i) general lessons to improve societal sustainability, such as caring for vulnerable populations during pandemics; ii) lessons that can apply to any acute crisis, such as developing clear crisis communication strategies; and iii) lessons that are specific for a pandemic, such as setting up early warning indicators.
Trust, mistrust, and vaccines
Public sentiments such as feelings of anxiety, lack of trust, and skepticism are major drivers of the success or failure of public policies, especially in times of crisis. Yet, they are rarely captured and taken into consideration for decision-making. To fill this information gap, Heidi Larson and Leesa Lin, from The Vaccine Confidence Project, launched initiatives to document public sentiments around the pandemic and the COVID-19 vaccines. Their research demonstrated that public trust in the government's handling of the pandemic response was the strongest predictor of vaccine acceptance.
Historical and political narratives of pandemics
Ana Antic from the University of Copenhagen explained how political framings and narratives, as well as collective memories, can shape compliance behaviours, public policies, and their outcomes during pandemics. She also discussed the concept of parallel crises, as was seen in the case of COVID-19 where socio-political and economic crises coincided.
Pandemic preparedness: a priority area for ISGlobal
All the panelists agreed that pandemic preparedness is a wicked problem. Challenges such as vaccine apartheid, misinformation, and mental health crises during pandemics can only be adequately addressed with a whole-of-society approach.
Since the early days of the pandemic, ISGlobal has been at the forefront of science and advocacy for 'PR3', a concept that combines the different phases of preparing for and responding to crises: Preparedness, Response, Recovery and Resilience. Antoni Plasència reiterated that to be able to be better prepared for the future and build societal resilience, we will have to expand the discussion and include aspects like social contexts, trust, and communication. Both EGHRIN and ISGlobal are now closely following the formulation of the EU global health policy's section on combatting pandemics.