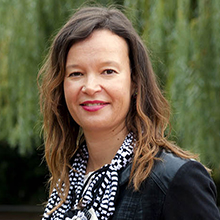 Leire Pajín
Directora de Desenvolupament Global
Between 2012 and 2014, Leire Pajín Iraola served as Special Advisor to the Pan American Health Organization (PAHO) and was a policy advisor to the United Nations Development Programme (UNDP) Post-2015 Agenda team. Before taking up these posts, she was Spanish Minister for Health, Social Policy and Equality. Earlier in her career, as Secretary of State for International Cooperation and the Spanish Agency for International Development Cooperation (AECID), she was involved in the development and approval of the Master Plan for Spanish Cooperation (2005-2008) that increased Spanish official development aid threefold to 0.5% of GDP.

As Minister of Health she promoted development in research and innovation in the pharmaceutical industry, saw the approval of the General Health Act, the adaptation of Spanish legislation to the United Nations Convention on the Rights of Persons with Disabilities, as well as the implementation of anti-smoking health measures under the Tobacco Consumption Act, and measures aimed at reducing public spending on prescription drugs. When in charge of Spain's General Plan for AIDS, she furthered multidisciplinary research on antiretroviral drugs, improved Spain's AIDS research networks, and strengthened the country's relationship with the Global Fund to Fight AIDS, Tuberculosis and Malaria, bringing together public and private efforts in the fight against AIDS.

She was responsible for the creation of the Millennium Development Goals Achievement Fund, a joint initiative through which the Spanish Government working with the United Nations System has supported over 130 programmes in 50 countries, directly benefitting 9 million people. Among the goals achieved during her mandate as Secretary of State for Cooperation were the introduction and approval of the Management of Foreign Debt Act, the reform and expansion of the Spanish Agency for International Cooperation (AECID), the creation of the Spanish Cooperation Fund for Water and Sanitation to expand access to drinking water and sanitation services for Latin America's most vulnerable populations, and the launching of several programmes for the improvement of living conditions for women in Africa and Latin America.

Ms Pajín holds a sociology degree from the University of Alicante and is an Associate Lecturer on two master's programmes in Madrid: Solidarity in Action at the Universidad Carlos III, and International Cooperation at the Universidad Complutense. As Director of the International Development department, she will be responsible for turning the products of ISGlobal's research and initiatives into real-world health interventions in the field.
Publicacions principals
PAJIN, L., DERVIS, Kemal (2007). Un mundo en cambio: Diálogos para el Desarrollo: Conversaciones con Leire Pajín y Kemal Dervis. Madrid: La Catarata
PAJIN, L., varios autores (2007), Avances y Retos de la Cooperación Española. Reflexiones para una Década. Madrid: SIGLO XXI / Fundación Carolina
Crónica ONU, Marzo 2008: PAJIN, L: "Intensificación de las actividades para alcanzar los ODM": Fondo España-PNUD,
PAJIN, L, El País, 06/2014: "¿Es posible el desarrollo sostenible sin lograr la igualdad de género?"
PAJIN, L, El País, 03/ 2014: "De los Objetivos del Milenio a los de Desarrollo Sostenible".
PAJIN, L. El País, 05/2008: La violencia sexual como arma de guerra.