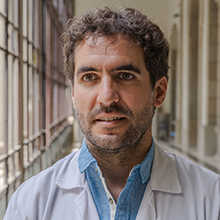 Alberto García-Basteiro
Associate Research Professor
Tuberculosi
Alberto García-Basteiro es profesor asociado de investigación en el Instituto de Salud Global de Barcelona (ISGlobal) y coordinador del área de investigación en tuberculosis en el Centro de Investigação em Saúde de Manhiça (CISM), en Mozambique. Licenciado en Medicina por la Universidad de Santiago de Compostela, realizó la especialidad de medicina preventiva y salud pública en el Hospital Clínic de Barcelona (premio fin de residencia Emili Letang) y un máster en Epidemiología en la London School of Hygiene and Tropical Medicine (LSHTM), en Reino Unido. Completó sus estudios de doctorado (joint doctoral degree) en el Amsterdam Institute for Global Health and Development (Universidad de Amsterdam) en Holanda y en ISGlobal (Universidad de Barcelona), a través del programa Transglobal Health Solutions, financiado por la Unión Europea.

Desde junio de 2012 está vinculado a ISGlobal y actualmente es profesor asociado de la Universidad de Barcelona, donde imparte clases de epidemiología en el Máster en Salud Global ISGlobal-Universidad de Barcelona. También es médico del Hospital Clínic de Barcelona, coordinador de la Unidad de Investigación en Tuberculosis y VIH del Centro de Investigación en Salud de Manhiça (CISM), y presidente del grupo de tuberculosis en la European Respiratory Society (ERS).

Ha participado en diferentes proyectos de investigación en enfermedades relacionadas con la pobreza en Centroamérica y África principalmente. En la actualidad coordina varios estudios de epidemiología, evaluaciones de nuevas herramientas diagnósticas y ensayos clínicos de fármacos en el área de tuberculosis del CISM. Su interés científico se centra en la evaluación de la carga de enfermedad en Mozambique y en África, en ensayos de nuevos diagnósticos y tratamientos y en la caracterización de la tuberculosis a nivel clínico, microbiológico y social.

Como resultado de su intenso trabajo científico, ha publicado más de 130 artículos en prestigiosas revistas biomédicas y ha sido invitado como ponente en numerosas conferencias internacionales. Ha recibido varios premios y reconocimientos, como la "Lección Joven" concedido por la Sociedad Española de Sociedad Española de Neumología y Cirugía Torácica (SEPAR), el premio Enrique Nájera para jóvenes epidemiólogos, concedido por la Asociación Española de Epidemiologia (SEE) o el Young Investigator Prize, de la Unión Internacional contra la Tuberculosis y Enfermedades Respiratorias al mejor investigador joven en tuberculosis.
Línies de recerca
Caracterización epidemiológica de la tuberculosis en Mozambique
Desarrollo de nuevas herramientas para la lucha contra la tuberculosis (estudios de nuevos tests diagnósticos, ensayos cínicos de fármacos)
Determinantes individuales y comunitarios asociados a vacunación de diversas enfermedades infecciosas
Publicacions principals
García-Basteiro AL, Hurtado JC, Castillo P, Fernandes F, Navarro M, Lovane L, Casas I, Quintó L, Jordao D, Ismail MR, Lorenzoni C, Carrilho C, Sanz A, Rakislova N, Mira A, Alvarez-Martínez MJ, Cossa A, Cobelens F, Mandomando I, Vila J, Bassat Q, Menendez C, Ordi J, Martínez MJ. Unmasking the hidden tuberculosis mortality burden in a large postmortem study in Maputo Central Hospital, Mozambique. Eur Respir J, (2019) 07 25 [Epub ahead of print]
García-Basteiro AL, Brew J, Williams B, Borgdorff M, Cobelens F, What is the true tuberculosis mortality burden? Differences in estimates by the World Health Organization and the Global Burden of Disease study. Internationa Journal of Epidemiology, (2018) 47 (5): 1549-1560.
Beynon F, Theron G, Respeito D, Mambuque E, Saavedra B, Bulo H, Sanz S, Dheda K, García-Basteiro AL Correlation of Xpert MTB/RIF with measures to assess Mycobacterium tuberculosis bacillary burden in high HIV burden areas of Southern Africa. Scientific Reports (2018) 8(1): 5201-
García-Basteiro AL, Ribeiro RM, Brew J, Sacoor C, Valencia S, Bulo H, Cobelens F, Macete E. Tuberculosis on the rise in southern Mozambique (1997-2012). European Respiratory Journal, (2017) 49 (3): 1601683.
García-Basteiro AL, Cobelens F. Triage tests: A new priority A new priority in TB diagnostics. Lancet Respir Med,(2015) 3(3):177-8
García-Basteiro AL, López-Varela E, Manhiça I, Macete E, Alonso PL. Mozambique faces challenges in the fight against tuberculosis. Lancet (2014) 383(9913):215-216.