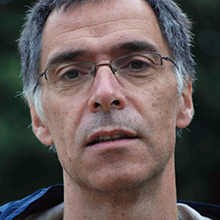 Antoni Castells
Director Mèdic de l'Hospital Clínic de Barcelona
Antoni Castells, MD, PhD, is specialist in Gastroenterology. From February 2010 to December 2015, he was Director of the Institute of Digestive and Metabolic Diseases of the Hospital Clínic of Barcelona, the leading research and innovation center in Gastroenterology, Hepatology and Digestive Surgery in Spain. Since January 2016, he is Medical Director of the Hospital Clínic of Barcelona.

His professional activity has been related to colorectal neoplasms, involving diagnosis, therapeutics and prevention, and currently he is Co-coordinator of the Barcelona's Colorectal Cancer Screening Programme.

His research activity has been developed in the Institut d'Investigacions Biomèdiques August Pi i Sunyer (IDIBAPS), the affiliated research institute of the Hospital Clínic, and in the Centro de Investigación Biomédica en Enfermedades Hepáticas y Digestivas (CIBERehd), a research center depending on the Spanish Ministry of Health. In both institutions, he is Director of the Gastrointestinal and Pancreatic Oncology Research Group.

In the last years, his research achievements are mainly derived from two internationally-recognized research projects. Firstly, he is co-leading investigator of the EPICOLON consortium, a multicenter, nation-wide project aimed at characterizing hereditary and familial colorectal cancer forms in Spain. This consortium, paradigm of a collaborative multicenter effort, has given rise several peer-reviewed publications (i.e. JAMA 2005; 293:1986; JAMA 2012; 308:1555) and prompted a very productive collaborative network both in Spain and worldwide in the field of colorectal cancer genetics and genomics. Secondly, he is principal investigator of the COLONPREV project, a study aimed at establishing the best strategy for colorectal cancer screening in average-risk population (i.e. NEJM 2012; 366:697; J Natl Cancer Inst 2013; 105: 878).

From an academic point of view, he is Full Professor at the University of Barcelona, School of Medicine.