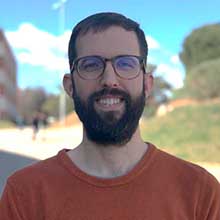 After graduating in Sociology and obtaining two official master's degrees in Environment and Sustainable Development and in Urban Planning and Environmental Management, Dr Vich obtained his PhD in Geography in March 2019 (Universitat Autònoma de Barcelona).

Dr Vich's two main research areas are the link between urban design and the use of active modes of transport and physical activity, and the associated health benefits of green spaces.

His research career develops from an initial interest on the relationships between the urban environment and transport modal choice in the field of transport geography.

Thanks to his background, he has become a specialist on the use of GPS, actigraphy and GIS technologies.

His interest has been transiting towards public health through the analysis of active modes of transport and the direct impacts of everyday travel habits on physical health.

It has been his interest on the impact of transportation and urban planning on public health what brought him to the current postdoc position to be developed at the Barcelona's Institute of Global Health, under de supervision of Prof Mark Nieuwenhuijsen, which will allow him to continue his research career.
Lines of research
Active transport and physical activity
Built environment and health
Green space exposure
Main publications
Marquet, O; Maciejewska, M; Delclos-Alió, X; VICH, G; Schipperijn, J; Miralles-Guasch, G. (2020) Physical activity benefits of attending a senior center depend largely on age and gender: a study using GPS and accelerometry data. BMC Geriatrics. 20(1):134.

VICH, G; Marquet, O.; Miralles-Guasch, C. (2019) "Green streetscape and walking: Exploring active mobility patterns in dense and compact cities" Journal of Transport & Health, 12 (March 2019), 50-59.

VICH, G; Marquet, O.; Miralles-Guasch, C. (2018) "Greenness exposure of walking routes and residential areas using smartphone tracking data and GIS in a Mediterranean city" Urban Forestry & Urban Greening. 40, 275-285.

VICH, G; Marquet, O.; Miralles-Guasch, C. (2018) "The scales of the metropolis: Exploring cognitive maps from a SoftGIS-based qualitative approach". Geoforum, 88, 49-56.

VICH, G; Marquet, O.; Miralles-Guasch, C. (2017) "Suburban commuting and activity spaces. Using smartphone tracking data to understand the spatial extent of daily life". Geographical Journal, 183 (4), 426-439.