Policy & Global Development, Antimicrobial Resistance
Micro-Combat: Learning About Antimicrobial Resistance and How to Fight Infectious Disease with a Card Game
Schools in the United Kingdom, Greece, Portugal and Spain test a role play card game during World Antibiotic Awareness Week
13.11.2017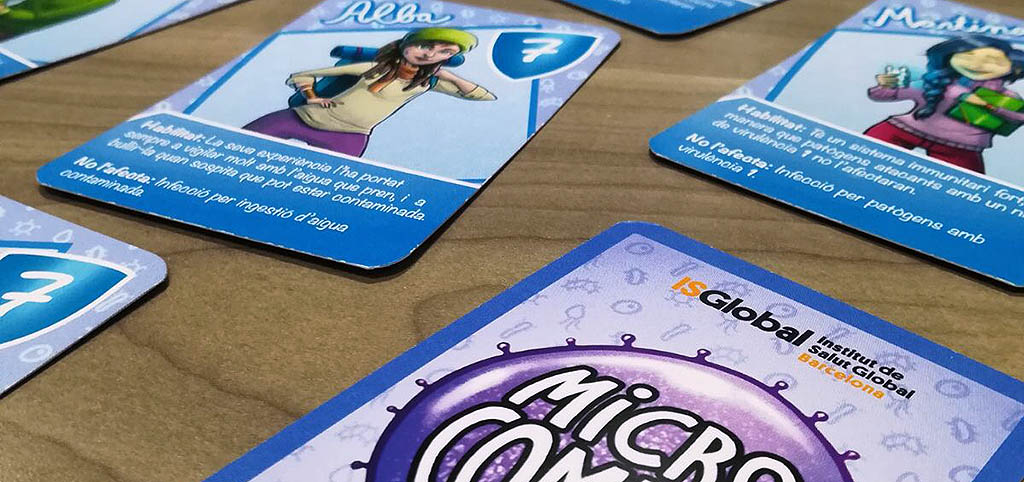 Bacterial resistance to antibiotics is a huge global health risk, but the fight against this threat depends not only on a rapid diagnosis and an appropriate treatment. Campaigns to provide information and raise awareness are also key tools in this battle against the clock. With this in mind, a team from the ISGlobal Antimicrobial Resistance Initiative has produced an entertaining and educational card game called Micro-combat designed to raise awareness among young people about how infections are transmitted and how they can be avoided.
"We believe that play is an excellent way for young people to learn about the problems associations with infectious diseases and antimicrobial resistance" explains Clara Ballesté, coordinator of ISGlobal's Antimicrobial Resistance Initiative.
During World Antibiotic Awareness Week (13 to 19 November), Micro-combat will face its first acid test, when students and teachers in schools across the United Kingdom, Greece, Portugal and Spain will evaluate its appeal as a game and its effectiveness as a learning tool.
The Dynamic
The aim of the card game is to eliminate other players by attacking them with germs: the pathogens can be more or less virulent. However, to attack an opponent, the player must hold cards representing a bacteria, virus, fungus or protozoa, and the corresponding route of transmission. As happens in real life, players who are attacked can escape the effects of the disease if, for example, their immune system is good or they take specific precautions, or if in the course of the game they have acquired powerful cards (representing specific medicines and products or actions capable of curing injuries and fighting vectors or germs). However, the attacker can also overcome this defence with cards representing drug-resistance.
While enjoying themselves, players learn about different kinds of pathogens (bacteria, virus, fungi, protozoa), the many routes of transmission, the nature of infectious diseases, and which drugs are used to combat which disease. At the same time, they also learn about the phenomenon of drug-resistant pathogens.
The game was devised by ISGlobal in collaboration with La Mandarina de Newton and its production was financed by European Health Forum Gastein and European Awareness Day, an ECDC (European Centre for Disease Control) Initiative.