The epidemic –now pandemic– of the new coronavirus is advancing at a staggering pace. Fortunately, the scientific studies and evidence on the virus (SARS-CoV-2) and the disease (COVID-19) are also advancing at great speed.
In this section, which we will regularly update, we will summarise the most relevant emerging information on SARS-CoV-2.
[Evidence published between 09/09/2020 and 15/09/2020]
Making sense of viral mutations
The analysis of almost 20,000 SARS-CoV-2 genomic sequences since December 2019 suggests that the viral mutations observed are the result of neutral evolution, rather than of selective pressure. One of the most common mutations in the viral Spike protein (the D614G mutation) has become dominant, yet there is no evidence it affects binding to the human ACE2 receptor. Importantly, the mutations observed to date should not prevent vaccines from providing global protection.
Which cells can be infected?
A 'RNA map' at the single cell level identifies those cells in our body that express the ACE2 receptor and other proteins that provide an entry route to SARS-CoV-2. Cells in the intestine and kidney appear highly susceptible to infection, which is consistent with clinical data. Findings also identify alternative entry paths to lung and brain cells.
Viral spread in US and Europe could have been avoided
An analysis that integrated multiple information sources, including air travel flows, disease incidence, and virus genome sequencing shows that rapid interventions successfully prevented early introductions of the virus into Germany and the USA. Therefore, intensive testing and contact tracing could have prevented SARS-CoV-2 from becoming established in the USA and Europe.
An analysis in the UK confirms that transmission from strictly pre-symptomatic infections is high (41% of cases) and that most transmission occurs in the window from 2-3 days before to 2-3 days after symptom onset.
Face masks: beyond protection?
Recent data have led to suggest that face masks may not only protect people from infection, but may also reduce the severity of disease among people who do become infected. In fact, some experts propose that, by reducing the viral load that an exposed person inhales, face masks could lead to an increase in the proportion of SARS-CoV-2 infections that are asymptomatic but that confer some level of immunity.
Ibuprofen
A Danish study finds no association between non-steroidal anti-inflammatory drugs (i.e. ibuprofen) and COVID-19 severity or mortality.
More on treatment
Plasma of recovered patients
In a multicentre, randomized clinical trial in India, with over 450 patients, convalescent plasma did not reduce mortality or progression to severe COVID-19. However, titres of neutralizing antibodies vary greatly between donors, so measuring their levels should help determine their efficacy.
Monoclonal antibodies
The first treatment specifically designed for the new coronavirus, an antibody cocktail developed by Regeneron, will start to be tested in clinical trials.
Miniproteins
Researchers at the University of Washington used computers to design 'miniproteins' that bind tightly to the SARS-CoV-2 Spike protein. More than two million candidate proteins were designed and over 100,000 were produced and tested in the lab. The best candidates were up to six times more potent in inhibiting infection, as compared to the most effective monoclonal antibodies described to date. These minibinders are also easier and cheaper to scale up.
More on vaccines
Through the nose
Preclinical studies in mice shows that an adenoviral vector expressing the whole-length S protein induces significantly higher neutralizing antibodies in the periphery and in the lungs when the vaccine is administered intranasally. The vaccine, developed by Vaxart, USA, will start to be tested in humans.
Meanwhile, China will start phase 1 trials for a potential COVID-19 vaccine administered through a nasal spray, which contains strains of the weakened flu virus with genetic segments of the SARS-CoV-2 Spike protein.
A short but important pause
The UK clinical trial of AstraZeneca's vaccine has resumed after a pause due to a possible adverse event in a woman participant who experienced symptoms consistent with transverse myelitis. This kind of event is expected when testing the vaccine in thousands of people, and the pause is a reassuring sign that the process to ensure the safety of the participants is working. Britain's regulatory agency concluded it was safe to restart. There is no word yet as to when the trial will restart in the USA.
Indirect effects of the pandemic
The pandemic is widening the gap between rich and poor countries - 69% of respondents in poorer countries reported a drop in income, compared to 45% in richer ones, shows a survey for the BBC.
[Evidence published between 02/09/2020 and 08/09/2020]
Virus in every breath?
Patients can exhale millions of SARS-CoV-2 RNA copies into the air per hour simply by breathing, according to a study in China. In contrast, viral RNA was less frequently detected on surfaces used by the patients. Although the study did not analyse infectivity, it does support measures such as enhanced ventilation and the use of face masks to minimize the risk of infection by airborne SARSCoV-2.
More on risk factors
Pregnant women
An analysis of many studies concludes thatpregnancy is a risk factor for requiring intensive care treatment for COVID-19. Furthermore, the disease raises the risk of preterm births.
Sickle cell carriers
Carrying one copy of the sickle cell gene could increase the risk of severe COVID-19 or death and help explain why COVID19 is disproportionately killing Black Americans, according to some researchers. Up to 3 million Americans are estimated to carry one copy of the gene.
Circulating virus
SARS-CoV-2 is normally detected in the respiratory tract. However, a Swedish study shows that patients that also have SARS-CoV-2 RNA in blood when they arrive to the hospital are seven to eight times more likely to become critically ill and die.
Immunity to SARS-CoV-2
Data from Iceland
Antiviral antibodies against SARS-CoV-2 were detected four months after diagnosis, according to a study in Iceland that used six different assays to measure antibodies in more than 30,000 people. The results also allow to estimate that 0.9% of Icelanders were infected with SARS-CoV-2 and that the infection was fatal in 0.3%.
The key role of T cells
CD8+ T-cell responses might serve as a more precise marker of antiviral immunity than antibodies, concludes a study that analysed CD8+ T cell responses in 26 convalescent patients and 25 healthy donors. Notably, SARS-CoV-2-specific T cells were present even in convalescent patients with no detectable antibodies. Another study showed higher proportions of SARS-CoV-2-specific CD8+ T cells inpatients with mild disease, as compared to severe cases.
Other 'unconventional' T cells – namely, mucosal-associated T cells and natural killer T cells - might also play a beneficial role. Patients who had these unconventional T cells in a highly active state when admitted to intensive care were less likely to have low oxygen levels and were discharged sooner than patients whose cells were not so active.
Finally, a review on COVID-19 immunity stresses that memory B cells and T cells may be maintained even if there are not measurable levels of serum antibodies.
Treatment: lifesaving steroids
Corticosteroids can reduce mortality among critically ill patients, according to a WHO-led analysis of 7 randomized trials that included 1703 patients. The death rate at 28 days was of 32% in patients who received corticosteroids (including dexamethasone), as compared to 40% in patients who received usual care or placebo.
Phase 1 results for two more vaccines
Novavax's NVX-CoV2373, a nanoparticle vaccine composed of trimers of the SARS-CoV-2 spike protein and Matrix-M1 adjuvant, appeared to be safe, and by day 35 elicited antibody responses that exceeded levels observed in Covid-19 convalescent serum as well as good CD4+ T cell responses.
The first results for the Russian vaccine based on adenoviral vectors and developed by the Gamaleya Institute were also published. The vaccine consists of a first shot with one type of recombinant adenovirus (rAd26-S) and a boost with another type of adenovirus (rAd5-S), 3 weeks later. The vaccine showed a good safety profile and induced strong humoral (i.e. neutralising antibodies) and cellular (CD4 and CD8) immune responses in all participants. The trial involved 76 healthy volunteers aged 18 to 60, bu there was no control group.
Vaccine distribution
Nineteen public health experts laid out an ethical framework called the Fair Priority Model for the distribution of COVID vaccines, once they are available. It relies on three main values: benefiting people and limiting harm, prioritizing the disadvantaged, and avoiding discrimination. The authors argue that distributing different quantities of vaccine to different countries is not discriminatory if it effectively benefits people while prioritizing the disadvantaged.
Vaccine trust
A poll by the Spanish institution FECYT shows that 68% of respondents is willing to get vaccinated against COVID-19. Overall, vaccine trust is still high among Spanish people: most consider that vaccines are effective in preventing disease (96%) and safe (94%).
[Evidence published between 28/08/2020 and 01/09/2020]
Faster, simpler tests for detecting the virus
The SHERLOCK assay, based on uses a high-sensitivity enzymatic reporter to detect SARS-CoV-2 RNA. The test is highly specific and sensitive and should facilitate SARS-CoV-2 detection in settings with limited resources, since it does not require specialised equipment.
The U.S. FDA gave an emergency use authorization to Abbott Laboratories for a 15 min test that detects viral proteins (instead of viral ARN) and will cost 5 USD. The BinaxNOW test uses a lateral flow technology (i.e. a paper strip) to detect viral antigens from nasal swabs. Even if less accurate or sensitive than PCR tests, experts argue that these antigen tests can help to rapidly detect people who have high viral loads and are therefore potentially infectious.
COVID-19: easily missed in children
A study with 91 children in Korea that tested positive for SARS-CoV-2 during contact tracing shows that 66% had unrecognized symptoms before diagnosis and that 22% remained asymptomatic throughout the study. The duration of symptoms varied widely, from three days to nearly three weeks.
Quantifying mortality
Several studies from across the world have allowed to quantify the risk of dying from COVID-19. For every 1,000 people infected with the coronavirus who are under the age of 50, almost none will die. For people in their fifties and early sixties, about five will die — more men than women. The risk then climbs steeply as the years accrue. For every 1,000 people in their mid-seventies or older who are infected, around 116 will die.
A prospective study of 651 children and young people under 19 years of age admitted to 138 hospitals in UK, concludes that severe disease was rare and death was exceptionally rare. It also indicates that children with multisystem inflammatory syndrome have different demographic and clinical features depending on whether they have acute SARS-CoV-2 infection (PCR positive) or are post-acute (antibody positive). Black ethnicity was significantly associated with admission to critical care.
Advances in Treatment
Tocilizumab
A cohort study performed in 60 Spanish hospitals with 778 COVID-19 patients in hyperinflammatory state shows that tocilizumab (an antibody that blocks the inflammatory IL-6 molecule) lowered the risk of intubation and/or death in these patients. However, randomized clinical trials are needed to confirm this.
A broad-spectrum antiviral drug ?
A small peptide derived from a mouse host-defense protein exhibited potent antiviral activity against viruses that enter the cell via small vesicles called endosomes, including the H1N1 influenza virus, the avian influenza H7N9 virus, and the coronaviruses SARS-CoV-2, MERS-CoV and SARS-CoV. The P9R peptide significantly protected mice from lethal challenge by the H1N1 virus. Another advantage is that it shows low possibility of leading to drug-resistance.
Vaccines: do not rush it
Moderna announced that its mRNA vaccine induced immune responses in older adults similar to those in younger participants, offering hope that it will be effective in people considered to be at high risk of severe disease.
As the vaccine race is intensifying, many scientists warn about the risk of releasing a vaccine into the market without enough efficacy data. "A rush to register the first vaccine will make it more difficult to evaluate other vaccines that could be more effective" they say.
[Evidence published between 21/08/2020 and 27/08/2020]
Children: viral spreaders or not?
A study with 192 children with suspected or confirmed SARS-CoV-2 infection shows that the viral load in the nose and throat was highest in children in the first 2 days of symptoms, and significantly higher than hospitalized adults with severe disease. However, it should be noted that high viral RNA levels do not always mean high infectivity.
On the other hand, the Kids Corona study conducted in Barcelona this summer, with over 2000 participants, found that the basic reproduction number (R0) in summer camps was six times lower than in the general population, and that infected children generated few secondary cases. Keeping groups small and constant was key to containing transmission, in addition to hand hygiene, use of face masks and outdoors activities. Another study in the UK also shows that SARS-CoV.2 infections and outbreaks were uncommon in summer schools and that transmission occurred mainly between staff. The results emphasise the importance of controlling community transmission to protect educational settings.
Another study with over 33,000 children shows a low pooled prevalence (0.65%) of positive SARS-CoV-2 test results among children who were asymptomatic and presenting for surgical or medical care at 25 hospitals across the US throughout May 2020.
Saliva: a reliable and easier option
The Kids Corona study also showed that PCR tests on saliva were reliable and better accepted than deep nasal swabs, as confirmed by another study performed with more than 1000 specimens from almost 400 volunteers at a drive-through testing site in US.
Predictors of disease severity and mortality
Serum levels of two inflammatory molecules (IL-6 and TNF-α) are significant predictors of COVID-19 disease severity and death, according to a study by researchers at Mount Sinai, New York. The authors conclude that serum IL-6 and TNF-α levels should be considered in the management and treatment of patients with COVID-19 to stratify prospective clinical trials, guide resource allocation and inform therapeutic options.
Obesity increases the risk of death from Covid-19 by nearly 50%, according to a meta-analysis using data from many countries. The authors of the study also suggest that obese people may need higher doses of the vaccine to be protected. These findings are worrying, given that 20% of the global population is overweight or obese, and close to 66% in the UK and US.
The good news is that the survival rates of COVID-19 patients in intensive care units are drastically improving, and this is observed across all age categories, according to data from the United Kingdom.
Reinfection cases: no cause for alarm
A 33-year-old man from Hong Kong who was treated at the hospital for a mild case in March tested positive for the virus again almost five months later, when returning from Europe, but did not develop disease the second time. Genomic analysis of the virus confirms that he was infected twice. Experts agree there is no reason to panic: i) it is not clear whether he developed neutralizing antibodies during the first infection; ii) the fact that he did not develop symptoms when reinfected is suggestive of an effective immune response that, while not avoiding infection, did avoid disease; iii) the frequency of reinfections and their role in viral spread still needs to be determined.
Vaccines: better through the nose?
A single intranasal dose of Oxford's ChAd-SARS-CoV-2-S candidate vaccine almost completely prevents SARS-CoV-2 infection in both the upper and lower respiratory tracts in a mouse model expressing the human ACE2 receptor. This is in contrast with intramuscular administration, which induces robust systemic immune responses and protects against lung pathology but does not confer sterilizing immunity (i.e. the virus does manage to infect).
Another vaccine that also uses an adenovirus (Ad5) encoding the SARS-CoV-2 spike protein, protected rhesus macaques from infection when given in either nasal or injected form. Although intranasal vaccination elicited less systemic antibodies and cellular responses than intramuscular vaccination, it conferred effective protection against SARS-CoV-2 infection. The authors argue that an intranasal vaccine might allow people to vaccinate themselves.
A table to evaluate the risk of transmission
The risk of transmission goes beyond the simple safety distance rule – it also depends on other factors such as air flow, viral load, and contact duration with other people. A table incorporating all these factors allows to better evaluate the risk of transmission in different settings and activities.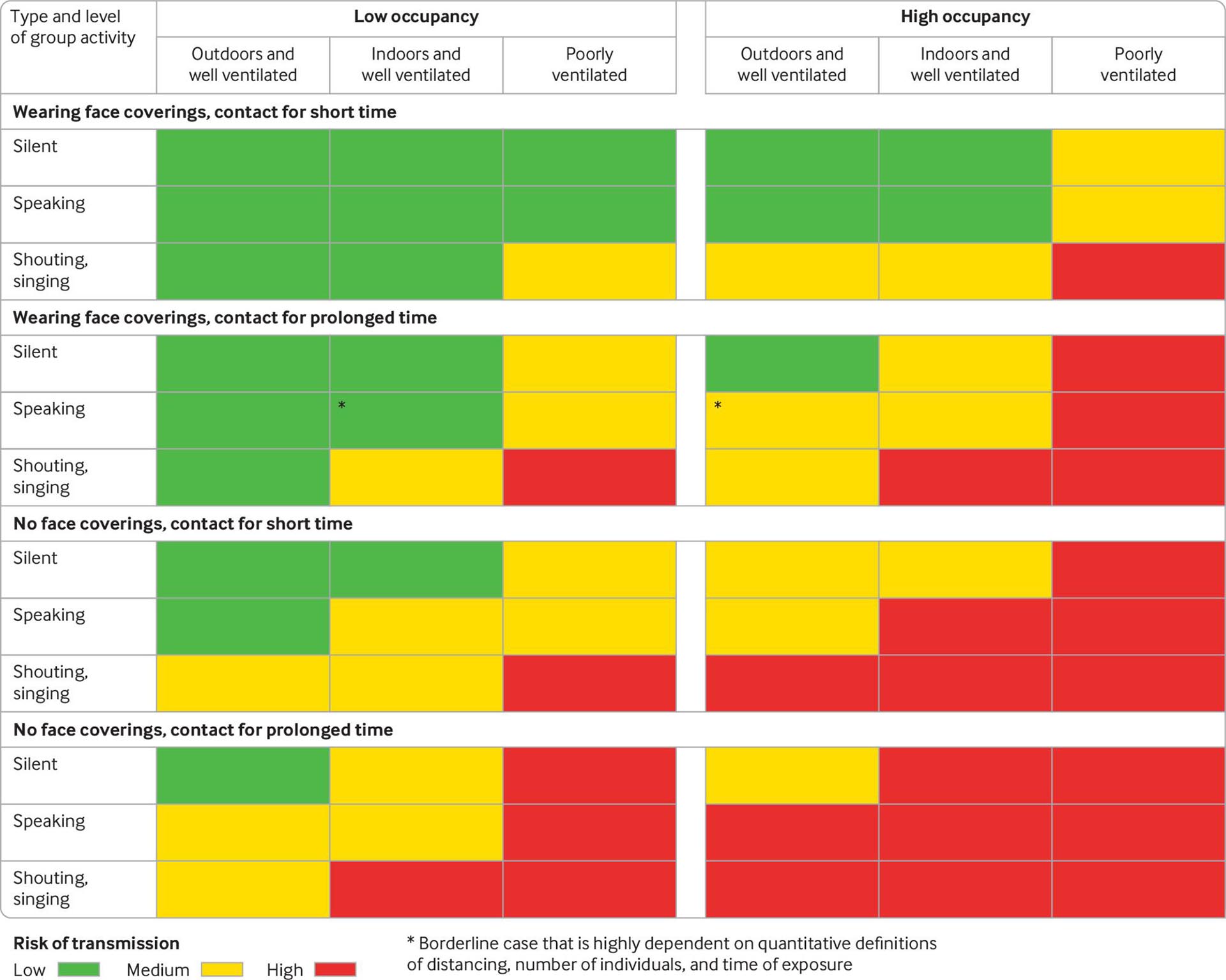 Fuente: BMJ 2020;370:m3223
[Evidence published between 31/07/2020 and 20/08/2020]
A milder virus variant?
SARS-CoV-2 variants with a particular deletion (∆382) in its genome have been detected in Singapore and other countries. A study with 278 patients (22% of which were only infected with the variant form) suggests that it may be associated with a milder infection. However, further studies are needed to understand the clinical and epidemiological features of these viral variants.
Viral load in asymptomatic individuals and children
A study with 300 individuals in a community center in South Korea shows that the viral load in asymptomatic individuals was similar to symptomatic patients.
Similarly, an analysis suggests that children younger than 5 years with mild to moderate COVID-19 have high amounts of SARS-CoV-2 viral RNA in their nasopharynx compared with older children and adults. However, these studies measured viral nucleic acid, rather than infectious virus.
Post-COVID symptoms
A prospective cohort of COVID-19 patients followed during 12 weeks shows that most (74%) had persistent symptoms and that a more holistic approach focussing on rehabilitation and general well-being is necessary.
The persistent symptoms included fatigue and brain-fog. In this sense, a prospective brain MRI imaging study in 60 recovered COVID19 patients found micro-structural or functional abnormalities in 55% of patients at 3 months, as compared with healthy controls.
Risk factors
Obesity
A UK report provides new evidence on excess weight as major and independent risk factor for COVID-19. A cohort study observed an elevated risk even at a modest weight gain. The mechanisms may involve impaired glucose and lipid metabolism.
Diabetes
Deaths in people with type 1 and type 2 diabetes rose sharply during the initial COVID-19 pandemic in England, according to a population-based cohort study. The risk of dying from COVID-19 was 3.5 times higher for people with type 1 diabetes, and 2 times higher for people with type 2 diabetes, as compared to non-diabetic patients.
Ethnicity
Kidney problems may particularly impact COVID-19 patients of African ancestry carrying a high-risk APOL1 gene variant , according to some experts. Furthermore, a study on COVID-19-associated multisystem inflammatory syndrome in children in the US reveals that Hispanic and black patients accounted for the largest proportion (73.6%) of reported cases.
Mounting evidence for strong and lasting immunity
SARS-CoV-2 elicits robust, broad and highly functional memory T cell responses, suggesting that natural exposure or infection may prevent recurrent episodes of severe COVID-19, according to a study published in Cell. Importantly, SARS-CoV-2-specific T cells were detectable in exposed family members that were antibody-negative, and in convalescent individuals who had asymptomatic or mild COVID-19.
In fact, a series of new studies are starting to see encouraging signs of strong, lasting immunity, even in people that developed only mild symptoms of COVID-19. One of these studies detected stable levels of IgG not only in blood but also in saliva (meaning an effective mucosal immune response) of COVID-19 recovered individuals, up to 4 months after they developed symptoms. Another study detected stable levels of antibodies specific for different viral proteins up to 3 months after infection, even in asymptomatic individuals.
Treatment
A research team has engineered a soluble ACE2 receptor with enhanced affinity, which could act as a decoy by binding to the virus before it binds to host cells. This decoy receptor could be used as COVID-19 therapy.
Vaccines
The preclinical results for two of the leading vaccines, which are already in clinical trials, have been published. Vaccination with Oxford's ChAdOx1 nCoV-19 induced a good antibody and T cell response in rhesus macaques. Vaccinated animals challenged with the virus had lower viral loads as compared with control animals, and did not develop pneumonia. No adverse effect related to antibody production was observed.
One single shot of the Ad26 vaccine (developed by Janssen) in non-human primates induced robust neutralizing antibody responses and provided complete or near-complete protection in upper and lower respiratory tract, following infection with SARS-CoV-2. The neutralizing antibody titres elicited by the vaccine correlated with protective efficacy.
Novavax announced promising phase I data for their recombinant vaccine coupled to a saponin-based adjuvant (MatrixM). Two doses of the vaccine were well tolerated and induced neutralizing antibodies and T cell responses in all participants. Novavax is one of the vaccines funded by operation Warp Speed.
Russia has declared a COVID-19 vaccine ready for use, despite international concern that it just began Phase 3 trials last week. The vaccine, developed by the Gamaleya Institute in Moscow with assistance from Russia's Defense Ministry, uses an adenoviral vector to express the SARS-CoV-2 S protein. Russian scientists haven't published any scientific information about how the vaccine has performed in animal tests or in early-stage human studies.
[Evidence published between 24/07/2020 and 30/07/2020]
Six months ago, on January 30, the WHO declared the new coronavirus a public health emergency of international concern, at a moment when there were less than 100 cases and no deaths outside China.
More on the origins of SARS-CoV-2
Although how, when or where exactly the new coronavirus jumped to humans remains a mystery, a new genomic study suggests that the coronavirus lineage that gave rise to SARS-CoV-2 diverged from related viruses 40-70 years ago and has been circulating in bats for decades. The study does not discard the hypothesis that a pangolin or another mammal served as intermediary host, but it does suggest that SARS-CoV-2 did not recombine with pangolin coronaviruses.
More on its transmission
Newborns
A study with 116 deliveries by COVID-19-positive mothers shows that transmission of the virus to the baby is unlikely to occur if correct hygiene precautions are undertaken. Allowing newborns to share room with their mothers and breastfeed is safe when parents adopt the adequate protective strategies.
Schools
A major COVID-19 outbreak in a high school in Israel was associated with an extreme heatwave that led to exemption from using facemasks and to continuous air conditioning.
Cruise ships
A genomic analysis shows that the outbreak on the Diamond Princess cruise ship (which resulted in around 700 infected people) originated from one single individual who was infected when boarding. Viral transmission occured during recreational mass-gatherings and among people who shared cabins through mass-gatherings in recreational areas and among passengers who shared cabins during the quarantine.
People at risk
In the Americas, three out of ten people – or nearly 325 million – are at increased risk of developing severe COVID-19 illness due to underlying health conditions, says the Pan American Health Organisation (PAHO).
Long-term effects
In the US, a multistate telephone survey of symptomatic adults who tested positive for SARS-CoV-2 infection but were not hospitalised, indicates that 35% had not returned to their usual state of health when interviewed 2 to 3 weeks after testing. One of five young adults with no chronic medical conditions suffered from long-term effects.
Another study with a cohort of German patients recently recovered from COVID-19 infection revealed heart inflammation in 60% of the patients, regardless of pre-existing health conditions or disease severity of the disease.
Mortality can be attenuated
An analysis of data from 169 countries shows that the mortality rate of COVID-19 can be attenuated by increasing testing, improving government effectiveness and increasing hospital beds
Cross-reactive protection?
Some people who have never been infected by or exposed to the new coronavirus have antibodies that recognise a region of the viral spike protein called S2, which is conserved among cold coronaviruses (HCoVs) and SARS-CoV-2. The study also shows that these antibodies can neutralise SARS-CoV-2 and are more frequently found in children and adolescents.
Likewise, T cells of the immune system have been detected in individuals that have never been exposed to SARS-CoV-2. A study published this week in Nature detected SARS-CoV-2 reactive CD4+T cells in 83% of patients with COVID-19, but also in 35% of healthy individuals. These T cells recognised a region of the viral S protein that is also present in common cold coronaviruses. The role of these pre-existing SARS-CoV-2 cross-reactive T cells in determining the clinical outcome of the disease is not clear yet.
Treatment updates
Antibodies
An antibody originally obtained in mice reduced SARS-CoV-2 levels in the lungs and prevented pulmonary pathology in a mouse model of COVID-19. The antibody efficiently binds to the receptor binding domain of the viral spike protein and neutralizes SARS-CoV-2.
Hydroxychloroquine
This week, four studies published this week provide further evidence on the drug's lack of efficacy in preventing or treating COVID-19.
A multicenter, controlled trial in Brazil involving hospitalized patients with mild or moderate COVID-19 shows that the use of hydroxychloroquine, alone or with azithromycin, did not improve clinical status at 15 days as compared with standard care. In addition, the RECOVERY trial posted its results with 1561 hospitalized patients who received hydroxychloroquine compared with 3155 patients who received usual care. The drug was not associated with reductions in 28-day mortality but was associated with an increased length of hospital stay and increased risk of progressing to invasive mechanical ventilation or death.
These results are supported by two preclinical studies. One study, performed with rhesus macaques infected with SARS-CoV-2, shows no therapeutic or prophylactic effect of hydroxychloroquine, with or without azithromycin. Another one shows that although chloroquine inhibits SARS-CoV-2 spread in kidney cell lines, it does not block SARS-CoV-2 infection in a lung cell line, indicating that the drug targets a pathway that is not operative in lung cells and is unlikely to protect against SARS-CoV-2 spread in and between patients.
Vaccines
A vaccine composed by the mRNA encoding for the SARS-CoV-2 receptor binding domain and encapsulated by lipid nanoparticles (mRNA-LNP) elicited robust neutralizing antibodies against SARS-CoV-2 as well as a cellular response in mice and non-human primates. The ARCoV vaccine, developed by a Chinese team, can be stored at room temperature for at least one week. It is currently being evaluated in phase 1 clinical trials.
Non-human primates vaccinated with Moderna's mRNA vaccine were protected against lung inflammation and damage when exposed to the virus. Vaccinated animals showed a good neutralising antibody response and a good CD4 T cell response (but a low or undetectable CD8 T cell response).
[Evidence published between 17/07/2020 and 23/07/2020]
Synchronized lockdowns?
Synchronizing intermittent lockdowns across Europe could divide by half the lockdown periods needed to end community transmission in the continent, according to a study. On the contrary, if well-connected countries end their interventions prematurely, a resurge in cases could occur up to 5 weeks earlier.
COVID-19 transmission and children
A South Korean study that included 59,073 contacts of 5,706 COVID-19 index patients shows that 11-8% of household contacts had COVID-19, versus 1.9% of non-household contacts. It also shows that older children (10-19) may spread disease at rates comparable to adults, though younger children may be less likely to transmit. However, the study only analysed patients with symptoms. It is still not clear how efficient are asymptomatic children in spreading the virus.
More on antibody levels
A study with 34 patients with mild COVID-19 symptoms describes a rapid decay of SARS-CoV-2 antibodies in some of these patients, leading the authors to raise caution regarding herd immunity and vaccine durability.
However, the threshold needed for protection is not yet known, and a slow decline of antibodies over time is to be expected. In fact, another study with 19,860 individuals in New York City shows that the vast majority of infected individuals with mild to-moderate COVID-19 experience robust IgG antibody responses against the viral spike protein, that titers are relatively stable for at least three months, and that the titers of anti-spike antibodies significantly correlate with neutralization activity.
Treatment
Boosting frontline defences
The British company Synairgen announced promising but preliminary results for an inhaled form of interferon beta in reducing the risk of severe COVID-19. In fact, a series of recent papers suggests SARS-CoV-2 disables interferons, one of the body's frontline defences against a virus, and at least five studies have found that interferon treatment or pretreatment has a protective effect in cells and in mice infected with SARS-CoV-2. Ongoing trials are testing interferons as prophylaxis or early treatment. One of them, just published, shows that IFN-a2b reduced in-hospital mortality but only when administered within the first five days upon hospital admission.
Antibodies
Two potent neutralizing antibodies, which recognize non-overlapping sites of the SARS-CoV-2 Spike protein, protected mice and rhesus macaques from SARS-CoV-2 infection and disease.
Vaccines
Encouraging Phase 1 results for two adenovirus-vectored vaccine candidates
The Phase 1 trial for the Oxford vaccine candidate, based on a chimpanzee adenovirus vector (ChAdOx1 nCoV-19), showed an acceptable safety profile and induced neutralising antibodies in more than 90% of the 1077 participants. Antibody levels were further increased in a small group that received a second dose of the vaccine, 28days later. Virus-specific T cell responses were also observed in most participants.
Another vaccine candidate using a human adenoviral vector developed by CanSIno in China also induced neutralizing antibodies and T cell responses in most people after a single dose, with a good safety profile. Older people (aged >55 years) responded less well, which means they may need a second dose.
It is still not known whether these vaccines can prevent infection or disease. This requires phase 2 and phase 3 trials, which have already started for some candidates. The Oxford/Astra Zeneca vaccine is being tested in Brazil, together with China's Sinovac inactivated virus vaccine. The country has now approved human trials for a third COVID-19 vaccine (mRNA vaccine co-developed by Pfizer and BioNTech).
An initiative to speed-up vaccine efficacy results
The advocacy group, 1Day Sooner, has sent an open letter signed by 15 Nobel laureates and 100 other prominent researchers, ethicists, and philosophers, urging the U.S. government "to undertake immediate preparations for human challenge trials", aimed at vaccinating young people- who are less likely to suffer severe disease from COVID-19 - and subsequently exposing them to the virus under controlled conditions.