Research
Project INMA Children: Contributing to Science Even Before They Are Born
Sabadell hosts the infancy and environment (INMA) scientific meeting on October 27 and 28
27.10.2016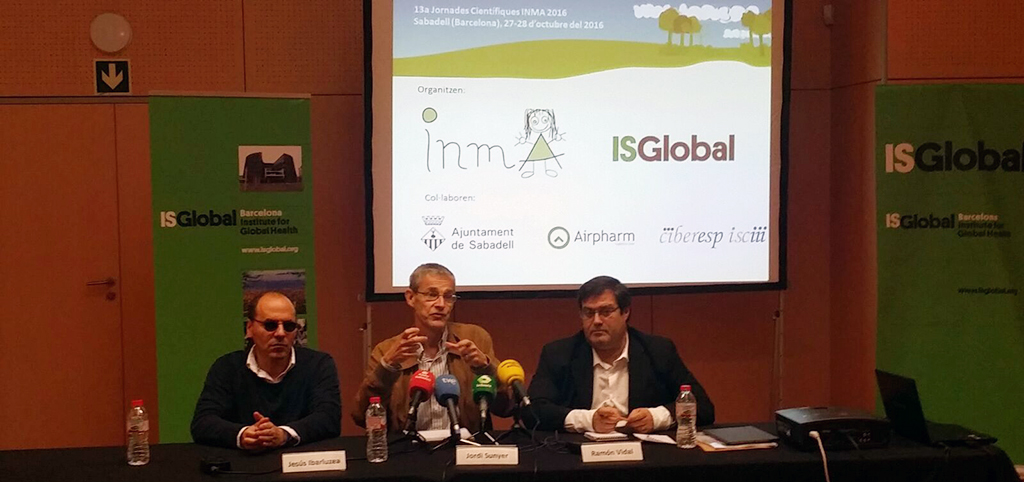 They are between 9 and 18 years old, live in seven different areas of Spain and they all have one thing in common: they have been contributing anonymously to science even before they were born. The almost 3,900 girls and boys that participate in the INMA Project were recruited when their mothers were in the 12th week of pregnancy. All together, they integrate the seven birth cohorts that, over 10 years, have resulted in more than 340 scientific publications on the impact of different environmental exposures on child health.
Thanks to the selfless contribution of all these families, INMA Project scientists follow several research lines in areas such as respiratory diseases, mental health, or obesity. From the establishment of the birth cohorts in 2003, they are analysing how certain environmental exposures such as air and water pollution, tobacco smoke, persistent organic pollutants, pesticides, dietary pollutants (i.e. mercury-contaminated fish), or even certain medicines, can affect child health.
On October 27 and 28, 70 researchers that participate in the INMA Project will come together in Sabadell to exchange and discuss the latest scientific results generated by the seven birth cohorts. Last year, INMA provided data on the negative effect of air pollution on foetal development and on the lungs and brains of young children, thereby confirming that it represents one of the major threats to child health. It showed that passive smoking during pregnancy is associated with an increased risk of respiratory problems in infants, and that obesity is the major health problem among our children. Another study found an association between prenatal exposure to paracetamol and an increase in autism spectrum and hyperactivity symptoms in children.
Children participate in the several projects on an entirely voluntary basis and always with parental authorization. Their contribution varies according to the type of study and can go from a simple blood or urine sample to tests that measure cognitive development, or carrying a backpack to measure surrounding air pollution.
"The scientific meeting at Sabadell is also an opportunity to acknowledge the valuable contribution of all these boys and girls to science", states Jordi Sunyer, ISGlobal researcher and project director. "Thanks to them all, we are producing a growing body of evidence that should ultimately be translated into public health policies that help us live in healthier environments" he adds.
An example of public administration engaged with the INMA Project is the Sabadell City Council, who actively participated in the establishment of what is now one of the largest cohorts in the country and is now helping to organize the scientific meeting. "We believe this project is key in providing necessary evidence for taking decisions aimed at improving our children's health. In this sense, the results from the INMA studies are already guiding municipal policies, such as the Air Quality Plan" explains the city's health counsellor Ramon Vidal.