Training
ISGlobal-UB Master's Students Present Research
To close the 2021/2022 academic year, students defended their final projects before a tribunal
18.07.2022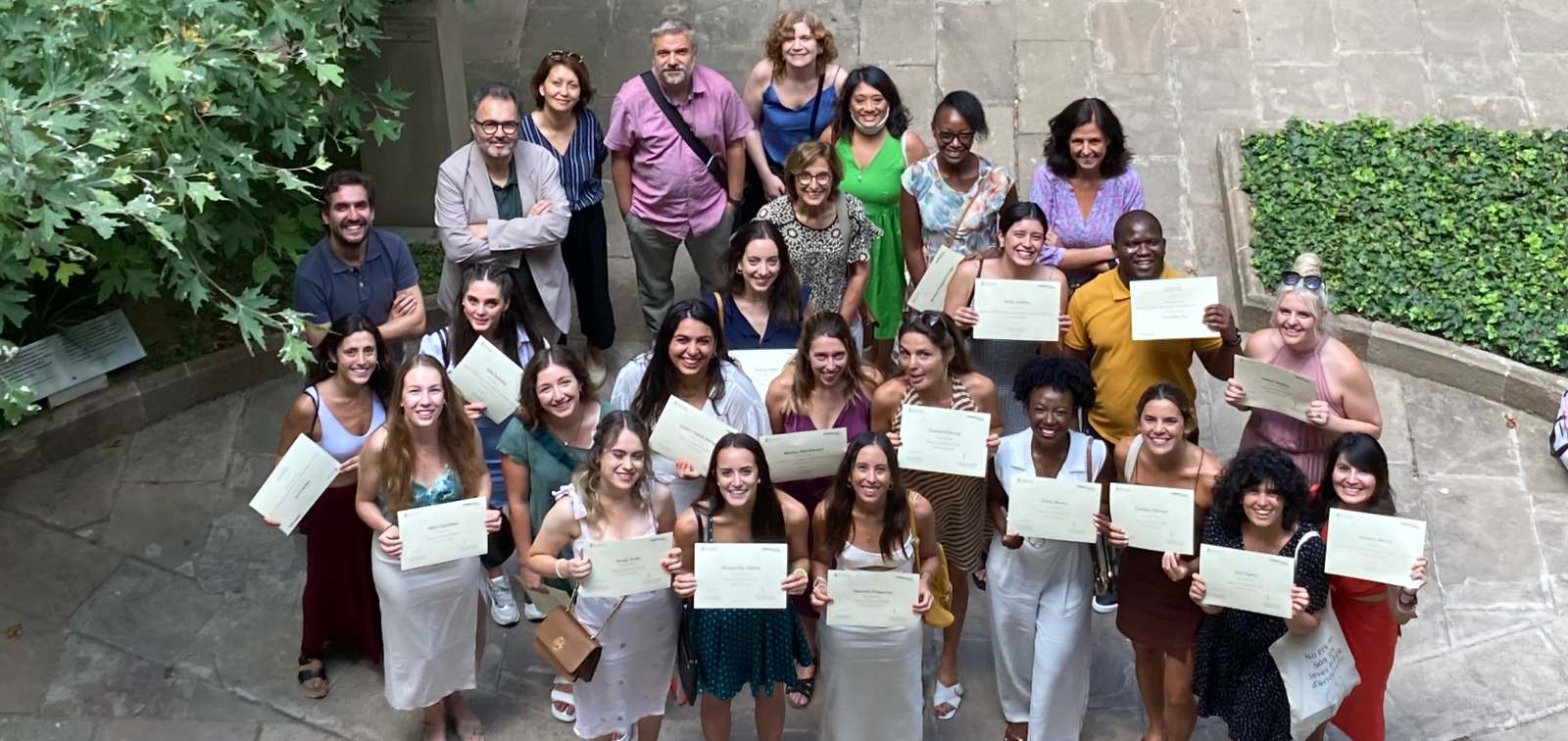 During 29 June - 1 July, 27 students of the 2021/2022 Master of Global Health (MGH) and Master of Clinical Research: International Health track (MCR-IH) presented their Final Master's Projects, both online and face-to-face, at the Aula Corachan of the University of Barcelona Faculty of Medicine and Health Sciences.
The research – covering a wide range of topics from the effects of COVID-19, to markers of malaria, to the impact of green space, and the burden of snakebite – was developed by Master's candidates with the supervision of global health researchers and practitioners from ISGlobal and range of other institutions in the field.
"The Master Final Project presentation is the culmination of a year-long learning process," commented Dr Núria Casamitjana, co-director of the Master of Global Health and coordinator of the Master of Clinical Research: International Health track. "In these projects we see all of our students bringing together multiple threads of their experience in the Master programmes – from understanding key challenges in global health, to applying methods of analysis, to interpreting and contextualizing results, and for some, this is the first step in a lifelong career in global health research."
The presentation of the Final Master's Project marks the end of the 2021-2022 academic year, in which ISGlobal-UB students returned to face-to-face classes after two years of distance learning during the COVID-19 pandemic. A new cohort of incoming candidates, joining the Master's programmes in 2022-23, will arrive in the classroom this September.
Final Projects Submitted for the Master of Global Health
Acceptance and Preparedness for Maternal Immunisation in Sub-Saharan Africa: Exploring Evidence and Knowledge Gaps for Effective Delivery
Access to opioids for palliative care in low and middle-income countries: A literature review and two case studies of Doctors Without Borders (MSF) experience in India and Bangladesh.
An Analysis of Sexual Attitudes, Openness and Risk-Taking Behaviors in Consumers of Pornography
An intrinsic exploratory case study: Jacaranda Health – Digital Health in Kenya
Assessing barriers and facilitators to maternal vaccinations: A cross-sectional study among pregnant women and health care workers
Assessing the Associations Between Electric Micro-Mobility Transport Modes and Physical Activity in Barcelona
Analysis of the health emergency and response policies in low and middle income countries (Africa)
Assessing the Impact, Changes, and Associations of the COVID-19 crisis on Green-Space Exposures and Mental Health Outcomes in Spain
Burden and risk factors of snakebite in Mopeia, Mozambique: a descriptive analysis
Cross-sectional pilot study of the nutritional status of pregnant women attending a Safe Motherhood Program in Lunsar, Sierra Leone
Effectiveness of community health worker-led interventions in hypertension care in sub-Saharan Africa - a systematic review
Exploring the Relationship of Social, Economic, and Environmental Factors on Stress and Resilience in People with and without Pre-Existing Mental Health Conditions in Catalonia During Covid-19
Green spaces and mental health: A health impact assessment study of the Barcelona "Eixos verds" plan
Methodological Guideline to co-create health interventions in Latin America
Pilot implementation of the Rapid water, sanitation and hygiene Assessment Tool for the future development of national cholera control plans: identification of limitations and recommendations (Case Study: Nigeria)
Prevalence of mental health conditions and associated risk factors before, during, and after COVID-19 lockdown in Catalonia: Results of the ACTIVID study
Urban related exposures and gut microbiota in children
Final Projects Submitted for the Master of Clinical Research
Cost-effectiveness analyses of a point-of-care rapid test to detect HIV virological failure in resource-limited settings
Causes of death in children less than five years old in Manhiça and Quelimane, Mozambique: focus on stillbirths
Epidemiological and sociodemographic description of snakebites in Paraguay (2015-2021)
Estimating the prevalence of chronic infections in the migrant population residing in Catalonia, Spain. Based in a systemic screening program
Extracellular vesicles as biomarkers of Plasmodium falciparum severe malaria in African children
Factors associated with usage of bed nets in Mopeia, a highly endemic area in rural Mozambique
Plasma levels of PvLDH and its correlation with circulating extracellular vesicles (EVs) in Plasmodium vivax infected patients
Point of care sensor for Malaria prognosis: preliminary study
Pre-and post-natal Maternal Mental Health during the COVID-19 pandemic (MOOD-COVID)
Prevalence and associated risk factors of chronic conditions and multimorbidity among African migrants participating in a hepatitis B virus screening program in greater Barcelona, Spain