Research
Signing of SUMA Agreement Between ISGlobal, CRESIB and CREAL
The strategic alliance between the three centres seeks to create a hub of excellence in global health
25.02.2013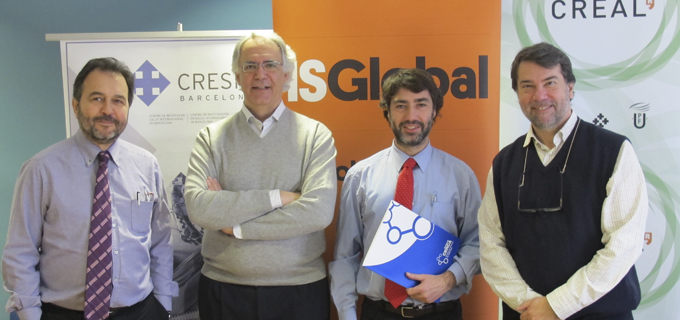 The Catalan Government, ISGlobal (the Barcelona Institute for Global Health), ISGlobal's research centre, CRESIB (the Barcelona Centre for International Health Research), and CREAL (the Barcelona-based Centre for Research in Environmental Epidemiology) formalised the creation of the strategic alliance by signing the SUMA agreement on February 22. The agreement falls within the scope of the SUMA project launched by the Catalan Government, the Generalitat, to build critical mass and excellence within the Catalan network of research centres, CERCA. The strategic alliance is expected to build on the research expertise of its partners and strengthen their global leadership in research, innovation and training in global health.
The signing of the agreement took place at the headquarters of ISGlobal in Barcelona in an event that was attended by Dr Pedro Alonso, Director of ISGlobal, Dr Josep Maria Antó, Director of CREAL, Dr Antoni Plasència, Technical Director of CRESIB (ISGlobal's research centre), and Dr Luis Rovira, Director of CERCA.
The alliance is the first of its kind to be launched with the SUMA project and, with the official signing of the agreement, is now set to start work on building on the four pillars that lay the foundations of this alliance:
the creation of a cohesive, efficient and sustainable organisational model;
the design of a joint research programme on infectious and non-communicable chronic diseases and their environmental determinants;
the strengthening of the transfer of knowledge to inform innovative public health policies and interventions and of the capacity to shape the international global health agenda; and
the expansion of postgraduate courses offering quality, ongoing training in global and environmental health.