Research, Antimicrobial Resistance
SAFE Project Extends Activity to More Regions of Southern Europe in Second Year
The SAFE consortium now includes members from Spain, Italy and Portugal—the European countries where the emergence of antimicrobial resistance is most alarming
08.02.2021
There is growing evidence that the next health crisis will be caused by antimicrobial-resistant bacteria, that is, bacteria capable of circumventing existing treatments. SAFE (Superbug Awareness for Education) started its second edition on February 5 and was launched in January 2020 to raise awareness and promote an understanding of the global health problems posed by antimicrobial resistance. The initiative is funded by the European EIT Health network and coordinated by Clara Ballesté of ISGlobal's Antibiotic Resistance Initiative in collaboration with the University of Barcelona (UB), the pharmaceutical company Roche Diagnostics and the University of Naples.
SAFE organises Service Learning workshops for university and secondary-school students in countries in southern Europe—the European region with the most serious bacterial resistance problem. The addition of new consortium members will extend the project piloted last year in Spain and Italy to include Portugal in 2021. In addition, with the objective of promoting knowledge of infectious diseases in all sectors of society, the target audience will be extended to encompass students, teachers, health professionals and patients.
SAFE II will offer an online course based on the Service Learning approach to primary and secondary school teachers and provide outreach and gamification resources designed to facilitate the transfer of knowledge about antimicrobial resistance. The aim is to reach students in all communities and at all levels of education and to extend the outreach to society in general. SAFE II will also train health professionals in outreach strategies to raise awareness in the general population about antimicrobial resistance.
A key factor in ensuring the sustainability of the SAFE project and the resources it generates is the inclusion in the consortium of a broad range of actors, including national agencies involved in microbiology research, civil society organisations, public entities, educational departments and private pharmaceutical sector stakeholders.
Successful Pilot Programme
The first SAFE training programme, carried out with a budget of 181,573 euro, was attended by more than 60 secondary-level students and 30 students from the University of Barcelona's Faculty of Pharmacy. The 2020 programme also reached around 116,000 people from the general population through virtual workshops and awareness campaigns held in pharmacies in Barcelona during World Antimicrobial Awareness Week and European Researchers' Night. The consortium organised activities in universities to empower students as agents of change and scientific outreach. The initiative also included a competition for the creation of outreach resources in which the participants who presented the best proposals were awarded an internship at the pharmaceutical company Roche Diagnostics, S.L.
More Information
SAFE blog: safeinitiative.eu
Organisations participating in the SAFE II Consortium
ISGlobal (coordinator) (ES), Universitat de Barcelona (ES), Università degli studi de Napoli Federico II (IT), Institut Català de la Salut (ES), Universidade do Porto (PT), Instituto de Desarrollo Profesional (IDP) (ES), Sociedad Española de Microbiología (SEM) (ES), Roche Diagnostics SL (ES), Universidad Complutense de Madrid (ES), and Escola Universitária Vasco da Gama (PT).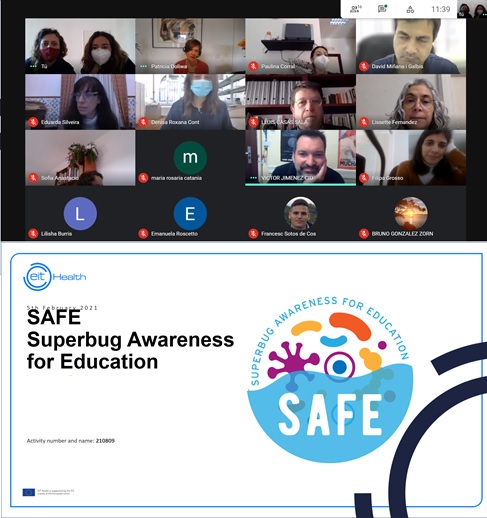 Members of the consortium at the virtual kick-off meeting of the SAFE second edition, on Friday, February 5, 2021.