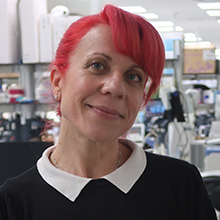 Sara Soto
Associate Research Professor and Head of the Viral and Bacterial Infections Programme at ISGlobal.
Viral and Bacterial Infections, Antimicrobial Resistance
Dr Soto obtained her Bachelor's degree in Biology from the University of Oviedo and her PhD degree from the same university, under the supervision of Prof M.C. Mendoza, and with a grant from the Spanish Ministry of Education. Her research was awarded an "Extraordinary Doctorate Award" for the high quality of her Doctoral Thesis (11 articles, 77 citations). After a Postdoctoral Short-Fellowship in the Federal Institute for Risk Assessment (BfR), Berlin, Germany, she obtained a 3-year postdoctoral grant from the Spanish Ministry of Health and returned to Spain to Prof Vila´s laboratory. In 2005, she obtained a prestigious 6-year research contract (Miguel Servet CP05/00140) from the Spanish Ministry of Health that allowed her to establish herself as an independent researcher.

Currently, she is Associate Research Professor at ISGlobal and Associate Professor at the University of Barcelona. She has published 60 international articles (16 as first author, 15 as corresponding author, and 29 as collaborator; among these, 38 in Q1) with an impact factor media of 3.765 and 1,574 citations (excluding self- citations), and an H-index of 22 (also excluding self-citation). (Data obtained from the Web of Knowledge). In addition, she has published eight invited reviews, four book chapters and one Editorial (Enferm. Infect.Microbiol. Clin.).


She leads a research team working on the discovery of new antibiotics and antibiofilm agents.

In July 2021 she was appointed Head of the Viral and Bacterial Infections Programme at ISGlobal.
Lines of research
Discovery of new antibiotics.
Development of new strategies and molecules to combat biofilms.
Antimicrobial resistance and the relationship between resistance and virulence.
Main publications
Cepas, V., López, Y., Muñoz, E., Rolo, D., Ardanuy, C., Martí, S., Xercavins, M., Horcajada, J.P., Bosch, J., Soto, S.M. 2018. Relationship between biofilm formation and antimicrobial resistance in Gram-negative bacteria. Microb. Drug Resist. 2018. 25: 72-79.
Guiral, E., Pons, M.J., Vubil, D., Jaintilal, D., Marí, M., Fraile, O., Nhampossa, T., Aide, P., Sigauque, B., Soto, S.M., Alonso, P.L., Ruiz, J., Vila, J., Mandomando, I. 2018. Epidemiology and molecular characterization of multidrug resistant Escherichia coli isolates harboring blaCTX-M group 1 extended-spectrum b-lactamases causing bacteremia and urinary tract infection in Manhiça, Mozambique. Infect. Drug Resist. 11: 927-936.
Sáez-López, E., Cossa, A., Benmessaoud, R., Madrid, L., Moraleda, C., Villanueva, S., Tligui, H., Moiane, B., Alami, H., Massora, S., Bezad, R., Mandomando, I., Bosch, J., Vila, J., Bassat, Q., Soto, S.M. 2016. Characterization of vaginal Escherichia coli isolated from pregnant women in two different African sites. PLoS One. 11(7):e0158695.
Vila, J., Sáez-López, E., Johnson, J.R., Römling, U., Dobrindt, U., Cantón, R., Giske, C.G., Naas, T., Carattoli, A., Martínez, M., Bosch, J., Retamar, P., Rodríguez-Baño, J., Baquero, F., Soto, S.M. 2016. Escherichia coli: an old friend with new tidings. FEMS Microb. Reviews Mar 8. pii: fuw005.
Sánchez-Céspedes, J., Sáez, E., Frimodt-Moller, N., Vila, J., Soto, S.M. 2015. Effects of a mutation in the gyrA gene on the virulence of uropathogenic Escherichia coli. Antimicrob. Agents Chemother. 59: 4662-8.