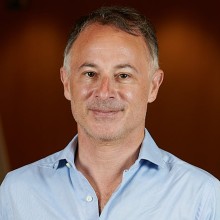 Jeffrey Lazarus
Associate Research Professor and Co-director of the Viral and Bacterial Infections Programme
HIV / AIDS
Prof Jeffrey V. Lazarus (PhD, MIH, MA) is the head of the Health Systems Research Group at ISGlobal and Associate Professor at the University of Barcelona as well as a senior scholar at the CUNY Graduate School of Public Health and Health Policy. He earlier served as Professor at LUHS Medical Academy, Lithuania, and as Affiliated Professor at CHIP, the WHO Collaborating Centre on HIV and Viral Hepatitis at Rigshospitalet, the University of Copenhagen, and at the University of Porto, Portugal.
His decade-long career as a health systems, HIV and hepatitis expert at WHO's Regional Office for Europe was followed by three years at the Global Fund to Fight AIDS, Tuberculosis and Malaria as well as the Board Chair of AFEW International and director of Health Systems Global. He currently serves as Vice-Chair of the EASL International Liver Foundation, where he leads the work on NAFLD/NASH and the micro-elimination of hepatitis C, co-chair of the HIV Outcomes Beyond Viral Suppression coalition and a member of the ICE-HBV, ACHIEVE and AEHVE viral hepatitis elimination coalitions.
He is the author of more than 200 publications, and Principal Investigator (PI) of the HCV Free Baleares, HBV COMSAVA, HCV Madrid micro-eliminatio, COVID-SCORE and NAFLD global policy studies. In 2017 he joined the Lancet GastroHep Commission on viral hepatitis and in 2018 became a working group chair of the EASL-Lancet European Liver Commission. He is on The Lancet COVID-19 Commission public health taskforce and the editorial board of HIV Medicine, the International Journal of Drug Policy and the Journal of Hepatology.
Lines of research
Health systems
HIV and AIDS
Viral hepatitis
NAFLD/NASH/MAFLD
Main publications
Lazarus, J.V., Safreed-Harmon, K., Kamarulzaman, A. et al. Consensus statement on the role of health systems in advancing the long-term well-being of people living with HIV. Nature Communications 12, 4450 (2021). https://doi.org/10.1038/s41467-021-24673-w.
Lazarus, JV, Anstee, QM, Hagström, H et al. Defining comprehensive models of care for NAFLD. Nature Rev Gastroenterol Hepatol (2021). https://doi.org/10.1038/s41575-021-00477-7.
Oliu-Barton M, Pradelski B, Aghion P, Artus P, Kickbusch I, Lazarus JV et al. SARS-CoV-2 elimination, not mitigation, creates best outcomes for health, the economy, and civil liberties. The Lancet (2021), comment. doi.org/10.1016/S0140-6736(21)00978-8.
Lazarus JV, Ratzan, SC, Palawey, A. et al. A global survey of potential acceptance of a COVID-19 vaccine. Nature Medicine (2020). 10.1038/s41591-020-1124-9.
Lazarus JV, Ratzan S, Palayew A, Billari FC, Binagwaho A, Kimbali S, Larson HJ, Melegaro A, Rabin K, White TM, El-Mohandes A. COVID-SCORE: A global survey to assess public perceptions of government responses to COVID-19 (COVID-SCORE-10). PLOS ONE. Oct 2020.
Safreed-Harmon K, Anderson J, Azzopardi-Muscat N, Behrens GMN, d'Arminio Monforte A, Davidovich U, Del Amo J, Kall M, Noori T, Porter K, Lazarus JV. Reorienting health systems to care for people with HIV beyond viral suppression. Lancet HIV. Dec 2019;6(12):e869-e877. Available from: https://www.thelancet.com/journals/lanhiv/article/PIIS2352-3018(19)30334-0/fulltext
Lazarus JV, Pericàs JM, Picchio C, Cernosa J, Hoekstra M, Luhmann N, Maticic M, Read P, Robinson EM, Dillon JF. We know DAAs work, so now what? Simplifying models of care to enhance the hepatitis C cascade. J Intern Med. 2019 Nov. 10.1111/joim.12972.