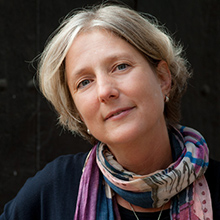 Martine Vrijheid
Head of the Childhood and Environment Programme, Research Professor and Coordinator of INMA-Sabadell Cohort
Childhood & Environment, Exposome
Martine Vrijheid received her graduate and master's degree in Health Sciences and Epidemiology at the University of Nijmegen (NL) in 1993 and her PhD in Epidemiology from the London School of Hygiene and Tropical Medicine (LSHTM) in 2000.

She worked as lecturer at LSHTM until 2002 and then joined the International Agency for Research on Cancer (IARC) as staff scientist to work on environmental and occupational exposures to ionizing and non-ionizing radiation.

She joined CREAL (now ISGlobal Campus Mar) in 2008 where she specialises in the effects of environmental (chemical, physical, and social) exposures on child health and development. She is co-director of the INMA birth cohort study and WP leader of many European collaborative projects in the area of child health (LifeCycle, STOP, OBERON, EUCAN-Connect, HBM4EU, Geronimo, ENRIECO, MobiExpo, EUROCAT, Bridge-Health). She led EC FP7 funded projects HELIX (Human Early Life Exposome) and CHICOS (Child Cohort Research Strategy for Europe).
Lines of research
Her research uses longitudinal birth cohort methods, working from the general hypothesis, grounded within the DOHaD paradigm, that the foetus and infant are especially vulnerable to the effects of environmental agents with possible lifelong consequences.

Focus particularly on:
The role of environmental exposures in obesity and cardiometabolic outcomes in children.
The effects of "emerging" chemical exposures (such as bisphenol A, phthalates, and perfluorinated compounds) on health and development of children.
The integration of the exposome concept in this field.
The "
Exposome
" concept encompasses the totality of exposures from conception onwards, complementing the genome. It provides a promising framework for a more systematic and comprehensive assessment of the role of environmental exposures in disease aetiology, but one that faces many challenges.
Martine Vrijheid has spearheaded the push to collect more complete and accurate
data on multiple exposures
and their
molecular omics imprints
during early life critical periods by obtaining the HELIX (Human Early Life Exposome) EC FP7 grant (2013-17), a large collaborative project involving
birth cohorts in 6 European countries
.
Further, as PI and WP leader of two EC FP7 grants, CHICOS (Developing a Child Cohort Strategy in Europe) and ENRIECO (Environmental Health Risks in European Birth Cohorts) she has been instrumental in the building of a network of birth cohorts in Europe, resulting in a framework for data sharing and harmonization across more than 30 European birth cohorts. This work is being continued under the LifeCycle H2020 project, in which a more formal
data harmonisation and sharing platform
is being developed (Martine Vrijheid leads WP3).
Main publications
Agier L, Basagaña X, Maitre L, Granum B, Bird PK, Casas M, Oftedal B, Wright J, Andrusaityte S, de Castro M, Cequier E, Chatzi L, Donaire-Gonzalez D, Grazuleviciene R, Haug LS, Sakhi AK, Leventakou V, McEachan R, Nieuwenhuijsen M, Petraviciene I, Robinson O, Roumeliotaki T, Sunyer J, Tamayo-Uria I, Thomsen C, Urquiza J, Valentin A, Slama R, Vrijheid M*, Siroux V* (*shared last autor).. Early-life exposome and lung function in children in Europe: an analysis of data from the longitudinal, population-based HELIX cohort. Lancet Planet Health. 2019 Feb;3(2):e81-e92. doi: 10.1016/S2542-5196(19)30010-5.
de Bont J, Casas M, Barrera-Gómez J, Cirach M, Rivas I, Valvi D, Álvarez M, Dadvand P, Sunyer J, Vrijheid M. Ambient air pollution and overweight and obesity in school-aged children in Barcelona, Spain. Environ Int. 2019 Apr;125:58-64. doi: 10.1016/j.envint.2019.01.048.
Maitre L, Robinson O, Martinez D, Toledano MB, Ibarluzea J, Santa Marina L, Sunyer J, Villanueva C, Keun HC, Vrijheid M*, Coen MP* (*shared last autor). Urine metabolic signatures of multiple environmental pollutants in pregnant women - an exposome approach. Environ Sci Technol. 2018 Oct 4.
Matilla-Santander N, Valvi D, Lopez-Espinosa MJ, Manzano-Salgado CB, Ballester F, Ibarluzea J, Santa-Marina L, Schettgen T, Guxens M, Sunyer J, Vrijheid M. Exposure to Perfluoroalkyl Substances and Metabolic Outcomes in Pregnant Women: Evidence from the Spanish INMA Birth Cohorts. Environ Health Perspect. 2017 Nov 13;125(11):117004.
Vrijheid M, Casas M, Gascon M, Valvi D, Nieuwenhuijsen M. Environmental pollutants and child health-A review of recent concerns. Int J Hyg Environ Health. 2016;219(4-5):331-42.