Training
Bringing Together Different Disciplines to Redefine the European Research Agenda for Global Health
The European LERU and EGHRIN networks, in collaboration with the University of Barcelona, organised a meeting to address four key global health challenges in the post-pandemic era through an integrated approach
17.06.2022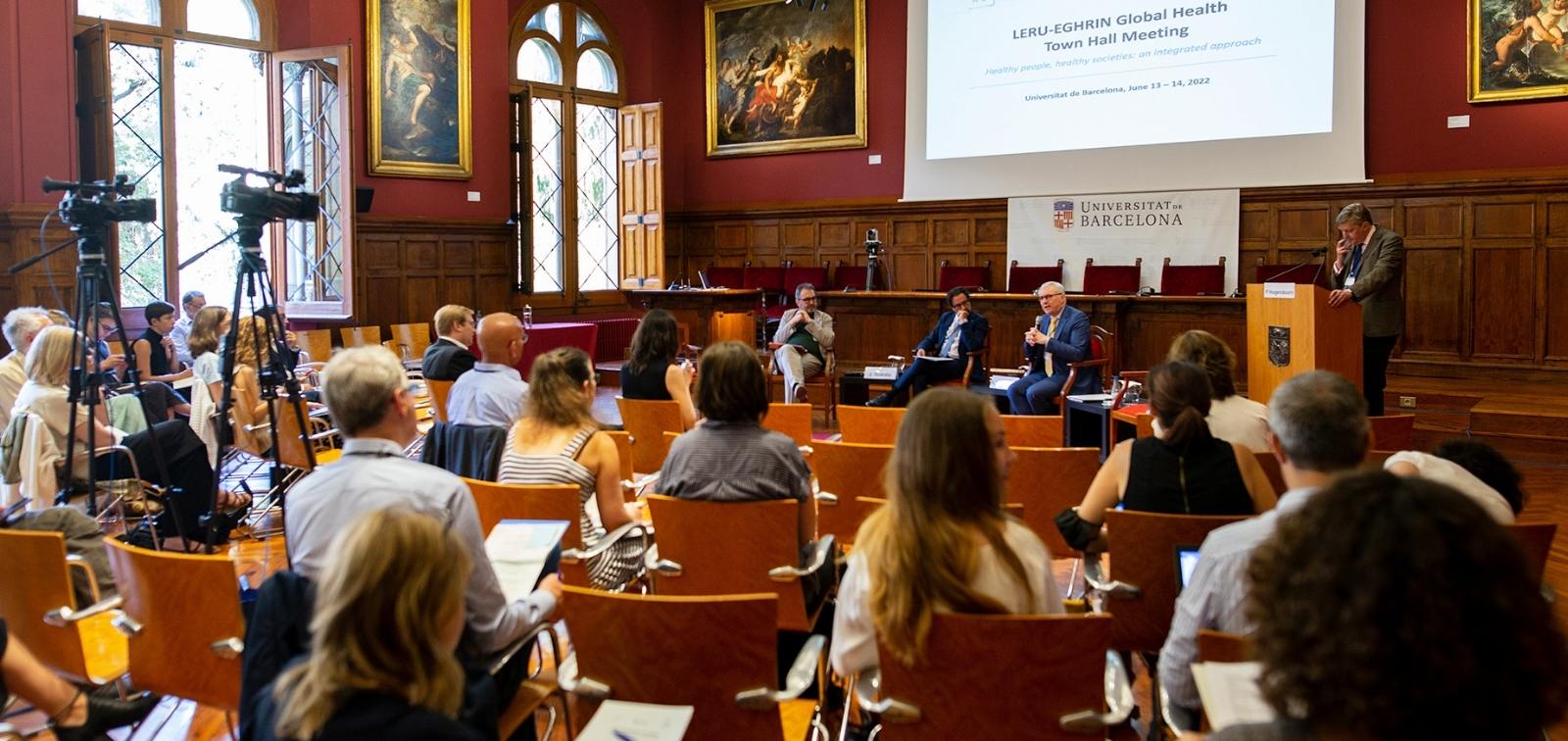 It is not often that recognised experts in different disciplines ranging from public health, vaccines and epidemiology to artificial intelligence, psychology and anthropological medicine, among others, sit together to discuss how to build healthy societies. This is what LERU (the League of European Research Universities) and EGHRIN (the European Global Health Research Institutes Network) managed to do with the Global Health Town Hall Meeting entitled "Healthy people, healthy societies: an integrated approach". The event, which took place at the University of Barcelona on June 13 and 14, kicked off with opening speeches by Joan Guàrdia, Rector of the University of Barcelona, Kurt Deketelaere, Secretary-General of LERU, and Antoni Plasència, Chair of EGHRIN and Director General of ISGlobal.
The goal of the meeting, chaired by Pancras Hogendoorn from the University of Leiden and Till Bärnighausen from the University of Heidelberg, was to establish the global health research priorities in the post-pandemic era, learning from the shortcomings that have become apparent in the last two and a half years of the fight against Covid. Four major themes that encompass various scientific disciplines and dimensions were discussed: healthy and sustainable societies, equitable access to health, health communication and miscommunication, and information technologies for health. Each theme was introduced by a keynote lecture, followed by a discussion panel and breakout sessions.
"Our aim is to persuade the European Union to invest more in global health, while also promoting greater interdisciplinary collaboration among European universities and research institutions," said Plasència during his welcome words, while he highlighted the value of EGHRIN and LERU's commitment to strengthening partnerships with Global South research institutions and networks.
Equity, Diversity and Inclusiveness
The first day put the spotlight on health equity and enabling partnerships with the Global South. The challenges of scaling up chronic care and engaging with different communities were raised. In Africa, for example, non-communicable diseases will cause more premature deaths by 2030 than all infections combined. Regarding equitable access to health, it was noted that no country, not even in Europe, is on track for achieving Universal Health Coverage, and medicines, particularly those for chronic conditions, should be part of the benefits package.
The second day drew lessons on the challenges of public health communication during the COVID-19 pandemic, and the panel discussed the benefits and risks of social media and how to increase health literacy among different publics, among other issues. The session on data and artificial intelligence (AI), highlighted the need of viewing data as a public good, of attributing data ownership where it is produced, and of reinforcing African-European partnerships for fair data collection and sharing.
Overall, the fundamental concept of equity, diversity and inclusiveness (EDI) in global health underpinned the two-day multidisciplinary dialogue. The contributions of the participants (over 60 from 13 European countries) will be included in a document summarising research gaps and proposed research actions in these key areas and will serve as a reference for further research, training and advocacy collaborations.
As Nuria Casamitjana, ISGlobal's Director of Training and Education and Professor at UB, underlined: "Europe, through its universities and research centers, has an important role to play in global health and, under the leadership of the European Commission, has the power to make a difference."