Training
Strengthening the Collaboration Between ISGlobal and the University of Barcelona
University of Barcelona delegation led by Rector Joan Guàrdia visits ISGlobal
15.11.2021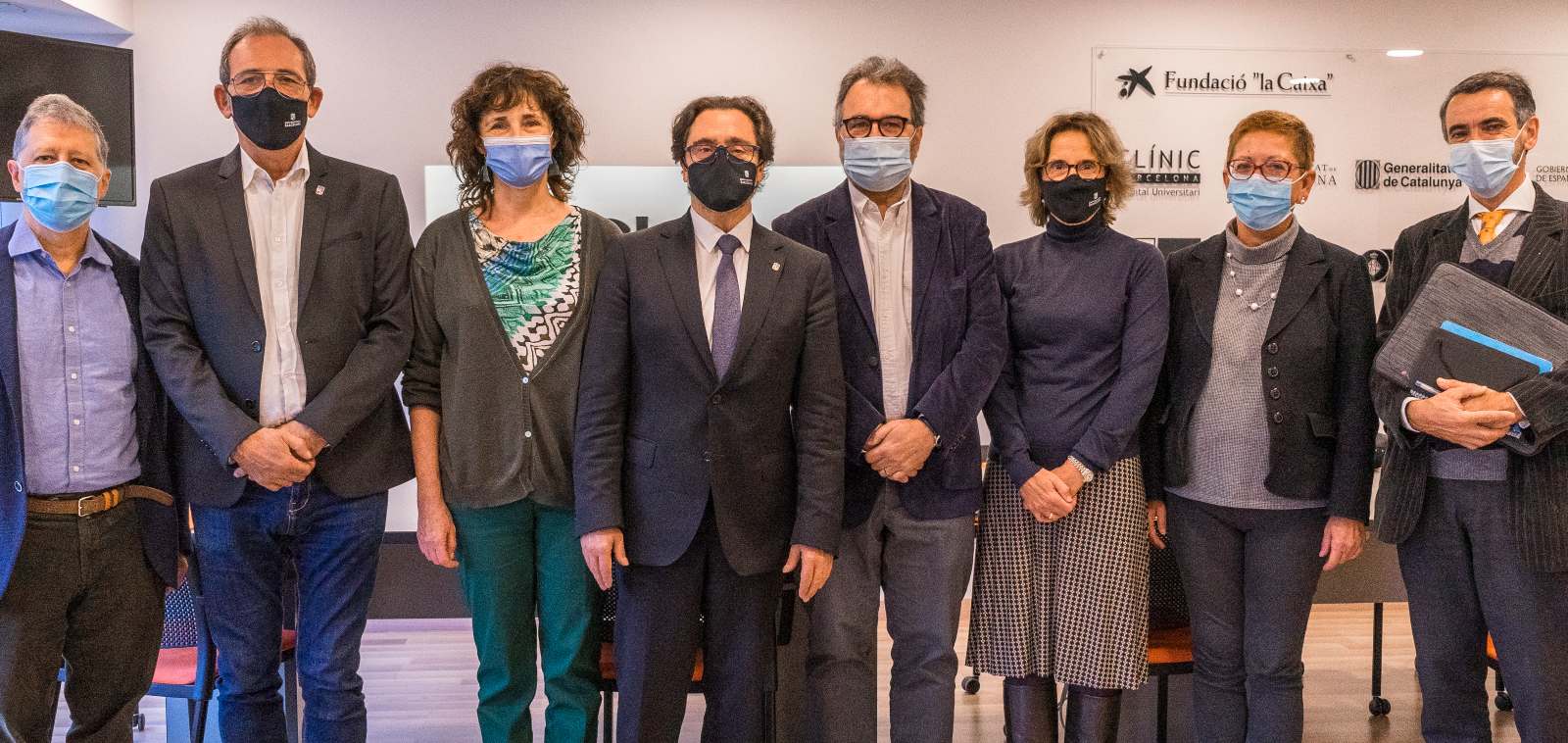 Last Friday, 12 November, a delegation from the University of Barcelona (UB) visited ISGlobal's offices in Campus Clínic. Joan Guàrdia, the university's Rector, Jordi García, Vice-rector for Research and Olga Lanau, General Director of the UB group, met the ISGlobal management team to discuss ways of strengthening the strategic collaboration between the two institutions. The visit concluded with a tour of ISGlobal's research unit in the Esther Koplowitz Centre.
"We are very grateful to the Rector and his team for this visit, which serves to highlight the continued commitment of the UB to its partnership with ISGlobal. This meeting allowed us to work together on new opportunities for collaboration and the consolidation of our joint projects, particularly in Campus Clinic", explained Antoni Plasència, ISGlobal's director.
The link between the university and ISGlobal goes back several decades. In 1970, the UB set up the first postgraduate program in Tropical Medicine and International Health in Spain. This program, together with the Tropical Medicine Unit of the Hospital Clínic de Barcelona, which was created in 1984, laid the groundwork for what became a long tradition of training, care and research in this specialist field in our country. CRESIB, the research centre that later became part of ISGlobal, was set up in 2006 through a joint initiative of the UB and Hospital Clínic to boost research in the field of international health. This long collaboration culminated in 2010 with the creation of ISGlobal, which counts the UB and Hospital Clínic among its key trustees and partners. In 2016, ISGlobal became a UB research institute .
In addition to the research, innovation and postgraduate educational programs (master's and doctoral) in global health which they organise jointly, the UB and ISGlobal are currently working together in two European networks of excellence: LERU (League of European Research Universities) and EGHRIN (European Global Health Research Institutes Network). The aim of the collaboration is to maximize the role and enhance the position of institutions working in global health at the European level. As part of this strategic collaboration, a new chair in eco-epidemiology will soon be created.
"The UB and ISGlobal share an interest in strengthening the field of global health through joint actions in the areas of training, research and knowledge transfer, both in Spain and on the European and global level", concludes Núria Casamitjana, the ISGlobal's Director of Training and Education.