Spanish Parliamentary Delegation Visits Health Projects in Mozambique
Members of the Spanish parliament representing different political groups travelled to Mozambique to see first-hand the results of Spanish cooperation development projects
17.01.2013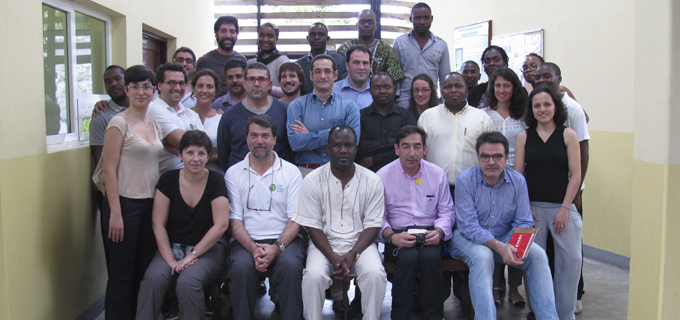 A group of five Spanish parliament members visited Mozambique to assess first-hand the results of projects funded by the Spanish government. The visit, which was organized by ISGlobal, included field trips and meetings with the Mozambican Minister of Health and members of the national parliament.
The group also had the opportunity to visit the District Hospital of Manhiça and the Manhiça Health Research Center (CISM), one of Africa's leading health research centers. The CISM was founded in 1996 with financial support from the Spanish government, and together with 10 other African centers, launched the first-ever phase III malaria vaccine clinical trial to be conducted in Africa. The five members of parliament met with the Director of CISM, Dr Eusebio Macete and the Director of ISGlobal, Dr Pedro Alonso. ISGlobal and CISM work closely together and have several joint projects underway.
The Spanish parliamentary delegation was formed by:
Juan Carlos Grau Reinés – Representative of the Balearic Islands (Partido Popular)
Jon Iñarritu García – Representative of Bizkaia (Grupo Parlimentario Mixto)
Laia Ortiz Castellví – Representative of Barcelona (La Izquierda Plural)
Antoni Picó i Azanza – Representative of Barcelona (Convergència i Unió)
Federico Buyolo García - Representative of Alicante (Partido Socialista)
These are some of the tweets made by the delegation during their stay in Mozambique:
@llegado a Maputo para visita de campo y a los laboratorios que dirige Pedro Alonso para la lucha contra la malaria.
— Juan Carlos Grau (@GrauRei)
enero 13, 2013
Visito Centre d'investigació en salud de Manhiça (CISM) q treballa assistència sanitària, formació i investigació @isglobalorg #cooperacio

— Toni Pico (@toni_pico) enero 15, 2013
Hoy Manhiça visitando hospi y centro investigación y formación q colabora con la red pública d salud #desdeMozambique twitter.com/Laiaortiz/stat…

— Laia #Palestinaalcor (@Laiaortiz) enero 14, 2013
@isglobalorg Bon model de #cooperacio xl q es fa i x com es fa. Pensant en les necesitats del territori des de la perspectiva global

— Toni Pico (@toni_pico) enero 15, 2013
@isglobalorg una experiencia inolvidable, un trabajo fantástico el que realizáis aquí de la mano de Pedro Alonso y todo el equipo CISM

— Federico Buyolo (@fbuyolo) enero 16, 2013