Master of Clinical Research: International Health Track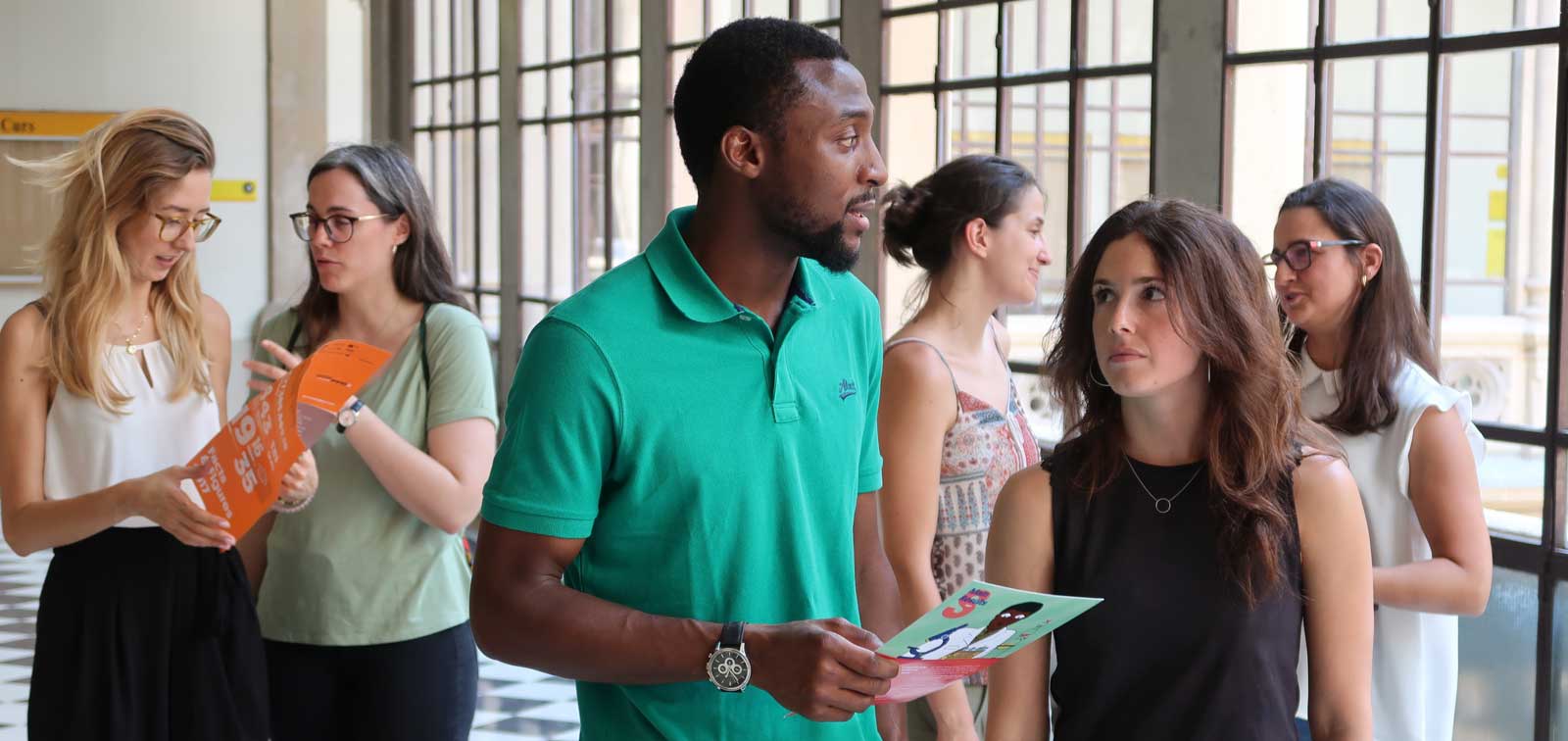 The principal objective of this Master's degree programme is to provide the clinical research competencies necessary to undertake doctoral studies to students with undergraduate studies in health sciences or biomedicine.
Dates

September - July

Tuition

2.790 EUR + fees (EU); 4.920 EUR + fees (Non EU) (academic year 2022-23)

Schedule

Full time

Timetable

9:00-13:30 h

Mode

Face-to-face

Language

English

Length

1 academic year

Credits

60 ECTS
Given the circumstances surrounding the current COVID-19 pandemic, and in anticipation of any developments that may arise during the coming academic year, our team is committed to ensuring that our educational programmes can be successfully delivered in either face-to-face or distance formats, adapting to the context in which our students, faculty, and staff find themselves.
International health is a discipline that systematically identifies and compares the factors affecting the health of all human populations, with special emphasis on health problems related to poverty in low and middle income countries and attention to issues of equitable access to health.
The key knowledge, skills and abilities of this discipline allow research and critical analysis related to principal health challenges, health determinants, health systems, health economics, health governance and policy, and health services management.
Researchers in the field of international health should have the skills to analyse and propose sustainable solutions for health problems in a wide range of social, political and economic contexts, especially when faced with diverse options and approaches. Researchers working in international health should have:
A sufficient level of expertise to analyse scientific evidence and generate new hypotheses
A sufficient level of training in research methodology to analyse, design and develop research projects in health systems, prevention, control and treatment of infectious and chronic diseases
A strong multidisciplinary background in health sciences and social sciences in order to interpret and apply the results of their research in local, national and international contexts and within complex situations.
The Master of Clinical Research: International Health Track is included in our Master Scholarship Program. More details are given on the "Scholarship" section located in this page
Learn more
https://www.ub.edu/portal/web/medicina-ciencies-salut/masters-universitaris/-/ensenyament/detallEnsenyament/6192430
Students take 18 common credits, 24 credits in their speciality and 18 credits in the form of a final research project.
Common credits (18 ECTS)
This module is offered in both face-to-face and online formats.
Systems Medicine (6 ECTS)
Research Tools and Methodologies (6 ECTS)
Instruments of Design and Analysis for Research (6 ECTS)
Specialty credits: International health (24 ECTS)
Required (12 ECTS)
Bioethics (3 ECTS)
Health Systems and International Organisms in International Health (3 ECTS)
International Health Determinants (3 ECTS)
Principal Health Problems and Responses (3 ECTS)
Elective (12 ECTS to be chosen from the courses offered)
Applied Epidemiology in International Health (3 ECTS)
Chronic Diseases in a Globalised World (3 ECTS)
Clinical Trials (3 ECTS)
Development and Application of Vaccines in International Health (3 ECTS)
Environmental Epidemiology (3 ECTS)
Maternal and Reproductive Health in International Health (3 ECTS)
Qualitative Research Methods (3 ECTS)
Strategies for the Prevention and Control of Communicable Diseases (3 ECTS)
Final Master's project (18 ECTS)
For more information: http://www.ub.edu/medicina/masters/mrc/trabajo.html
Total (60 ECTS)
April Buazón & Alberto Ayllón, Students of the 2017-2018 Class
Borja García, Student of the 2016-2017 Class
Irene Jimeno, Student of the 2016-2017 Class
Tatiana García, Student of the 2015-2016 Class
Ramón Díaz-Regañón, Student of the 2014-2015 Class
Fenella Beynon, Student of the 2014-2015 Class
Lucía Fernández, Student of the 2013-2014 Class
Sozinho Acacio, Student of the 2013-2014 Class
Barcelona, the capital city of Catalonia (one of Spain's 17 autonomous provinces), is a vibrant coastal city on the Mediterranean Sea. Students will find many cultural activities, events, museums, and opportunities for sport available to them during their stay.
Barcelona.cat offers updates on events around the city and a Barcelona app.
Housing
Some students choose to find shared flats or rent their own individual housing during their Master course. There are many websites that provide rental listings for flats and shared flats in the city. In addition, ISGlobal maintains a relationship with the Barcelona Centre Universitari (BCU), which can provide information and advice on housing and activities, among other things, to our Master's and Diploma candidates.
Public Transportation
Barcelona has an excellent integrated network of public transportation, including metro, tramvia, buses and regional trains. Various types of multi-trip metro cards are available for purchase from machines in metro stations. One option for getting around the city is Bicing, a public bicycle rental service that runs on an annual membership basis. There is also the possibility of hourly or daily car rental with various services. And, since Barcelona is a fairly dense city, it is also often possible to reach your destination on foot.
Weather
Barcelona enjoys a generally temperate weather. Although in the summer months the heat can sometimes rise to the 40s Celcius, it is a generally moderate climate without extreme temperatures or weather.
Languages
Although the Master and Diploma of Global Health are offered entirely in English, Catalonia's two official languages are Catalan and Spanish. For students who are interested, the University of Barcelona's Institute of Hispanic Studies offers courses in Spanish as a foreign language from beginner to advanced levels. You can also join Catalan courses offered through the UB and tailored to university students. Many other language schools and centres, including some sponsored by the government, also offer courses.
Special Events
Throughout the year, Master's degree and Diploma students are invited to attend special events and activities in addition to classes and seminars, beginning with the annual Global Health Programme Inaugural Lecture, which is given by an invited speaker each year in October.
In late December, we invite students to join a special End of Year Dinner and, of course, we gather to celebrate the End of Course in June.
Other events from past years have included a special guest lecture on "The Books that Changed My Life" in celebration of Sant Jordi's Day (St. George's Day).
Entry requirements
1. An undergraduate degree in one of the following disciplines:
Medicine
Pharmacy
Nursing
Clinical Psychology
Psychology
Biology
Biomedicine
Anthropology
2. Certified advanced level of English
3. We also value:
Familiarity with international health issues
Previous experience in research
Exposure to multicultural environments
Application
Candidates interested in this Master's degree programme must submit the application form, including a motivation letter and a current C.V.
The global health scholarship programme 2023-24 is open.
The 2023-24 programme will accept applications from 16 December 2022 - 3 March 2023.
PLEASE NOTE: In order to apply for the Global Health Scholarship programme, candidates must be previously accepted to the Master of Clinical Research: International Health track (application to the Master's programme must be submitted on or before 20 January 2023).
What does the scholarship cover?
The global health scholarship covers the total tuition fee and the University taxes when registering for the Master's degree programme. The scholarship does not cover any other expenses related to participation in the Master's degree programme.
The scholarship awardee is responsible for all other expenses, including, but not restricted to, visa application fees, travel, accommodation, local transportation, living expenses, and insurance. The awardee is also expected to have their own laptop computer and to be responsible for any other materials necessary for participation in the programme.
Who is eligible to apply?
Scholarship applicants should have already applied for and been accepted into the Master's degree programme. They must be nationals of and reside in one of the following sub-Saharan countries:
Angola

Benin

Botswana

Burkina Faso

Burundi

Cameroon

Cape Verde

Central African Republic

Chad

Comoros Congo (Brazzaville)

Congo (Democratic Republic)

Côte d'Ivoire

Djibouti

Equatorial Guinea

Eritrea

Eswatini

Ethiopia

Gabon

The Gambia

Ghana

Guinea

Guinea-Bissau

Kenya

Lesotho

Liberia

Madagascar

Malawi

Mali

Mauritania

Mauritius

Mozambique

Namibia

Niger

Nigeria

Réunion

Rwanda

Sao Tome and Principe

Senegal

Seychelles

Sierra Leone

Somalia

South Africa

Sudan

Tanzania

Togo

Uganda

Western

Sahara

Zambia

Zimbabwe
What is the selection process?
PLEASE NOTE: In order to apply for the Global Health Scholarship Programme, candidates must be previously accepted to the Master of Clinical Research: International Health track (application to the Master's programme must be submitted on or before 20 January).
The selection process has three phases:
Phase I: Global Health Scholarship Application
From 16 December 2022 - 3 March 2023 interested candidates who have already been accepted into the Master's degree programme may apply for the scholarship using this application form and submitting the following items to the Scholarship Selection Committee:
Scholarship programme application form including a video of no more than 03:00 minutes* in which the candidate addresses the following questions:

Why are you applying for the Global Health Scholarship?
How will attending the Master's degree contribute to the development of your career?
How do you see yourself contributing to addressing the most pressing issues related to health equity in your community (local, national, regional, or global)?; And

Two letters of recommendation (professional or academic), focused on the candidate's work or studies in global health or closely related fields. Letters must be sent directly by referees to formacion@isglobal.org and must include the full name, title, institution, email and telephone contact of the referee.

Videos will be evaluated according to a rubric that includes the following criteria:
Oral presentation
Argument(s)
Supporting evidence
Deadline to apply is 3 March 2023, midnight Central European Time (CET). Incomplete and/or late applications will not be considered.
*Candidates are strongly encouraged to submit a video. However, in the case that this is not possible for technical reasons they may submit a written response addressing the same three questions of no more than 750 words.
Phase II: Finalist Interviews
Finalist candidates for the Global Health Scholarship will be invited to participate in a 30 minute interview prior to final selection.
Phase III: Announcement of Scholarship Awardees and Confirmation of Acceptance
The candidates selected for the scholarship will be informed on or before 1 April 2023. Given the high level of demand for the Global Health Scholarship and the limited resources available, we require Scholarship Awardees to demonstrate their ability to attend the Master's degree programme by 1 June 2023. In the case that they are not able to attend the programme, the scholarship will be transferred to the first candidate on the waiting list.
By 1 June 2023 Scholarship awardees must:
Have their official academic documents submitted to and accepted by the University of Barcelona Faculty of Medicine; and
Have proof of a student visa for study in Spain.
If either of these conditions is not met by 1 June the scholarship will be revoked and passed to the first person on the waiting list.