Policy & Global Development
Over 80 Organisations Participate in Park(ing) Day to Promote a Different Kind of Mobility for Barcelona
Interculturality was the theme of this year's Park(ing) Day, which highlighted the city's inclusive and plural nature with a range of activities
19.09.2022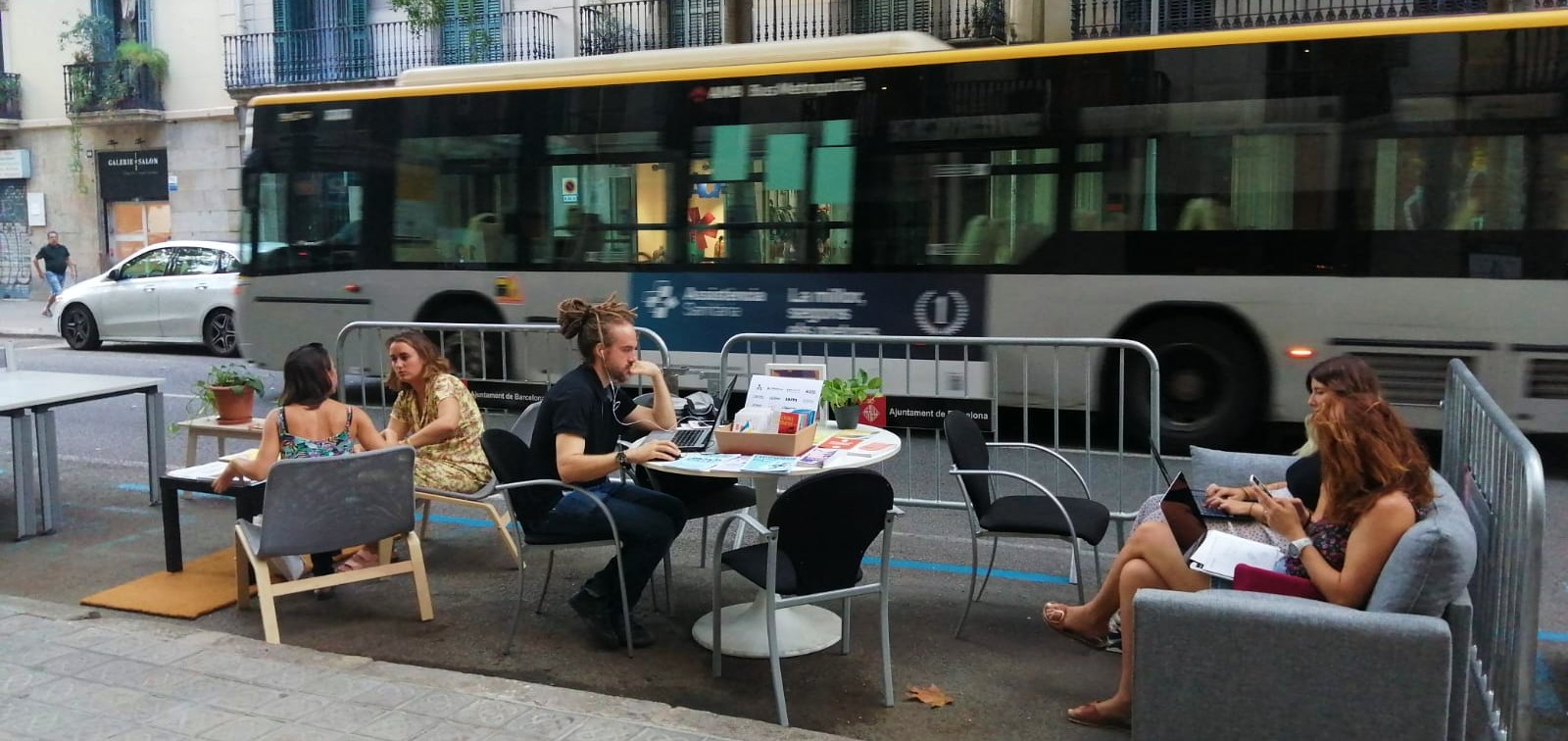 Barcelona hosted Park(ing) Day 2022, an initiative coordinated by the Barcelona Institute for Global Health (ISGlobal) and the Espai Ambiental cooperative, with funding from the Barcelona City Council. The event promoted a healthier and more sustainable urban and transport model through multiple installations developed by participating organisations, which transformed parking spaces into parks, gardens and other alternative uses of public space .
"Like many other cities around the globe, Barcelona has a major problem: pollution caused by motor vehicle traffic and the resulting degradation of public space and the environment," commented Nahuel Osorio , a member of the Espai Ambiental cooperative. The initiative also seeks to demonstrate the impact of urban planning on human health and underscore the need for urgent measures to prevent the consequences of pollution in cities. "In light of the impact of pollution on human health, the World Health Organisation has updated its recommendations on tolerable pollution levels, making them even more stringent," commented Celia Santos, a member of ISGlobal's science outreach team. "If cities wish to protect the health of their inhabitants, they must urgently adapt to these new guidelines by adopting new models of urban planning."
This year, 81 organisations took part in Park(ing) Day, occupying a total of 120 parking spaces with a variety of installations. The participating organisations represented a variety of fields, including culture, art, social economy, feminism and urban planning. They offered an extensive programme of intergenerational activities, such as workshops and performances to raise awareness among children, spaces for reading and relaxation, science activities, and spaces to raise awareness about urban planning and health.
Interculturality: A More Plural Park(ing) Day
With interculturality as the theme of this year's Park(ing) Day, 14 entities organised activities that reflected the inclusive and plural nature of Barcelona, occupying public space in order to highlight the city's diversity.
One such activity was meant to be an awareness-raising bicycle ride co-organised by BiciHub, which however had to be postponed due to the weather.
This edition of Park(ing) Day was organised in collaboration with EIT Urban Mobility, an initiative of the European Institute of Innovation and Technology (EIT) whose main objective is to provide innovative solutions and accelerate the transition to a multimodal, integrated and user-centric transport system. "Cities should be designed by and for citizens," commented María Paula Caycedo, Director of the EIT Urban Mobility Innovation Hub South. "Cities that are currently designed around cars—sacrificing living space, clean air and quality of life—need to be transformed. This is why we at EIT Urban Mobility are leading this transformation by providing cities with tools, solutions and an innovative ecosystem that will make change possible."
The full programme of Park(ing) Day Barcelona is available at www.parkingdaybcn.org