Research, Maternal, Child and Reproductive Health
Malaria in Pregnancy: how to put the evidence into practice?
Every year 10,000 women and 200,000 of their infants die in Africa because of malaria infection during pregnancy
25.04.2013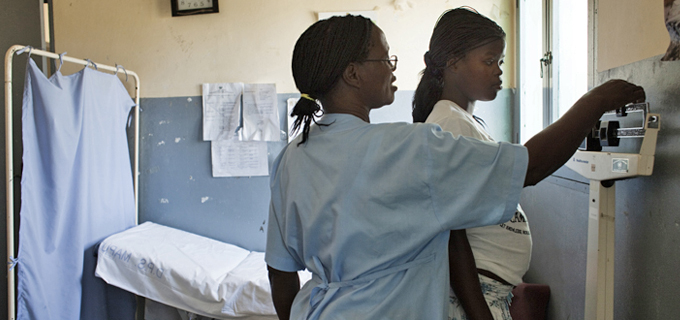 As we celebrate today April 25 the World Malaria Day, at ISGlobal we would like to draw your attention to a health problem that particularly affects women and newborns in malaria endemic transmission areas: malaria during pregnancy. Malaria infection during pregnancy is one of the main contributors to both maternal and neonatal mortality, mostly through low birth weight and prematurity and by causing maternal anaemia or maternal malaria infection (placental parasitaemia). As a result, an estimated 10,000 women and 200,000 of their infants die every year in Africa.
The current World Health Organization recommended intermittent preventive treatment during pregnancy with sulfadoxine pyrimethamine (IPTp-SP) has proven to be a very efficacious and cost-effective intervention in reducing clinical malaria during pregnancy and neonatal mortality. IPTp-SP administered during pregnancy to women residing in areas of stable malaria transmission can reduce neonatal mortality by more than 60%. Although IPTp-SP is currently health policy in several African countries, the uptake of this preventive tool is still inadequate: only 25% of pregnant women at risk of malaria received at least 1 dose of IPTp.
Increased efforts towards scale-up of this powerful intervention are urgently needed. This entails the commitment of endemic countries so that the recommendations are successfully translated into national policy and programme implementation. But also the involvement of the R&D community: by identifying key operational research issues e.g. cultural and operational constraints to delivery and uptake of IPTp and assessing the best strategies to reach the target group, i.e. pregnant women in areas of high-intensity transmission of malaria. It is a major challenge that has to be addressed if we are to reduce gender inequities in health in malaria endemic areas in Africa.
Related links
More about malaria in pregnancy here
Malaria Protection in Pregnancy: A lifesaving intervention for preventing neonatal mortality and low birth weight