Research, Policy & Global Development, Chagas
The Bolivian Platform for the Comprehensive Care of Adults with Chagas Disease: a Success Story
A study presents the platform as a model that scales up the access to disease diagnosis and treatment
06.09.2017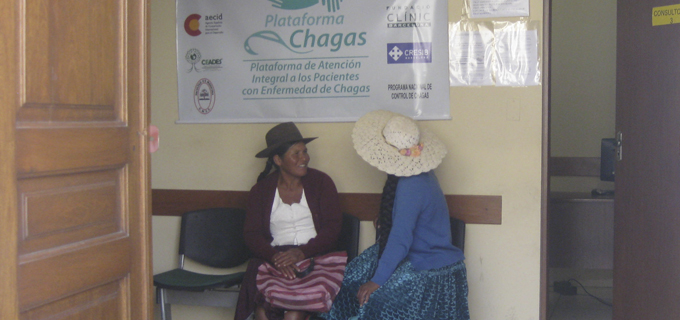 More than 26,000 people attended, more than 8,500 patients treated, and more than 1,600 healthcare workers trained between 2010 and 2015. These are some of the results of the Bolivian platform for the comprehensive care of adults with Chagas Disease (CD), created in 2009 by ISGlobal and the CEADES Foundation, Bolivia, with support of the Spanish International Cooperation Agency (AECID). The study, published in Plos NTDs, identifies the lessons drawn and the challenges to scale up the model to primary health centres.
"The encouraging results provide the basis to adapt and implement this model at the national level in Bolivia and other endemic countries" says María Jesús Pinazo, first author of the study and researcher at ISGlobal, an institution supported by "la Caixa" Banking Foundation.
With more than 600,000 people infected by Trypanosoma cruzi, Bolivia has the highest disease prevalence worldwide. The disease can remain "silent" during years but can be lethal in patients that develop severe cardiac complications. Rising from a collaboration between ISGlobal and CEADES, with the support of Spanish cooperation and Bolivian authorities, the platform was launched in 2009 to help control the disease, with 6 centres in highly endemic departments. The work model is based on four pillars: i) provide healthcare; ii) acquire expertise and build disease research capacity; iii) train health professionals in management of CD; iv) promote educational activities in the community.
Between 2010 and 2015, a total of 26,227 personas were attended, 69% of which were diagnosed with infection. Of the 8,567 patients that initiated treatment, 80% completed it. The platforms attend more than 75% of treated adults in Bolivia. More than 1,600 healthcare professionals were trained in management of the patients and an exchange program was established between the Universidad Mayor de San Simon (Bolivia) and the Universidad de Barcelona.
Despite these encouraging results, much remains to be done to increase access to diagnosis and treatment in the country. Therefore, the program is now being implemented at the primary healthcare level. "The scaling up efforts done in the last two years show that the limitations have been locally solved together with the health authorities", says Joaquim Gascón, director of the Chagas Initiative at ISGlobal.
"The key to success has been sharing a same data base and a standard protocol for managing the patients", explains Gascón. "In addition, the transnational nature of the ISGlobal-CEADES alliance allows the follow-up of patients and relatives that move between Barcelona and their places of origin in Bolivia", adds Faustino Torrico, of CEADES Foundation.
Reference
Pinazo MJ, Pinto J, Ortiz L, Sánchez J, García W, Saravia R, Cortez MR, Moriana S, Grau E, Lozano D, Gascon J, Torrico F. A strategy for scaling up access to comprehensive care in adults with Chagas disease in endemic countries: The Bolivian Chagas Platform. PLoS Negl Trop Dis. 2017 Aug 18;11(8):e0005770.