Research
ISGlobal and the Probitas Foundation sign an agreement to improve the local health system in Paraguay
Since 2020, the ISGlobal Chagas Initiative works with the Paraguayan health authorities to build research capacity, foster knowledge exchange and improve access to care.
23.03.2022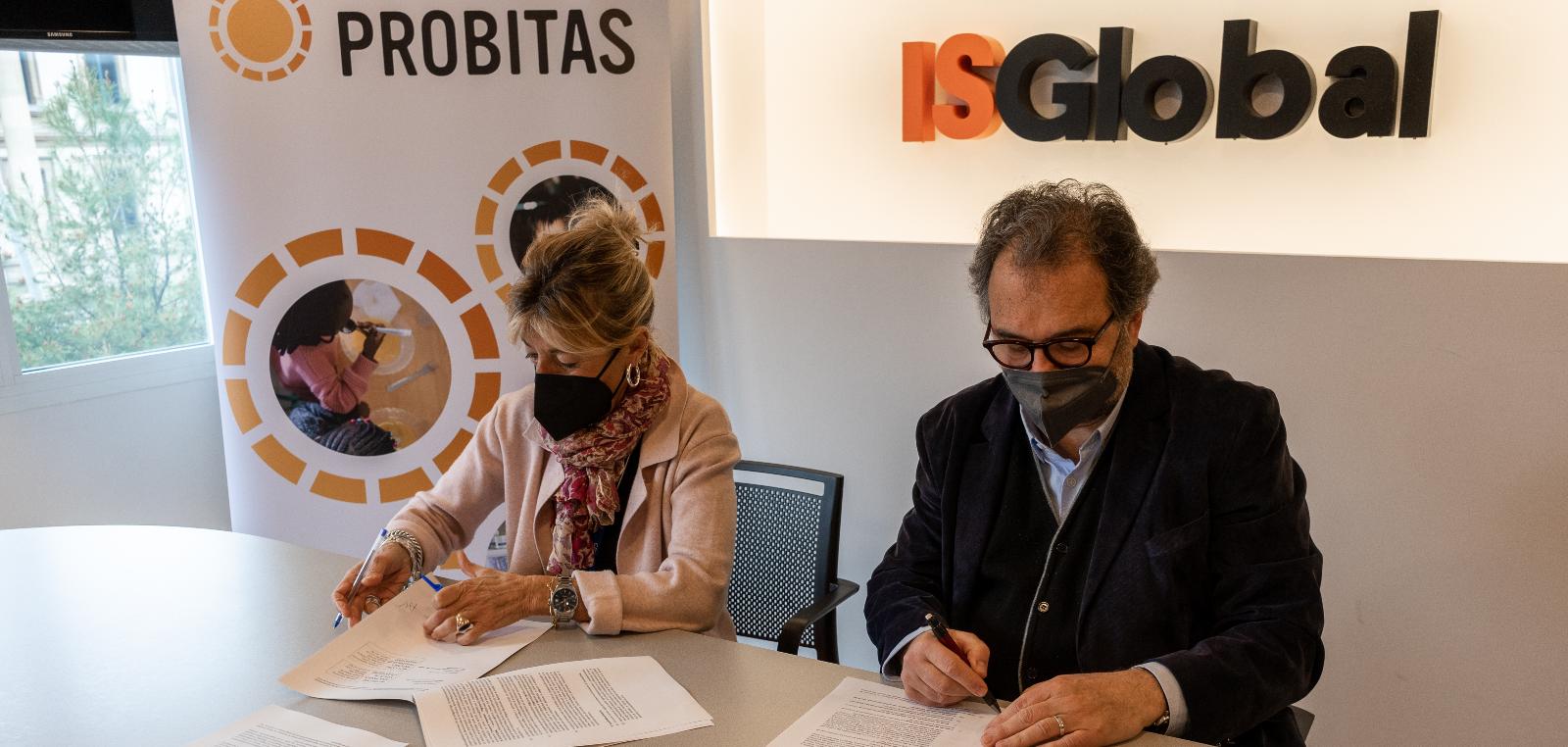 On March 16, 2022, the Barcelona Institute for Global Health (ISGlobal) and the Probitas Foundation signed a partnership agreement aimed at strengthening the local health system in Paraguay.
According to official data, 30% of people living in endemic areas of Paraguay are exposed to infection by Trypanosoma cruzi, the parasite responsible for Chagas disease, and more than 165,000 are currently infected. Through this collaboration agreement, ISGlobal and the Probitas Foundation aim to improve access, coverage, and quality of diagnosis of Chagas disease, as well as other prevalent diseases, in the Presidente Hayes department of Paraguay.
The agreement also aims to strengthen the laboratory network in order to improve decentralized diagnosis of T. cruzi infection and other diseases, especially those that most affect children, and to promote the demand for health services by the affected communities through participatory activities. In addition, work will also be done to improve knowledge of prevalence data and to strengthen information systems at the local level through the implementation of the GLI laboratory management program created by Probitas.
Anna Veiga, General Director of Fundación Probitas, emphasizes that "the GLI program, which aims to improve access to quality healthcare, ensures the technical development of laboratories, as well as the training of local people to guarantee their long-term operation. We are very proud to collaborate with ISGlobal to develop this new GLI in Paraguay".
Antoni Plasència, General Director of ISGlobal, states: "ISGlobal and Fundación Probitas share the same mission: to improve the health of the most vulnerable populations on the planet. We are pleased, once again, to join forces to reinforce access to diagnostics and strengthen the health system in Paraguay, a country with which we have acquired a deep commitment in recent years".
In 2015, ISGlobal and the Probitas Foundation collaborated to strengthen several laboratories in the department of Cochabamba (Bolivia), which represented a breakthrough in health policies in relation to the diagnosis and treatment of Chagas disease.
ISGlobal's Chagas Initiative has been collaborating since 2020 with the Paraguayan authorities in the areas of research, knowledge exchange, and access to care. Throughout 2021, ISGlobal collaborated in the development of the country's first guidelines for the management of Chagas disease and promoted a Triangular Cooperation project between Bolivia, Paraguay and Spain aimed at knowledge exchange between professionals trained in the Bolivian Chagas Platform and their Paraguayan peers.
In the 12 years of operation of the GLI program, Fundación Probitas has promoted the development of 31 diagnostic laboratories in 14 different countries. The project seeks to have a high impact on the community and ensure its sustainability over time, which is why it invests in the training of local health personnel.