Research
ISGlobal Holds its Annual Scientific Retreat
More than 200 people attended ISGlobal's first annual scientific retreat since its merger with CREAL
22.06.2017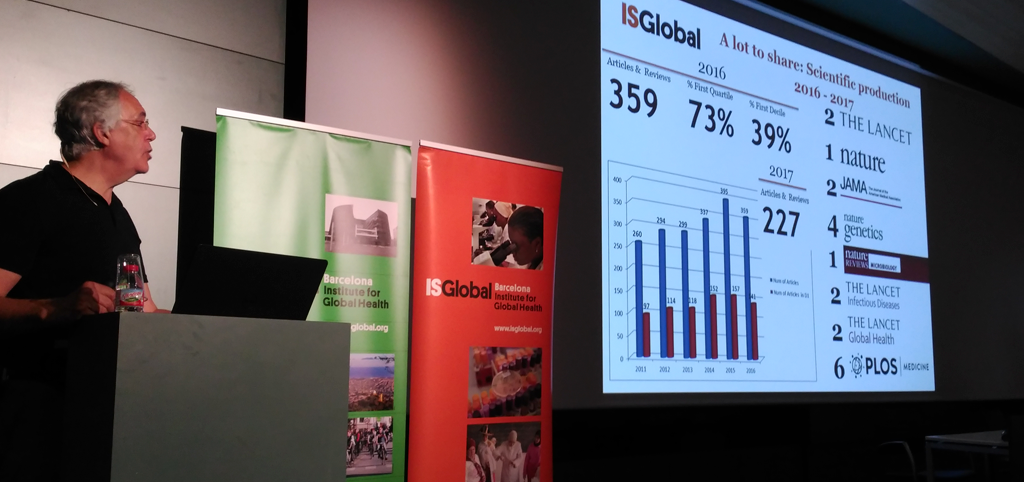 The annual scientific retreat of the Barcelona Institute for Global Health (ISGlobal)—the first such meeting since the Institute's merger with the Centre for Research in Environmental Epidemiology (CREAL) a year ago—took place on Tuesday, 20 June. Nearly 210 people took part in the retreat, which was held at the headquarters of the Catalan Dentistry Association in Barcelona. The meeting highlighted the potential of ISGlobal's research and its implications for global health.
After welcome remarks by researchers Alfred Cortés and Elisabeth Cardis—the retreat's organisers—ISGlobal Scientific Director Josep M. Antó delivered an introductory address. Dr Antó highlighted the centre's scientific performance in 2016 and underscored the potential of the new ISGlobal, which has not only expanded its scientific staff but also increased its world-class scientific output considerably.
In the morning, principal investigators and predoctoral and postdoctoral fellows from both of ISGlobal's campuses—Clínic and Mar—presented the results of their studies and projects in the area of infectious diseases as well as that of non-communicable diseases and the environment.
The final session of the day focused on planetary health, a new paradigm in the field of global health that links the health of human civilisation with the health of the natural systems it depends on for survival. Following a presentation on this topic by researcher Cathryn Tonne, the participants discussed the links between planetary health and ISGlobal's research. Finally, in his closing remarks, ISGlobal Director General Antoni Plasència reiterated the Institute's great potential in both research and knowledge translation following its integration with the Barcelona Centre for International Health Research (CRESIB) in 2015 and with CREAL in 2016.
Researchers behind the camera
In this edition, various groups explained their work in an entertaining and accessible way: a video contest. The winner was the CHAI project group, which studies the impact of environmental pollution on cardiovascular health. The second best rated was a video on research on air pollution and respiratory and reproductive health.