Policy & Global Development
Innovation and Funding: Key Elements in the Fight Against Tuberculosis, AIDS and Malaria
ISGlobal hosts a meeting in Madrid on the topic of "Spain and the Three Major Epidemics: AIDS, Tuberculosis and Malaria"
09.10.2019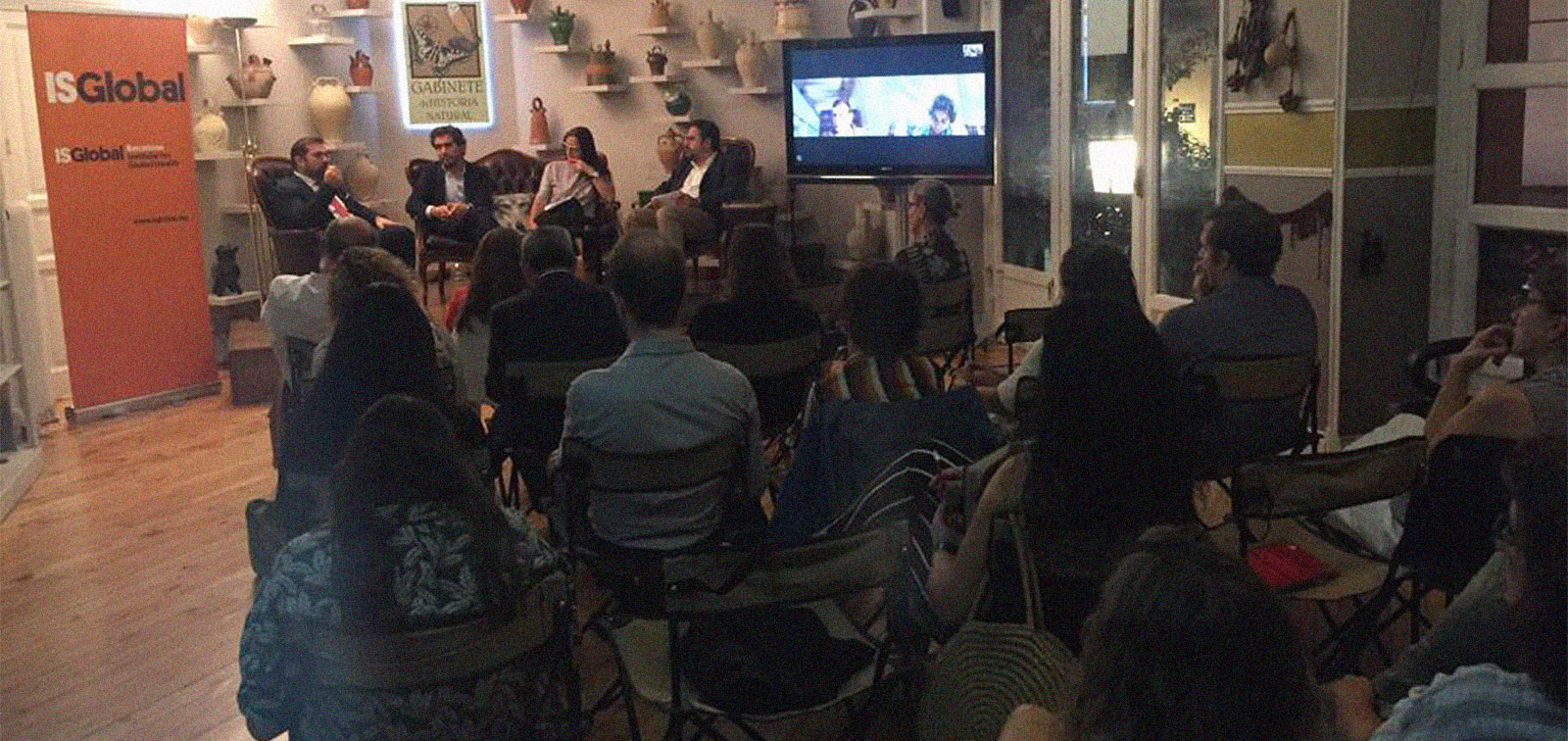 Global health experts gathered at ISGlobal's Madrid office on Tuesday, 1 October to discuss the history of the fight against tuberculosis, AIDS and malaria. The topic is a matter of utmost urgency: each year, 1.6 million people die of tuberculosis, 435,000 people (60% of whom are children under five years of age) die of malaria and 1.7 million people contract AIDS, 30% of whom never receive treatment for various reasons, including the social stigma that surrounds the disease in many countries.
Alberto García-Basteiro, an ISGlobal researcher and tuberculosis expert, Estrella Lasry, a tropical medicine advisor at the Spanish branch of Médecins Sans Frontiéres, and Javier Hourcade, an AIDS expert at International Civil Society Support (ICSS) outlined the impact of tuberculosis, AIDS and malaria:
All three diseases disproportionately affect people who live in poverty and are more exposed to inequality. Tuberculosis and malaria, in particular, are paradigmatic examples of diseases of poverty, while access to AIDS treatment is an issue that highlights the flagrant inequalities between countries. On this point, the experts drove home a powerful message: one of the most effective ways of combating these diseases is to fight against poverty and inequality.
Other global trends are also having a decisive impact on global health. Climate change, for example, automatically poses the risk of malaria re-emerging in areas where it has been eradicated. Meanwhile, the rise of political leaders positioned squarely against progress in the field of sexual and reproductive health has had a direct impact on the fight against AIDS and other sexually transmitted diseases.
The need for funding and innovation are challenges common to AIDS, tuberculosis and malaria. Innovation is needed not only in the world of research but also in the methods used to transfer scientific advancements to the people who need them the most. Malaria, for example, is reasonably simple to diagnose and treat, but the enormous challenge of reaching rural areas in the countries where the disease is most prevalent has thus far proved insurmountable.
Françoise Vani, from the Global Fund to Fight AIDS, Tuberculosis and Malaria, and Federico Buyolo, Director of the Office of the High Commissioner for Agenda 2030 in Spain, argued that the battle against AIDS, tuberculosis and malaria can be won, but that it will require resources, coordination and, most importantly, the will to act. These challenges can be addressed through concrete actions, as evidenced by the interventions and investments of the Global Fund—which have saved 32 million lives since the fund was established in 2002—and the commitments and coordinated efforts of multiple stakeholders, including donor countries such as Spain, whose government recently announced a €100 million contribution to the Global Fund.
When the conversation was opened up to the audience of global health experts, certain questions and doubts inevitably arose. What about the other battles? The most recent health emergencies were driven by the Ebola and Zika viruses. Meanwhile, neglected diseases—a label that does not apply to AIDS, tuberculosis or malaria—face all the problems described above and many more. Some experts argued, however, that focusing on just three diseases can actually strengthen a health system. After all, health systems are the main vehicle for achieving universal health coverage in the coming years—a commitment enshrined in the third Sustainable Development Goal (on health and well-being) and recently reiterated by all of the United Nations member states.
Virginia Rodríguez, an advocacy officer at ISGlobal, summarised the key takeaways from the conversation: "First of all, more innovation and research are clearly needed in order to improve health systems. Moreover, investments by instruments such as the Global Fund bring us closer to making universal health coverage a reality in three ways: first, by lightening the load on health systems overburdened by these three pandemics; second, by making a direct investment of $4 billion to strengthen health systems, and third, by providing incentives for governments that receive resources to make direct investments totalling $46 billion."