Research, Urban Planning, Environment and Health
Mireia Gascón, Mark Nieuwenhuijsen, and Payam Dadvand Are Among the Most Cited Researchers in the World
ISGlobal researchers from the Urban Planning, Environment and Health Initiative feature in the Highly Cited Researchers ranking, for the fifth consecutive year
17.11.2022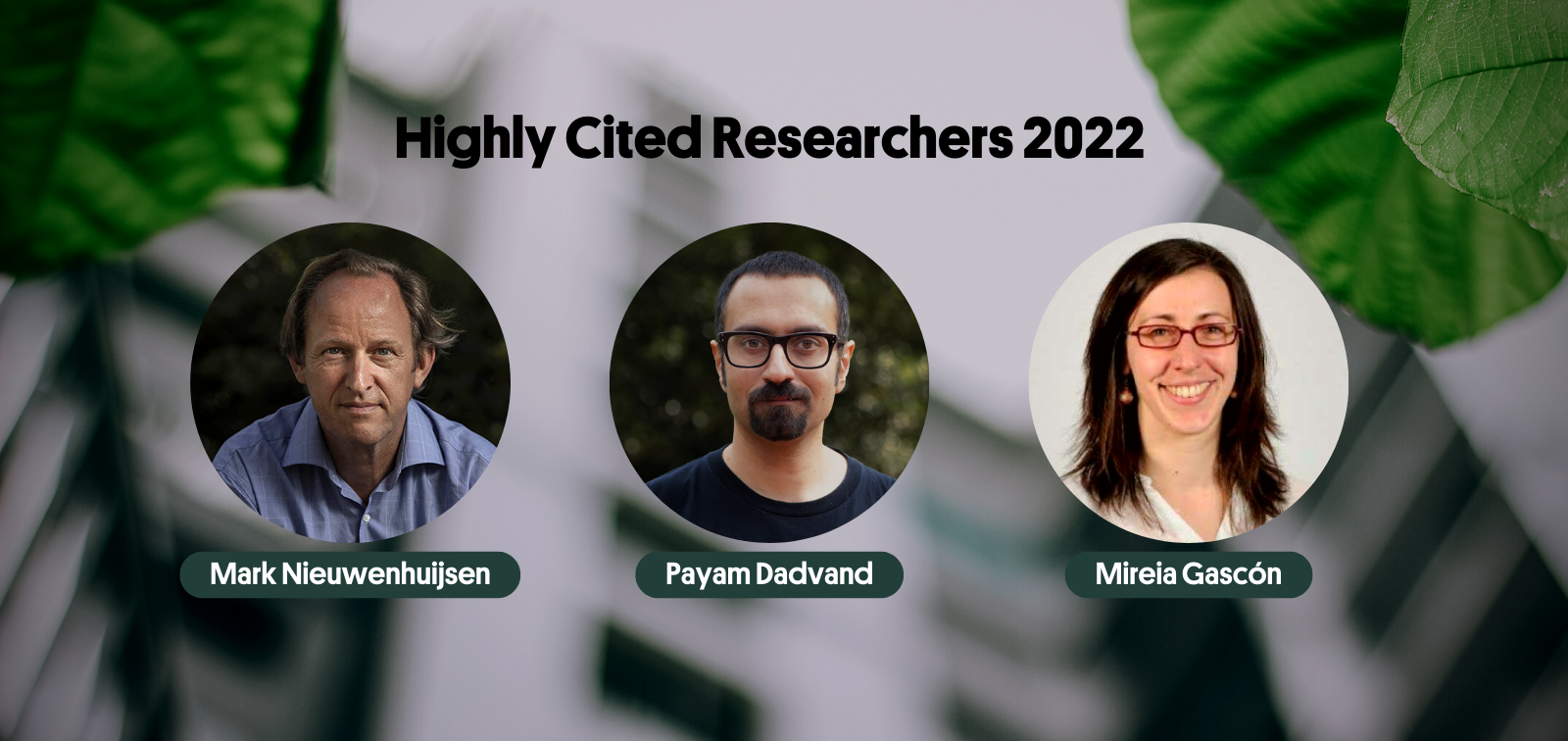 Three ISGlobal researchers, Mireia Gascón, Mark Nieuwenhuijsen, and Payam Dadvand have been included in the Highly Cited Researchers 2022 list, a global ranking of researchers whose publications are among the most cited 1% in their field. This list represents scientists and social scientists who have demonstrated exceptional influence by publishing multiple highly cited papers during the last decade.
Mireia Gascón: Urban Environments and the Early Stages of Life
Mireia Gascón, an environmental epidemiology researcher and Assistant Research Professor at ISGlobal, enters the Highly Cited Researchers list for the first time, in the Social Sciences category. She is currently coordinating the postnatal follow-up of the Barcelona Life Study Cohort (BiSC), aimed at studying the impacts of prenatal exposure to air pollution on children's neurodevelopment and other health outcomes. Gascón is the 2019 recipient of the Miguel Servet fellowship.
"It is an honour to hear that our research is so well received by the scientific community. It is truly time to invest in a healthier world for future generations and we are working towards this by bringing forward necessary scientific evidence," said Gascón.
Mark Nieuwenhuijsen: Urban Planning and Health
Mark Nieuwenhuijsen, Director of the Urban Planning, Environment and Health Initiative, and the Coordinator of the European Urban Burden of Disease Project is on the list for the fifth consecutive year, featuring in two categories: Environment and Ecology, and Social Sciences. Nieuwenhuijsen, also a recipient of the John Goldsmith Award, has dedicated his career to exploring the associations between urban planning and health. He has published over 500 articles and edited 8 books on themes including environmental epidemiology, green spaces, and car-free cities.
"Cities have the power to shape global responses to the climate emergency we face today through better urban and transport planning. I am thrilled that the scientific community finds value in our research that shows the health benefits of better planning and I hope it translates to firm actions adopted at a societal scale," commented Nieuwenhuijsen.
Payam Dadvand: the Impact of Environment on Maternal and Child Health
Payam Dadvand, a medical doctor by training with a PhD in environmental epidemiology, is currently working as an Associate Research Professor at ISGlobal. This is his third time being featured as a Highly Cited Researcher in the Cross-Field category. In the last 15 years, Dadvand has led pioneering research on the impact of environmental stressors and environmental mitigation measures on mainly maternal and child health. He received the Rebecca James Baker Award in 2012. He has published over 145 articles, and is currently an editor for the Environmental Pollution journal.
"The credit goes to all my team members, colleagues and collaborators, without whom it was impossible to accomplish these studies. We have successfully evidenced how exposure to natural spaces can positively shape the lives of individuals through different stages of life. This needs to be taken into consideration when designing urban spaces of the future," shared Dadvand.
From Science to Action
All three researchers featured in this year's list are part of ISGlobal's Urban Planning, Environment and Health Initiative. In addition to the rigour and excellence of the research, this points to ISGlobal's growing recognition of the importance of scientific evidence on the impact of urban environments on human health.
"We are proud to hear about the significant impact of the research conducted by Mireia Gascón, Mark Nieuwenhuijsen, and Payam Dadvand their teams. Beyond numbers and rankings, the clear message is – our research is strengthening the evidence base across areas including urban planning, green spaces, and related exposures," says Joana Porcel, Research Manager at ISGlobal. "Translation has always been a strong component of ISGlobal's work. Outside of their labs, you will often see our researchers play an active role in civic engagement, ensuring that their research leads to accessible and relevant decision-making for better cities and healthier citizens."