Global Health Hero Ciro de Quadros Dies at 74
Pioneering Brazilian epidemiologist played a leading role, together with ISGlobal Director Pedro Alonso, in the Global Vaccine Action Plan approved in 2012
30.05.2014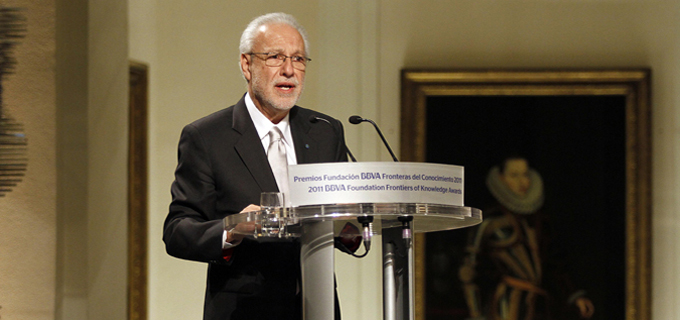 The Brazilian epidemiologist, Ciro de Quadros, died at his home in Washington on 28 May, aged 74. Dr de Quadros was one of the pioneers in the eradication of smallpox worldwide and in the elimination of polio and measles from the Americas.
"His death is a great loss for the world of global health", said Pedro Alonso, Director of ISGlobal, who shared the presidency of the Decade of Vaccines Collaboration with Dr de Quadros. "The eradication of smallpox was one of the greatest achievements of medicine and of humanity, and his role was crucial. He demonstrated that it was more profitable to vaccinate than not to, and as a result we are now reaching the goal of eradicating another disease from the planet, in this case polio. Ciro de Quadros is a global health hero."
After training as a doctor in his native Brazil, Dr de Quadros began his career in public health in the Amazon region, where he set out to bring smallpox immunisation levels up to 100%. He later moved to Ethiopia to become chief epidemiologist for the World Health Organisation's successful Smallpox Eradication Project. In 1977, he became Director of the Vaccines and Immunization Division in the Pan American Health Organization and was a key figure in the elimination of polio and measles from the Americas. Since 2003, he has been Executive Vice President of the Sabin Vaccine Institute in Washington.

In 2011, Dr de Quadros, who was a member of ISGlobal's International Partnership Board, received the BBVA Foundation Frontiers of Knowledge Award in the Development Cooperation category. The award recognised his "contribution of immeasurable impact" to the development of successful strategies for surveillance and containment that led to the eradication of smallpox from the planet and his work on the eradication of polio and measles in the Americas. On receiving the award he said, "What you feel at being part of conquering a disease that has caused millions of deaths is just indescribable. There is this sense of a mission accomplished but also the determination to continue working for the betterment of global health."