Research, Training, Policy & Global Development
Zulfiqar Bhutta: "Health Cannot Be Dealt with Exclusively from the Health Sector"
Dr. Bhutta gives the seventh 'Global Health Lecture' on the achievements and challenges in maternal and child health
08.07.2015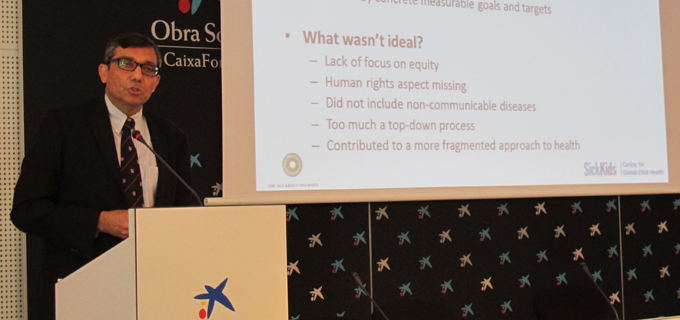 Dr. Zulfiqar A. Bhutta, Director of the Center of Maternal and Child Health at Aga Khan University and Professor at the Hospital for Sick Children of Toronto, gave the seventh Global Health Lecture on July 3rd, at the CaixaForum in Barcelona, on occasion of the closure of the "Safe Mothers and Newborns" workshop. In his talk, Dr. Bhutta presented the main achievements and pending tasks in maternal and child health and underlined the need to concentrate efforts in increasing newborn survival, decreasing inequalities between and within countries, and making adolescent health a priority.
In a clear analysis of the millennium developmental goals 4 and 5, focused on maternal and child mortality, Dr. Bhutta recognized that unprecedented progress has been made thanks to concrete initiatives and measurable targets but he also listed things that "went wrong" including a lack of focus on equity and human rights, the exclusion of non communicable diseases and approaches that were too fragmented. He also noted that, despite the remarkable decrease of 50% mortality in children under five, newborn deaths remain high and represent almost half of child deaths. Furthermore, mortality among adolescents (9 out of 10 adolescents live in low and middle-income countries) has not decreased and is mainly due to violence (in boys) and reproductive health (in girls).
In the future, the expert underlined the need for equity and reaching the poorest and most vulnerable. He noted that research by itself does not change the world; interventions will, including packages that provide integrated care for women and children to meet the target set for 2030, of less than 20 deaths per 1000 live-births.
On the issue of the sustainable developmental goals, he pointed out that health cannot be dealt with exclusively from the health sector but must go beyond to include the social determinants of health and cited the effects of maternal malnutrition on newborn health as example. For him, the priorities in the future should include adolescent health, the overall role of nutrition, and early child development. Dr. Bhutta concluded that solving global health issues will only happen by changing mindsets.
The Global Health Lectures are a series of conferences organized by ISGlobal in which worldwide experts address different global health themes. Dr. Bhutta has a vast and recognized trajectory in the field of maternal and child health, is one of the seven members of the expert group set by the UN Secretary General in 2011 for monitoring global progress in maternal and child health MDGs, and has recently been appointed to the Global Alliance for Vaccines and Immunizatons (GAVI) Board as the representative from global academic organizations.
More information