#VocesDelChagas: Transforming a Silenced Reality
Drive change! Tell your story! Spread the word!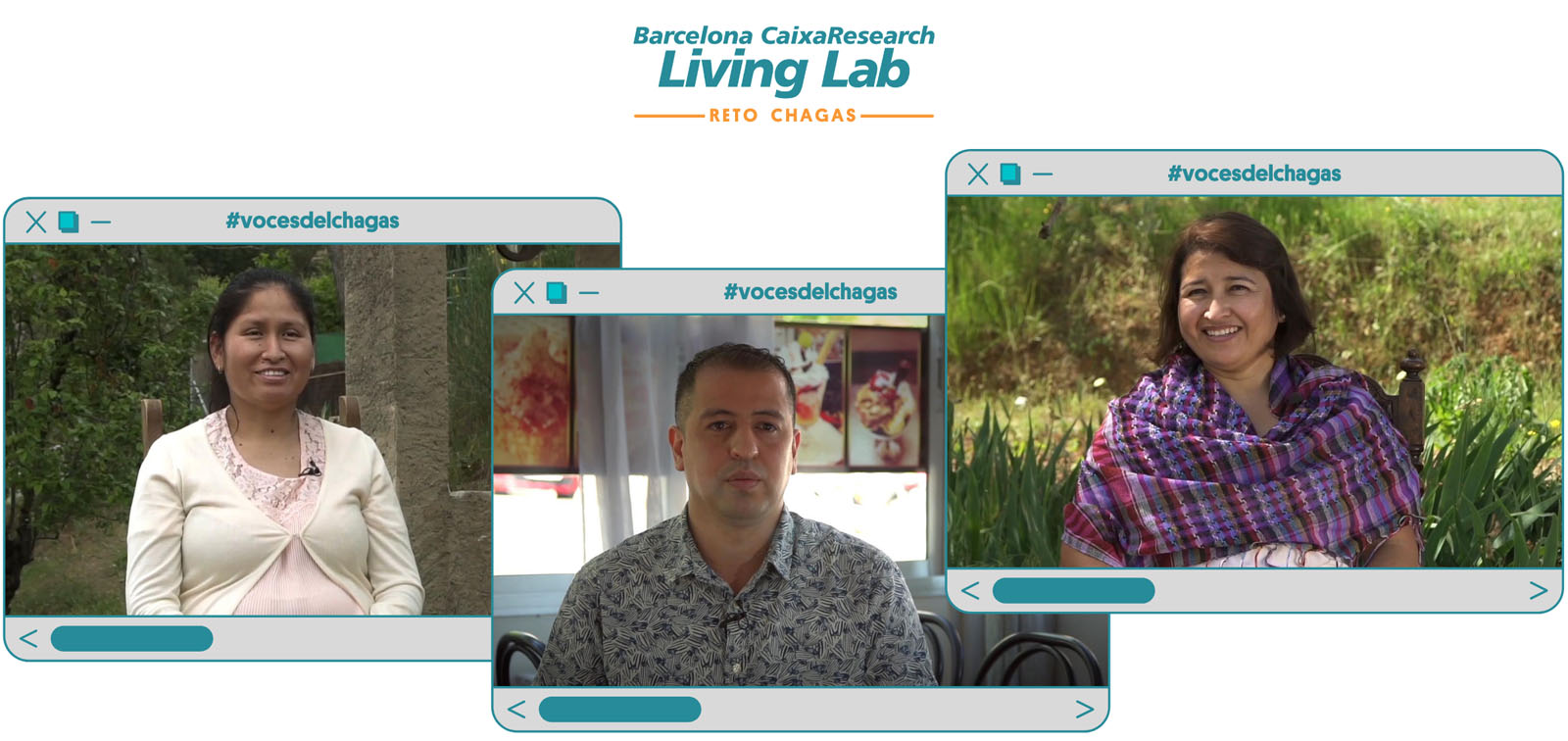 Three voices to drive change
Emilia Rodríguez (Quiriria, Bolivia) is a member of the Association of Friends of People with Chagas Disease (ASAPECHA). Emilia explains what are the feelings when you are diagnosed positive for Trypanosoma Cruzi (the parasite that can cause the Chagas disease) and describes the fear she felt as a monster that closes "a knot in your throat". Fortunately, that monster can be transformed. Emilia tells us the secret to do so: information and accompaniment. "It is very important to ask for help and not to stay with the fear, with such knot there, in the throat".
When she was a child, Emiliana Lima (Mataral, Bolivia) saw how a friend of her family knocked out during a soccer match. She heard that the cause of death was Chagas disease. Emiliana began to internalize a fear that took hold of her years later, when she was diagnosed with the same disease in Barcelona. "The fear usually came at night. Sometimes I didn't sleep. I was afraid of sleeping and not waking up." But Emiliana underwent treatment for Chagas disease and could avoid the parasite reached her children. This is a story about the fight against the vertical transmission of Chagas and the myth of incapacity and death.
Every time he visited the doctor's office for Chagas disease, Walter Talavera (Estelí, Nicaragua) wondered why no one exchanged a single word in the waiting room. "We all knew we had something in common, but nobody talked about it; you do not say anything about it so that they do not criticize you, and do not go around telling stories about you," Walter sums up. Today, he undertakes his "pending task" and begins to speak out to break the wall of silence. Walter's story highlights how collective action can transform a reality.
From idea to action
Chagas disease is one of the "neglected tropical diseases". According to various estimates, nine out of every ten people affected —they are about six to seven million, according to the World Health Organization— do not know they are infected. Stigma surrounds this disease, which has been traditionally associated with poverty and the rural environment.
The Barcelona CaixaResearch Living Lab team has been working for two years with groups affected by Chagas disease, people from endemic countries, health professionals, global health specialists and communication professionals to improve access and comprehensive healthcare for those affected.
The transnational reality of the disease, as well as all the associated cultural burden (myths, taboos, stigma, etc.) led the driving group to prioritize communication for change as the basis for the action. A very clear premise was established in order to make this transformation effective: to place the community at the center, as the main driver of change.
A campaign to transform a silenced reality
The campaign is the result of this participatory work, in which various actors have joined energies and knowledge for the co-creation of three videos as the main axis. These videos are made to raise awareness, to break the silence and destigmatize, to articulate communities and encourage collective action. Sharing first-person testimonies is the first step towards the transformation of this silenced reality.
Would you like to participate?
Tell your story! Follow the example of Emilia, Emiliana and Walter: talk to those around you and share your experience.
Record a short video with your testimony and share it on social media (e.g. Instagram, Facebook, Twitter or TikTok) with the hashtag #VocesDelChagas.
Get informed, get tested, get active if you haven't already done so. Here you will find all the information you need: infochagas, findechagas, beatchagas.
Spread the word! Be an ambassador of change, use these videos to carry out awareness and information actions. Do not forget the hashtag #VocesDelChagas!
Acknowledgments
This campaign is the result of the support of several groups of people, professionals and diverse organizations. In addition to the driving organizations ("la Caixa" Foundation, Ajuntament de Barcelona and ISGlobal), Unitat de Salut Internacional Drassanes (Vall d'Hebron-PROSICS), Asociación de Amigos de las Personas con la Enfermedad de Chagas (ASAPECHA), FEDELATINA, Casa da Gente, Fiocruz, CEADES, participants of the "¡Pasa la voz!" project and representatives of the Bolivian, Argentine, Brazilian, Paraguayan, Colombian, Salvadoran, Honduran and Nicaraguan communities in Barcelona. We are also grateful for additional support from the World Health Organization.