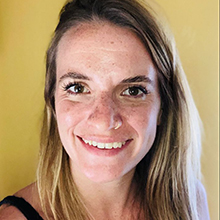 Laura De La Fuente
Postdoctoral Researcher
Malaria Elimination, HIV / AIDS
Laura de la Fuente Soro is a researcher on HIV/AIDS at the Barcelona Institute for Global Health (ISGlobal) and at the Manhiça Health Research Institute (CISM) since 2014. She is

She is currently the Project Manager of the ANTICOV clinical trial at ISGlobal, which aims to prevent progression to severe disease in mild patients with COVID-19 in 13 African countries.

She graduated in Biomedicine at Lleida University (2013) and did a Master in Clinical Research specialized in International Health, at Barcelona University (2014). During her training years, she collaborated on projects related to malaria and pregnancy from a molecular perspective.

Afterward, she moved to Manhiça (Mozambique), where she currently coordinates several projects in the HIV/AIDS field.