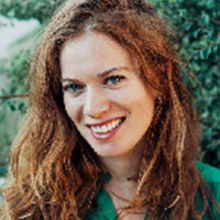 Ashby Sachs
Postdoctoral Fellow
Childhood & Environment, Urban Planning, Environment and Health, Non-communicable Diseases and Environment
Ashby Lavelle Sachs is a Postdoctoral Fellow for the RECETAS (Re-imagining Environments for Connection and Engagement: Testing Actions for Social Prescribing in Natural Spaces) Project at the Barcelona Institute of Global Health (ISGlobal). RECETAS uses social network analysis, RCTs, and other epidemiologic, anthropological, and health economic methods to test socially- and culturally innovative nature-based social prescribing in six cities in Europe, Latin America, and Australia.

Ashby received her PhD in Environmental Studies at the University of Colorado at Boulder in 2022. She received the Environmental Studies Graduate Student Research Award for the department in 2021 for her work developing and co-leading the Meeting in Nature Together (MINT) loneliness intervention with adolescent parents in Colorado, USA. She completed her BA in French Language, and minor in Landscape Architecture at the University of Virginia and an MS fellowship in Public Horticulture with Longwood Gardens and the University of Delaware.

Additionally, Ashby worked in botanic gardens such as Thomas Jefferson's Monticello, The Royal Botanic Gardens, Kew in London, Tresco Abbey Gardens in Cornwall, UK, as well as the Philadelphia Museum of Art and Golden Parks and Recreation in Golden, Colorado as a horticulturist, educator, administrator, fundraiser, and researcher.
Lines of research
Environmental health
Community-engaged scholarship
Urban planning
Adolescent health and environment
Public horticulture
Main publications
Sachs, A. L., Boag, A. E., & Troy, A. (2023). Valuing urban trees: A hedonic investigation into tree canopy influence on property values across environmental and social contexts in Baltimore, Maryland. Urban Forestry & Urban Greening, 80, 127829.
Sachs, A. L., Coringrato, E., Sprague, N., Turbyfill, A., Tillema, S., & Litt, J. (2022). Rationale, feasibility, and acceptability of the Meeting in Nature Together (MINT) program: A novel nature-based social intervention for loneliness reduction with teen parents and their peers. International Journal of Environmental Research and Public Health, 19(17), 11059.
Sachs, A., Tharrey, M., Darmon, N., Alaimo, K., Boshara, A., Beavers, A., & Litt, J. (2022). "To me, it's just natural to be in the garden": a multi-site investigation of new community gardener motivation using Self-Determination Theory. Wellbeing, Space and Society, 3, 100088.
Tharrey, M., Sachs, A., Perignon, M., Simon, C., Mejean, C., Litt, J., & Darmon, N. (2020). Improving lifestyles sustainability through community gardening: results and lessons learnt from the JArDinS quasi-experimental study. BMC public health, 20(1), 1-13.
Leavell, M, Leiferman, J, Gascon, M., Braddick, F., Gonzalez, JC., Litt, JS.,(2019). Nature-Based Social Prescribing in Urban Settings to Improve Social Connectedness and Mental Wellbeing: A Review, Current Environmental Health Reports, 6(4). 297-308. [Ashby's maiden name: Mary Leavell.