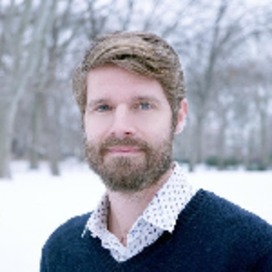 Robert Mitchell is a predoctoral fellow at the Malaria Immunology Group in the laboratory of Drs. Carlota Dobaño and Gemma Moncunill at ISGlobal. His research is evaluating the humoral and cellular immune responses and correlates of sustained protective immunity against malaria induced by RTS,S/AS01E vaccination. He has also been involved with supporting the ongoing SARS-CoV-2 studies being conducted by his team.

Mitchell received his MS in Biology at New York University with a thesis focused on characterizing the role of TLR5 in the immunogenicity of a flagellin-modified Plasmodium falciparum circumsporozoite protein. After his master's degree, Robert continued as an Assistant Research Scientist at the NYU School of Medicine in the lab of Dr. Elizabeth Nardin, researching the immune responses elicited by subunit malaria vaccines and TLR agonist adjuvants delivered by various routes of immunization.

Following his time at NYU, Robert Mitchell held a position as Senior Research Specialist in the lab of Dr. Alina Baum in the Infectious Diseases department at Regeneron where he researched biological therapeutics targeting several viral pathogens.
Lines of research
Immunogenicity and protective mechanisms elicited by P. falciparum vaccines
Subunit P. falciparum vaccine development and TLR agonists used as adjuvants
Humoral and cellular responses to malaria and other infectious diseases
Innate and adaptive immune correlates of protection against infectious diseases
Main publications
Calvo-Calle JM*, Mitchell R*, Altszuler R, Othoro C, Nardin E. Identification of a neutralizing epitope within minor repeat region of Plasmodium falciparum CS protein. NPJ Vaccines. 2021. doi: 10.1038/s41541-020-00272-6
Garcia-Basteiro AL, Moncunill G, Tortajada M, Vidal M, Guinovart C, Jiménez A, Santano R, Sanz S, Méndez S, Llupià A, Aguilar R, Alonso S, Barrios D, Carolis C, Cisteró P, Chóliz E, Cruz A, Fochs S, Jairoce C, Hecht J, Lamoglia M, Martínez MJ, Mitchell RA, Ortega N, Pey N, Puyol L, Ribes M, Rosell N, Sotomayor P, Torres S, Williams S, Barroso S, Vilella A, Muñoz J, Trilla A, Varela P, Mayor A, Dobaño C. Seroprevalence of antibodies against SARS-CoV-2 among health care workers in a large Spanish reference hospital. Nat Commun. 2020. doi: 10.1038/s41467-020-17318-x
Mitchell RA, Altszuler R, Frevert U, Nardin EH. Skin scarification with Plasmodium falciparum peptide vaccine using synthetic TLR agonists as adjuvants elicits malaria sporozoite neutralizing immunity. Sci Rep 2016. doi: 10.1038/srep32575
Nacer A, Carapau D, Mitchell R, Meltzer A, Shaw A, Frevert U, Nardin EH. Imaging murine NALT following intranasal immunization with flagellin-modified circumsporozoite protein malaria vaccines. Mucosal Immunol. 2014. doi: 10.1038/mi.2013.48
Carapau D*, Mitchell R*, Nacer A, Shaw A, Othoro C, Frevert U, Nardin E. Protective humoral immunity elicited by a needle-free malaria vaccine comprised of a chimeric Plasmodium falciparum circumsporozoite protein and a Toll-like receptor 5 agonist, flagellin. Infect Immun. 2013. doi: 10.1128/IAI.00263-13