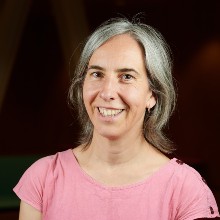 Cristina Villanueva
Associate Research Professor
Water Pollution
Expert in water quality and health, with a strong focus on exposure assessment to chemicals in water and environmental epidemiology.

Graduated in Environmental Sciences (1998) and PhD in Environmental Epidemiology (2003). Post-doctoral training at the National Institute of Health and Medical Research (INSERM) in Rennes, France (2004-2005), and Researcher in the Centre for Research in Environmental Epidemiology-CREAL (2006-2016).

She coordinates research on water contaminants in ISGlobal and currently leads the Global assessment of trihalomethanes in drinking water, the AiguaBCN project, and CancerWatch ANSES project. She develops the exposure to water contaminants in MCC-Spain, INMA, HELIX and BISC projects. She was part of the research team in the EXPOSOMICS EU project, leading the evaluation of water exposures with metabolomics, epigenomics and proteomics. She is the leader of CIBERESP group 38.

She teaches Environmental Epidemiology to undergraduate and graduate students (Global Health Master, UB, 2012-currently; Environmental Sciences degree, UAB, 2007-2013).
Lines of research
Disinfection by-products (DBPs)
Per- and polyfluoroalkyl substances (PFAS)
Microplastics
Nitrate
Mixtures
Bioanalytical assessment of water quality
Non-communicable diseases (cancer, pregnancy and child health, respiratory outcomes)
Biomarkers and mechanisms (e.g. -omics)
Risk and health impact assessment
Main publications
Evlampidou I, Font-Ribera L, Rojas-Rueda D, Gracia-Lavedan E, Costet N, Pearce N, Vineis P, Jaakkola JJK, Delloye F, Makris KC, Stephanou EG, Kargaki S, Kozisek F, Sigsgaard T, Hansen B, Schullehner J, Nahkur R, Galey C, Christian Zwiener, Vargha M, Righi E, Aggazzotti G, Kalnina G, Grazuleviciene R, Polanska K, Gubkova D, Bitenc K, Goslan EH, Kogevinas M, Villanueva CM. Trihalomethanes in drinking water and bladder cancer burden in the European Union. Environmental Health Perspectives. 2020; 128(1):17001.
Font-Ribera L, Gràcia-Lavedan E, Aragonés N, Pérez-Gómez B, Pollán M, Amiano P, Jiménez-Zabala A, Castaño-Vinyals G, Roca-Barceló A, Ardanaz E, Burgui R, Molina AJ, Fernández-Villa T, Gómez-Acebo I, Dierssen-Sotos T, Moreno V, Fernandez-Tardon G, Peiró R, Kogevinas M, Villanueva CM. Long-term exposure to trihalomethanes in drinking water and breast cancer in the Spanish Multicase-control study on cancer (MCC-Spain). Environment International 2018; 112: 227-234.
Villanueva CM, Gracia-Lavedan E, Julvez J, Santa-Marina L, Lertxundi N, Ibarluzea J, Llop S, Ballester F, Fernández-Somoano A, Tardón A, Vrijheid M, Guxens M, Sunyer J. Drinking water disinfection by-products during pregnancy and child neuropsychological development in the INMA Spanish cohort study. Environment International 2018; 110:113-122.
Villanueva CM, Gracia-Lavedan E, Bosetti C, Righi E, Molina AJ, Martín V, Boldo E, Aragonés N, Pérez-Gómez B, Pollán M, Gómez Acebo I, Altzibar JM, Jiménez AM, Ardanaz E, Peiró R, Tardón A, Chirlaque MD, Tavani A, Polesel J, Serraino D, Pisa F, Castaño-Vinyals G, Ana Espinosa, Nadia Espejo-Herrera, Palau M, Moreno V, La Vecchia C, Aggazzotti G, Nieuwenhuijsen M, Kogevinas M. Colorectal Cancer and Long-term Exposure to Trihalomethanes in Drinking Water: a Multicenter Case-Control Study in Spain and Italy. Environmental Health Perspectives 2017; 125 (1): 56-65.
Espejo-Herrera N, Gracia-Lavedan E, Pollan M, Aragones N, Boldo E, Perez-Gomez B, Altzibar JM, Amiano P, Jimenez AM, Ardanaz E, Guevara M, Molina AJ, Barrio JP, Gomez Acebo I, Tardon A, Peiro R, Chirlaque MD, Palau M, Munoz M, Font-Ribera L, Castano-Vinyals G, Kogevinas M, Villanueva CM. Ingested nitrate and breast cancer in the Spanish Multicase-Control study on Cancer (MCC-Spain). Environmental Health Perspectives 2016; 124(7):1042-1049