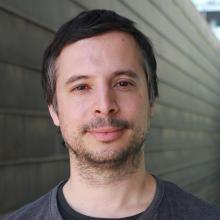 Jordi Júlvez
Associated Researcher
Childhood & Environment

Dr Jordi Julvez is a Group Leader at the Institute of Health Research Pere Virgili (IISPV, in Spanish) and Associated Researcher at the Barcelona Institute for Global Health (ISGLOBAL). He achieved his bachelor's degree in Psychology from the University of Barcelona (UB) in 1999, a Master of Clinical Neuropsychology at the UB in 2002 and a PhD. in Psychology and Epidemiology at the University Pompeu Fabra (UPF) in 2007. He worked in the field of epidemiology and neuro-developmental neurotoxicity at the department of Environmental Health, Harvard School of Public Health (2008-2011), where he has maintained his affiliation as a visiting scientist. He was awarded a 2020-Miguel Servet tipo II tenure-track stipend at the IISPV to establish his group, Environmental Epidemiology, Nutrition and Developmental Neuropsychology (NEUROEPIA).


Lines of research
His team's focus is to determine what environmental factors may affect neurodevelopment from cradle-to-grave, with a focus in Neuro-Epidemiology, Neuropsychology and Neuroscience. The interdisciplinary nature of his field is reflected in his group's expertise, from nutrition to neuro-epidemiology, including a range of mental health and neuropsychological outcomes. He is PI of several international projects such as
Walnuts and Omega-Brain
, WP6 Co-leader and a Partner of the H2020
LifeCycle
and
Equal-Life
projects as well as collaborator of a broad range of birth cohorts (i.e. INMA, HELIX, Phenotype, Breathe, BISC and ATHLETE).
Main publications
Arija V, Hernández-Martínez C, Tous M, Canals J, Guxens M, Fernández-Barrés S, Ibarluzea J, Babarro I, Soler-Blasco R, Llop S, Vioque J, Sunyer J, Julvez J. Association of Iron Status and Intake During Pregnancy with Neuropsychological Outcomes in Children Aged 7 Years: The Prospective Birth Cohort Infancia y Medio Ambiente (INMA) Study. Nutrients. 2019 Dec 7;11(12):2999. doi: 10.3390/nu11122999.
Julvez J, Fernández-Barrés S, Gignac F, López-Vicente M, Bustamante M, Garcia-Esteban R, Vioque J, Llop S, Ballester F, Fernández-Somoano A, Tardón A, Vrijheid M, Tonne C, Ibarluzea J, Irazabal A, Sebastian-Galles N, Burgaleta M, Romaguera D, Sunyer J. Maternal seafood consumption during pregnancy and child attention outcomes: a cohort study with gene effect modification by PUFA-related genes. Int J Epidemiol. 2019 Oct 2:dyz197. doi: 10.1093/ije/dyz197.
Julvez J, Davey Smith G, Ring S, Grandjean P. A Birth Cohort Study on the Genetic Modification of the Association of Prenatal Methylmercury With Child Cognitive Development. Am J Epidemiol. 2019 Oct 1;188(10):1784-1793. doi: 10.1093/aje/kwz156.
Gignac F, Romaguera D, Fernández-Barrés S, Phillipat C, Garcia Esteban R, López-Vicente M, Vioque J, Fernández-Somoano A, Tardón A, Iñiguez C, Lopez- Espinosa MJ, García de la Hera M, Amiano P, Ibarluzea J, Guxens M, Sunyer J, Julvez J. Maternal nut intake in pregnancy and child neuropsychological development up to 8 years old: a population-based cohort study in Spain. Eur J Epidemiol. 2019 Jul;34(7):661-673. doi: 10.1007/s10654-019-00521-6. Epub 2019 May 7. PMID: 31062119.
López-Vicente M, Ribas Fitó N, Vilor-Tejedor N, Garcia-Esteban R, Fernández- Barrés S, Dadvand P, Murcia M, Rebagliato M, Ibarluzea J, Lertxundi A, Fernández-Somoano A, Tardón A, López-Sabater MC, Romaguera D, Vrijheid M, Sunyer J, Julvez J. Prenatal Omega-6:Omega-3 Ratio and Attention Deficit and Hyperactivity Disorder Symptoms. J Pediatr. 2019 Jun;209:204-211.e4. doi:10.1016/j.jpeds.2019.02.022. Epub 2019 Mar 28. PMID: 30929929.
Ferrer M, García-Esteban R, Iñiguez C, Costa O, Fernández-Somoano A, Rodríguez-Delhi C, Ibarluzea J, Lertxundi A, Tonne C, Sunyer J, Julvez J. Head circumference and child ADHD symptoms and cognitive functioning: results from a large population-based cohort study. Eur Child Adolesc Psychiatry. 2019 Mar;28(3):377-388. doi: 10.1007/s00787-018-1202-4.
Zijlema WL, Triguero-Mas M, Smith G, Cirach M, Martinez D, Dadvand P, Gascon M, Jones M, Gidlow C, Hurst G, Masterson D, Ellis N, van den Berg M, Maas J, van Kamp I, van den Hazel P, Kruize H, Nieuwenhuijsen MJ, Julvez J. The relationship between natural outdoor environments and cognitive functioning and its mediators. Environ Res. 2017 May;155:268-275. doi: 10.1016/j.envres.2017.02.017.
Boucher O, Julvez J, Guxens M, Arranz E, Ibarluzea J, Sánchez de Miguel M, Fernández-Somoano A, Tardon A, Rebagliato M, Garcia-Esteban R, O'Connor G, Ballester F, Sunyer J. Association between breastfeeding duration and cognitive development, autistic traits and ADHD symptoms: a multicenter study in Spain. Pediatr Res. 2017 Mar;81(3):434-442. doi: 10.1038/pr.2016.238.