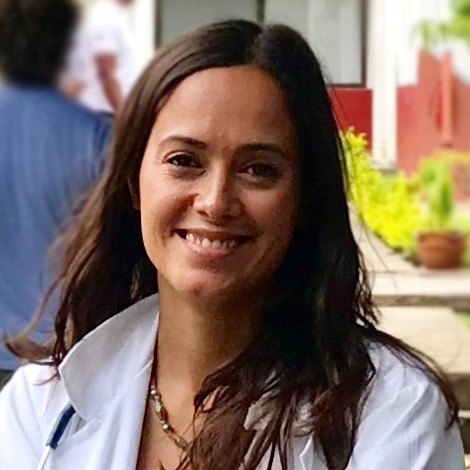 SHEILA FERNANDEZ
Postdoctoral Researcher
Sheila Fernández-Luis is a researcher on HIV/AIDS at the Barcelona Institute for Global Health (ISGlobal) and at the Manhiça Health Research Centre (CISM) since 2017.

She graduated as a physician at the Universidad Autónoma de Madrid and completed her residence in Pediatrics at Complejo Asistencial Universitario de Salamanca. She obtained her PhD in Medicine and Translational Research at Universitat de Barcelona in 2022, working on the characterization of the prevention and care cascade in children living with HIV in the Manhiça district, Mozambique (supported by Agency for Management of University and Research Grants, Generalitat de Catalunya).

She is currently involved in multiple studies focused on the early initiation of treatment in infants with HIV and the optimization of therapeutic approaches for severe pneumonia and opportunistic infections in children living with HIV who are critically ill.
Lines of research
Optimizing the continuum in HIV care among children
New therapeutic approaches for addressing severe pneumonia and opportunistic infections in children with advanced HIV disease (EMPIRICAL Project).
Main publications
Augusto O, Fernández-Luis S, Fuente-Soro L, Nhampossa T, Lopez-Varela E, Nhacolo A, et al. Using testing history to estimate HIV incidence in mothers living in resource-limited settings: Maximizing efficiency of a community health survey in Mozambique. Jean K, editor. PLOS Glob Public Heal. 2023;3: e0001628. doi:10.1371/journal.pgph.0001628.
Fernández-Luis S, Lain MG, Serna-Pascual M, Domínguez-Rodríguez S, Kuhn L, Liberty A, et al. Optimizing the World Health Organization algorithm for HIV vertical transmission risk assessment by adding maternal self-reported antiretroviral therapy adherence. BMC Public Health. 2022;22: 1312. doi:10.1186/s12889-022-13543-9
Fernández-Luis S, Fuente-Soro L, Nhampossa T, Lopez-Varela E, Augusto O, Nhacolo A, et al. Prompt HIV diagnosis and antiretroviral treatment in postpartum women is crucial for prevention of mother to child transmission during breastfeeding: Survey results in a high HIV prevalence community in southern Mozambique after the implementation of Opti. Patel RC, editor. PLoS One. 2022;17: e0269835. doi:10.1371/journal.pone.0269835.
Nhampossa T, Fernández-Luis S, Fuente-Soro L, Bernardo E, Nhacolo A, Augusto O, et al. The impact of the caregiver mobility on child HIV care in the Manhiça District, Southern Mozambique: A clinical based study. Nkomazana O, editor. PLoS One. 2021;16: e0261356. doi:10.1371/journal.pone.0261356
Fuente-Soro L, Fernández-Luis S, López-Varela E, Augusto O, Nhampossa T, Nhacolo A, et al. Community-based progress indicators for prevention of mother-to-child transmission and mortality rates in HIV-exposed children in rural Mozambique. BMC Public Health. 2021;21: 520. doi:10.1186/s12889-021-10568-4
Fernández-Luis S, Nhampossa T, Fuente-Soro L, Augusto O, Casellas A, Bernardo E, et al. Pediatric HIV Care Cascade in Southern Mozambique: Missed Opportunities for Early ART and Re-engagement in Care. Pediatr Infect Dis J. 2020;39: 429–434. doi:10.1097/INF.0000000000002612