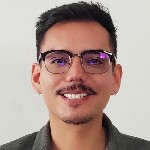 Daniel Velázquez
Predoctoral Fellow
Air Pollution, Urban Planning, Environment and Health, Climate & Health
Physician from the Universidad Veracruzana- Mexico and Master in Global Health from the Barcelona Institute of Global Health and the University of Barcelona.

He has collaborated on various research topics aimed at evaluating the movement behaviors and the built environment at the National Institute of Public Health of Mexico.

As a PhD student at the Barcelona Institute for Global Health and Pompeu Fabra University, he studies the health co-benefits of climate action, through the CATALYSE project, supervised by Mark J Nieuwenhuijsen, PhD and Dr. Catrhyn Tonne, PhD.
Lines of research
Climate change
Urban health
Physical activity
Main publications
Velázquez-Cortés D, Nieuwenhuijsen MJ, Jerrett M, Rojas-Rueda D. Health benefits of Open Streets programmes in Latin America: a quantitative health impact assessment. Lancet Planet Health. 2023 Jul;7(7):e590-e599. doi: 10.1016/S2542-5196(23)00109-2.
Argumedo, G., Cruz-Casarrubias, C. A., Bonvecchio-Arenas, A., Jáuregui, A., Saavedra-Romero, A., Martínez-Montañez, O. G., Meléndez-Irigoyen, M. T., Karam-Araujo, R., Uribe-Carvajal, R., Olvera, A., Hernández-Alcaráz, C., Velázquez Cortés, D., Morales-Ruán, M. del C., Shamah-Levy, T., Nieto, C., Contreras-Manzano, A., Hernández-Ávila, M., Rivera-Dommarco, J., & Barquera, S. (2023). Hacia el diseño de Vida Saludable, un nuevo programa de estudios para la educación básica en México. Salud Pública De México, 65(1, ene-feb), 82-92.
Jáuregui A, Pacheco-Miranda S, Argumedo-García G, Marrón-Ponce JA, G.-Olvera A, Vargas-Meza J, Ayvar-Gama YY, Velázquez D, Quezada AD, Bonvecchio-Arenas A. Comprehensive evaluation of Salud Escolar a health school program in Mexico: rationale, design and methods. Prev Med Rep. 2021. doi: 10.1016/j.pmedr.2021.101662
Salvo D, Parra DC, Jáuregui A, Reséndiz E, Garcia-Olvera A, Velazquez D, Aguilar-Farias N, Colón-Ramos U, Hino AA, Kohl HWB 3rd, Pratt M, Ramirez Varela A, Ramirez-Zea M, Rivera JA. Capacity for childhood obesity research in Latin American and US Latino populations: State of the field, challenges, opportunities, and future directions. Obes Rev. 2021 Jun;22 Suppl 3(Suppl 3):e13244. doi: 10.1111/obr.13244.