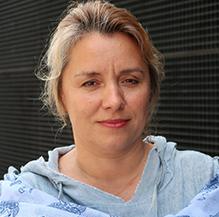 Liudmila Liutsko
Project Manager
Radiation
Liudmila has a multiple background: higher education in Pedagogical University (maths and psychology) and in ISIR – International Sakharov Institute of Radioecology)(radioecology); MSc. in Environmental Sciences and Policy (CEU/Manchester University), DEA in Statistics, Master in Clinical Psychology and PhD in Psychology by University of Barcelona.
Her main fields of interest: Epidemiology of radiation, public health, planetary health, sustainable development; psychology (personality and individual differences) and neuropsychology; social sciences in radiation protection and ethics.
Currently she works in Radiation programme of ISGlobal as a postdoctoral researcher in SHAMISEN SINGS and ENGAGE projects.
Lines of research
Social science in radiation protection
Epidemiology of radiation
Psychology, Education and Ethics
Main publications
Liutsko, L., Ohba, T., Cardis, E., Schneider, T., & Oughton, D. (2018). Socio-economic, historical and cultural background: implications for behaviour after radiation accidents and better resilience, Chapter of book in: Environmental Health Risks: Ethical Aspects (Zölzer F and Meskens G, Eds.), Chapter 3, pp. 28- 42, UK: Routledge, Oxford.
Liutsko, L., Oughton, D., Sarukhan, A., Cardis, E., & SHAMISEN Consortium. (2020). The SHAMISEN Recommendations on preparedness and health surveillance of populations affected by a radiation accident. Environment international, 146, 106278.
Liutsko, L., Montero, M., Trueba, C., Sala, R., Gallego, E., Sarukhan, A., & Cardis, E. (2020). Stakeholder participation in nuclear and radiological emergency preparedness and recovery in Spain: benefits and challenges of working together. Journal of Radiological Protection, 40(1), N1. doi: https://doi.org/10.1088/1361-6498/ab55cd.
Liutsko, L. (2019). The integrative model of personality and the role of personality in a Planetary Health context. PAID, 151, 109512. https://doi.org/10.1016/j.paid.2019.109512.
Liutsko, L., Muiños, R., & Tous, J.M. (2014). Age-related differences in proprioceptive and visuo-proprioceptive function in relation to fine motor behaviour. European Journal of Ageing, 11(3), 221-232. doi: 10.1007/s10433-013-0304-6.