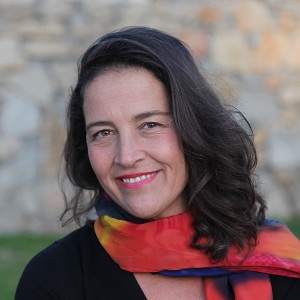 Elisa López
Assistant Research Professor
HIV / AIDS, Tuberculosis
Elisa Lopez Varela is a pediatrician and an Assistant Research Professor at the Barcelona Institute for Global Health, ISGlobal in Barcelona, Spain, where she leads several studies focused on pediatric tuberculosis, HIV and COVID-19 in sub-Saharan Africa.

She studied Medicine (1998-2004, Universidad Autónoma de Madrid), completed her residency in pediatrics (2008-2012, Hospital Clinico San Carlos de Madrid, Universidad Complutense) and has a Masters in Public Health from Harvard University (2005 "la Caixa" fellowship). She received her PhD from the University of Barcelona in 2016 with a thesis focused on childhood tuberculosis (2016, supported by a Rio Hortega grant, Instituto de Salud Carlos III), for which she received the UB's Extraordinary PhD award in 2019. From 2018-2020, she was postdoctoral fellowship at the Desmond Tutu TB Center University of Stellenbosch, Cape Town, South Africa (grant from the Ramón Areces Foundation and Spanish Pediatric Society), where she focused on the optimization of pediatric TB treatment, including new drugs for the prevention of multidrug-resistant TB and pharmacokinetic/dynamic studies.

Elisa first joined ISGlobal in 2012, and has over 10 years of experience managing and leading research projects in HIV/TB, half of which she has been based in Mozambique and South Africa where she has combined pediatric clinical care with research activities. She is an active supervisor of Master and PhD students.

Her main area of interest is the diagnosis and treatment of TB and HIV in children, with a particular interest in evaluating novel diagnostic strategies focused in sub-Saharan African settings. Her research has also covered TB/HIV epidemiology, as well as implementation science around HIV/TB care delivery. She has worked in several large clinical trials and is currently the Co-PI at ISGLOBAL of ANTICOV, a large multi-site Phase III clinical trial.

She has been awarded a RESPIRE4 Marie Sklodowska-Curie fellowship (2022-2024) focused on improving the management of respiratory infectious diseases in children, with a focus on long term respiratory outcomes.
Lines of research
Biomarker-based diagnostics to improve risk stratification of respiratory tract infections in children.
Optimization of pediatric TB treatment, including new drugs for the prevention of multidrug-resistant TB and pharmacokinetic/dynamic studies.
Characterization of pediatric TB in Mozambique, including identification of strategies to increase case detection.
Development of operational research projects to improve the HIV care cascade in adult and pediatric populations in Mozambique.
Main publications
Lopez Varela E, Garcia-Prats A, Seddon J, Draper H, Winckler J, van der Laan L, Palmer M, Burger A, Schaaf S, Hesseling AC. Treatment outcomes and safety in children with rifampicin-resistant tuberculosis: a prospective cohort study. The International Journal of Tuberculosis and Lung Disease, in press 2022.
Goussard P, Walters E, Corne Bosch, Morrison J, Croucamp R, Demmers AM; Lopez Varela E. The diagnostic utility of Xpert MTB/RIF on bronchoalveolar lavage samples in children undergoing bronchoscopy for diagnosis of intrathoracic tuberculosis. Pediatr Pulmonol. 2021 Jul;56(7):2186-2194. doi: 10.1002/ppul.25405. Epub 2021 Apr 13.PMID: 33818927.
Lopez-Varela E, Fuente-Soro L, Joaquim Augusto O, Sacoor C, Nhacolo A, Karajeanes E, Vaz P, Naniche D. The Continuum of HIV Care in Rural Mozambique: The Implications of HIV Testing Modality on Linkage and Retention. J Acquir Immune Defic Syndr. 2018 Apr 27.
Lopez-Varela E, Blanco S, Respeito D, Gimo M, Sacoor Ch, Naniche D, Naniche D. High yield of home-based TB diagnosis among newly diagnosed HIV patients. J Acquir Immune Defic Syndr. 2019 Apr 1;80(4):e103-e105.
López-Varela E, Augusto OJ, Guerra L, Respeito D, Sacoor C, Sacarlal J, Migliori GB, Sotgiu G, Alonso PL, García-Basteiro AL. Low paediatric tuberculosis case detection rate in Southern Mozambique. Eur Respir J. 2015.
López-Varela E, Joaquim Augusto O, Gondo K,García-Basteiro AL, Fraile O, Ira T, Ribó Aristizabal JL, Bulo H, Muñoz Gutierrez J, Aponte J, Macete E, Sacarlal J, Alonso P. Incidence of Tuberculosis among young children in rural Mozambique. Pediatr Infect Dis J. 2015 Jul;34(7):686-92.
López-Varela E, García-Basteiro AL, Santiago B, Wagner D, Van ingen J, Kampmann B. Non-tuberculous mycobacteria in children: muddying the waters of tuberculosis diagnosis. Lancet Respir M. 2015 Mar 3(3):244–256.