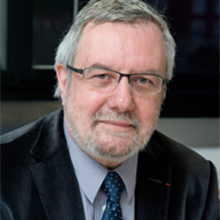 Enric Banda
Director of Science at "la Caixa" Foundation
PhD in Physics, 1979, University of Barcelona. Post-doc at the Eidgenössischer Technische Hochschule (ETH) Zurich. Research Professor in 1987.

Former Secretary of State for Universities and Research, CEO European Science Foundation, Director Catalan Foundation for Research and Innovation (FCRi), Director ICREA, Director Science "la Caixa" Foundation.

Author of 160 reviewed scientific papers. Member of the Academia Europaea. Fellow of the Royal Astronomical Society. Former President of Euroscience. Member of the "Reial Acadèmia de Ciències i Arts de Barcelona".

Presently Senior Advisor at the Barcelona Supercomputing Center. Strategic Advisor at Leitat Technological Centre. President Advisory Council Science, Technology and Innovation of the Ministry of Science and Innovation.