Research
ISGlobal Reviews the Scientific Year at Annual Retreat
The results of work by principal investigators as well as doctoral and postdoctoral researchers were presented together with new ISGlobal projects
01.12.2014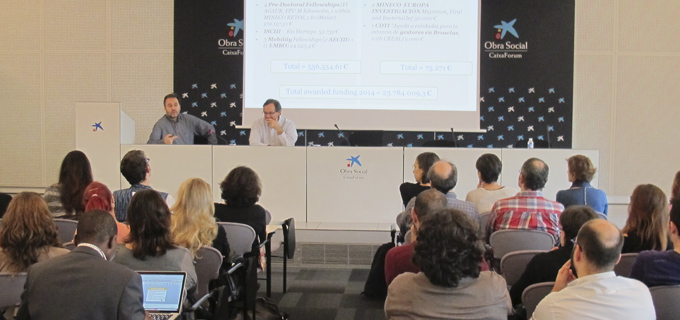 ISGlobal's Annual Scientific Retreat took place in the CaixaForum in Barcelona on 28 November. During the morning ISGlobal had parallel sessions. The afternoon was occupied by a joint meeting involving researchers from both CREAL and ISGlobal, attended by most of the staff from both centres.
Antoni Plasència, director of ISGlobal, opened the one-day retreat with a brief overview of the year's scientific results, highlighting the increase in publications— mainly in the top ten journals—and in competitive and non-competitive funding. The morning programme continued with two sessions chaired by Jordi Vila: "Infectious International Health: The Year in Review" and "New Funded Projects". The final morning sessions were dedicated to the presentation of the results of work by ISGlobal's doctoral and postdoctoral researchers and principal investigators.
The second half of the day's activities was opened by Josep Maria Antó, director of CREAL, together with Antoni Plasència. They explained the ongoing process of the ISGlobal alliance, and talked about numerous joint scientific activities as well collaborations in training, knowledge transfer, and management. The second half of the programme kicked off with a session entitled "The Year in Review in Global Health" by Krijn Paaijmans and Jordi Sunyer. During the afternoon, the participants heard about more results of research carried out by doctoral, postdoctoral and principal investigators. In a brief presentation after the break, Inácio Mandomando talked on the subject of "CISM: The Year in Review and Future Challenges". In the final session, Albert Picado and Mark Nieuwenhuijsen presented more new funded projects.