Reduce car use could prevent 170 deaths and 200,000 tonne CO2 emissions per year
25.09.2012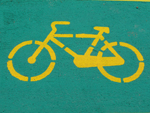 Coinciding with the Sustainable and Safe Mobility Week held from 22 to 29 September, the CREAL has just published a study on the benefits of public transport and bicycle versus car. The findings underline that reducing car use and increasing public transport and cycling in metropolitan areas such as Barcelona have health benefits and also reduce green house gas emissions.
Specifically, the study, led by CREAL researcher David Rojas, if there is a reduction of 20%-40% of the car trips from the Greater Barcelona Metropolitan which either start or end in Barcelona city would avoid between 67 and 170 deaths per year depending on whether you use the public transport or bicycle. Furthermore, it would also reduce 200,000 tonnes of CO2 each year.
Sustainable and Safe Mobility Week
Under the slogan 'Move in the right direction', the Week of 2012 proposes a search for new forms of mobility. Change our mode of transport can mean living in a city better and breathe better quality air and healthier. Take public transportation to get to work, move around the city by bike or walk to go shopping instead of taking the car can play an important role in health.
For more information, go to this link.